It's been five years since the unique film, Don't Breathe, hit theaters, and it caused one of the most chilling public experiences for moviegoers. The entire premise of Don't Breathe is that a band of robbers break into the home of a blind man, expecting an easy score. What they get is a silent mercenary who turns the tables on them. He is the one who robs them… of their peace, freedom and even their lives. With the 5th anniversary of the film's release this month and the sequel, Don't Breathe 2, having been released a few weeks ago, we thought we would take a look at what makes the original so special.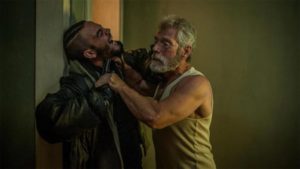 Don't Breathe is directed by Fede Alvarez (The Girl In The Spider's Web 2018) and written by Alvarez and Rodo Sayagues (Evil Dead 2013 – read our retro review here). It stars Stephen Lang (VFW 2019) as Nordstrom the blind man, Daniel Zovatto (It Follows 2014 – read our review here) and Dylan Minnette (13 Reasons Why TV series) as Money and Alex respectively, two of the more ambitious thieves, and Jane Levy (Twin Peaks TV series) as Rocky, the most level-headed of the intruders.
The biggest stand-out trait for Don't Breathe's impact goes to its sound design. For most of the film, the intruders and Nordstrom are caught in a hide and seek expedition for their lives. With noise being the easiest way to be caught, the movie relies on its silence to keep the tension taut throughout. Not only does that turn every floorboard and spilled item into a turning point, but it also keeps the audience gripping their chairs and twitching with every slight movement.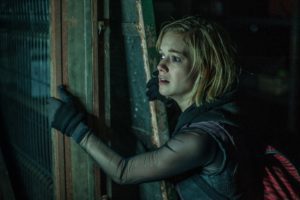 The writing also does a service to the other characters. While a movie like this normally serves as a slasher that watches its bland twenty-somethings get hacked up without meaning, the story has more to offer here. Don't Breathe separates itself by giving the viewers a look into why the robbers are choosing to rob the house. Each character has their own motivation for this dirty job, putting some earnest reasoning behind the cold act. But the burglars aren't the only ones who have a nice mix of good and bad inside them. Nordstrom himself is a duel case. While it's easy to root for this blind territory defender at first, there's a pretty hard left-turn in the final act that makes him even more guilty than his victims. That duality leaves the audience with some truly cringeworthy moments that are missing in a lot in modern horror.
This character-study roller coaster ride leaves you with a chilling ending that makes you fear for the fate of the cast. With Don't Breathe 2 recently hitting theaters, we hope that it holds up in five years in the same way that Don't Breathe has.