It has been a long long time since I've come back from the movie theater still reeling from a film, but tonight, after going to see Fede Alvarez's Don't Breathe, that time has come again. Finally! I will admit that, ever since seeing the trailer for the film, I was intrigued. Then, everyone started talking about it and ramping it up as the most anticipated horror movie of the year, which then began to get me worried. For starters, usually overhyped movies fall short for me and leave me disappointed. Don't Breathe, however, actually left me, shall I say… breathless?
Don't Breathe is a non-stop horror thriller that releases everywhere in the US on August 26, 2016. The film had an 8.3 rating on IMDb and a 91% fresh rating on Rotten Tomatoes before it even debuted, which speaks volumes. I usually tend to disagree with critics about ratings, but this one is certainly spot on. According to Wikipedia, Don't Breathe is destined to make at least $11 million or even as high as $20 million for its opening weekend, possibly even dethroning Suicide Squad and take over the number one spot at the box office. After viewing this film a day early, I 100% agree with them!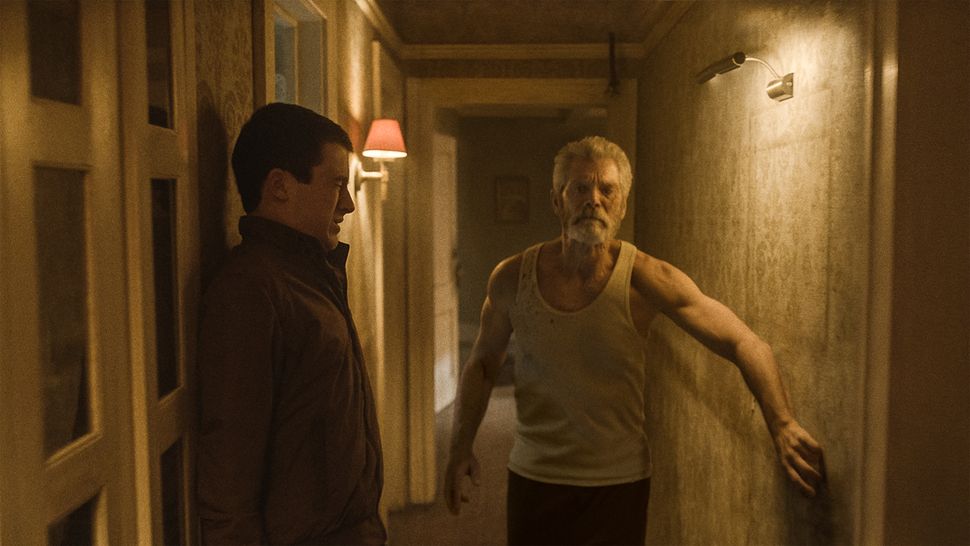 Plot: Three friends, Money (Daniel Zovatto: It Follows 2014 – read our review here), Rocky (Jane Levy: Evil Dead 2013), and Alex (Dylan Minnette: Goosebumps: The Movie 2015), get a tip on a robbery heist worth $300,000 dollars, which would secure their one way ticket out of Detroit. Seems like a piece of cake, especially when they realize that their target is a blind man (Stephan Lang: Avatar 2009). Is there a catch? You betcha! Their blind victim is ex-military, and being unable to see is not a disadvantage for him. Turning the lights out on the robbers makes it an even playing field… or does it?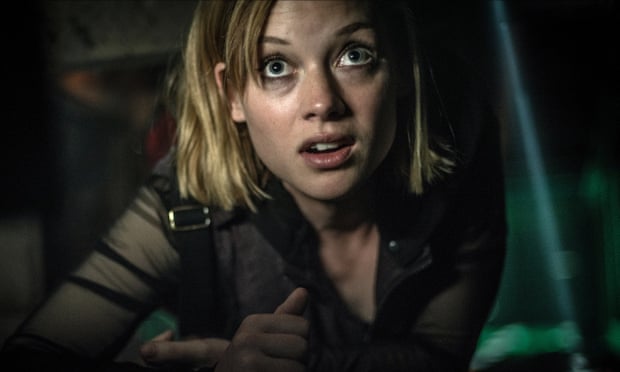 What works? The answer is plain and simple, really. Everything works in this film. The acting is spot on. You can seriously feel Levy and Minnette's fear. It's like you are going through this experience with them. I found myself actually holding my breath with them. That's truly the mark of an amazing director, so major kudos to Alvarez. It also speaks highly of the acting talents especially Lang.
You will leave the theater questioning yourself: who is really the victim in this movie? It will have your eyes glued to the screen for the entire run time of 88 minutes, which is actually rather short for a film. Don't Breathe may be short on time but it is long on action, leaving a taste in your mouth that you can't even begin to explain and you'll want more. Cringe worthy moments? Check! Jump scares? Check! Blood for the gore hounds? Check! Check! Check! The film is crammed with nail-biting sequences and there are twists and turns around every corner, offering up something for every type of movie lover. This movie does not lack any sort of originality. The only thing I think I could compare it to would be certain moments of Wes Craven's People Under the Stairs (1991) – not so much in story or plot but in its nostalgic feel.
Final Thoughts
I know I'm in the minority when I say I was not a fan of Alvarez's Evil Dead (2013) reboot. However, in my book, he has completely redeemed himself with Don't Breathe, the most original film I've seen in years. This is, by far, the best movie of 2016 and sets the bar very high for future films to come. I also expect great things from Minnette – his performance deserves a freaking standing ovation. I can't wait to add this one to my collection. Take my advice: go and give the box office your money on this film…. You seriously won't see the twist coming.