I want to thank Kipp Tribble for his directing and writing skills, direction, and also co-production alongside Patrick Rivera, Kenny Yates and Executive Producer Richard Siegelman for their belief in a pleasantly surprising new horror film called Evil At The Door. I definitely enjoyed this little gem. The acting is decent, and the plotline is original and interesting. In a world of remakes, sequels and prequels, it's nice to see some raw, rising talent in the world of horror. I'm not normally a big fan of home invasion films, because they are all so similar, but Evil At The Door really sent me for a refreshing loop.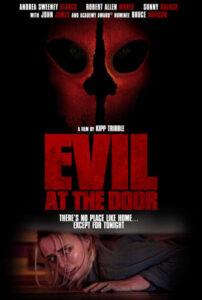 The movie stars Andrea Sweeny Blanco as Liz (It's Haunted 2022), the younger sister of Jessica, played by Sunny Doench (Coffin 2011). Jessica is married to Daniel (Matt O'Neil: Coffin 2 2017). The three are on the outs this evening as Liz has come to stay for a few days with her big sister in her and her husband's Hollywood Hills mansion. Daniel is not impressed as the visit is very unplanned and spontaneous, and the younger sibling has had a rough history with the couple. Little does anyone know that they are the target of a long-running underground group of home invasion murderers called The Locusts.
Once a year on what is deemed "the night of the locusts," a group of four masked men responsible for one "run" is given instructions via computer by John Doe, portrayed by Bruce Davison (Creepshow TV series 2019). The group is given 3 hours to do basically whatever they would like to the targeted individuals inside their home. No one is given word that Liz is visiting. After the group cuts the WiFi, they begin their evening of sick, torturous murder with Daniel.
One by one, they head upstairs to a bedroom with an attached washroom. Jessica is behind the door taking a bath. Liz is aware of the invasion and is hiding under the bed, unable to contact anyone… including her oblivious sister. Soon after, the group becomes aware of  that one of their members shouldn't be trusted and must determine who it is. This snag provides the time needed for Liz and Jessica to survive… or does it?
Evil At The Door is like Saw meets The Strangers, only with the spin of an internal group struggle and a time limit which raises the tension factor for viewers. While a slow burn, Evil At The Door certainly delivers its fair share of thrills while we delve into the history of The Locusts and anticipate their next actions.
Evil At The Door also stars Scot Hamm (Coffin 2 2017), director/writer Kipp Tribble, and producers Kenny Yates (Confined 2021) and Richard Siegelman (Bad Witch 2021). On a side note, Siegelman has that legendary Hollywood badass look and needs to be recognized for it, pronto! He was certainly a little more than convincing as he described how much he enjoys the torture of murder. He wants to look into the victims eyes, and see their fear! Eep!
Watch the official trailer below:
Terror Films has released Evil At The Door as one of two genre films to premiere for the official launch of their new YouTube AVOD streaming site. The film released through Terror Films on YouTube on January 21, 2022, and will be available across digital platforms on January 28, 2022, through production companies MRP Entertainment and Trick 6 Films.
Terror Films' President Joe Dain stated:
"This is such an exciting time for us as a company… This was a necessary, next step in our ongoing efforts to grow our brand while increasing the reach and revenue streams of our amazing library of horror films."
The channel delivers independently made horror films from all over the globe, conducts interviews and live chat events. Also, for all of you budding filmmakers, they accept screener applicants. The whole site is free as well! I mentioned remakes and sequels before. We are all just so sick of them, (well, mostly anyway) and Terror Films is offering this perfect platform to watch and learn about some amazingly creative up and coming horror directors and actors. We at PopHorror love to see it, and we know you do, too!
It was truly a pleasure to watch and review Evil At The Door. The PopHorror family wants to say, "Good luck and congratulations!' to all those involved in the film and everyone at Terror Films. We look forward to seeing what you will be releasing in the future!