Terror Films is officially launching their YouTube channel in 2022 with two new releases: Last Radio Call and Evil at the Door.
Last Radio Call, directed by Isaac Rodriguez (Deadware), is a found footage film and will debut on January 14, 2022. The film stars Sarah Froelich (A Town Full of Ghosts), Jason Scarbrough (Elite), June Griffin Garcia (Illusions of Cyn), and Ali Alkhafaji (Hyder).
Synopsis:
LAST RADIO CALL centers around Officer David Serling, who went missing inside the abandoned Yorktown Memorial Hospital. One year later, his wife has hired a film crew to help bring light on what really happened that night. Using recovered body cam footage, she discovers a dark secret that sends her spiraling down a horrific path of ancient evil. She must now face an unknown terror to find the answers she desperately seeks.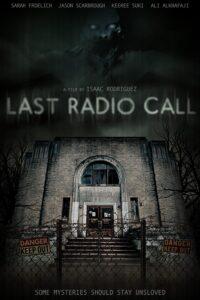 Check out the trailer below:
Evil at the Door is directed by Kipp Tribble (Coffin), and stars Bruce Davison (X-Men), John James (Axcellerator), Robert Allen Mukes (House of 1000 Corpses), and Scott Hamm (The Stay). It will debut on January 21, 2022.
EVIL AT THE DOOR centers around a secret guild that has operated for nearly a century known as The Locusts. Once a year, this guild treats its members to a night of curated home invasions (aka "runs"), known underground as The Night of The Locusts. With 180 minutes to do as they please with the occupants of the selected home, four masked men enter the home of Daniel and Jessica and begin to engage in sick, twisted games with them. Unbeknownst to the intruders, Liz, Jessica's younger sister, is hiding under the bed. While the run time winds down, Liz plots her escape as The Locusts realize there is a traitor in their group. But will the division amongst the intruders be enough distraction for Liz to survive before The Locusts' clock runs out?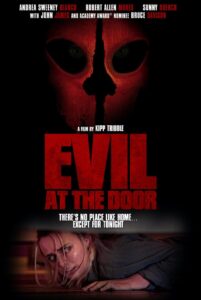 Check out the trailer below: