I'm hopelessly addicted to social media, which is a double-edged sword. On one hand, I spend way too much time on my phone instead of talking to those around me. On the other hand, I'm able to connect with indie filmmakers and discover new films. Such is the case with the horror comedy Killer Party. Three cheers for social media addiction!
Killer Party is a horror comedy written and directed by Alex Drummond. The film stars Kurt Ela, Drew Benda, Stephanie Beran, John Brody, Rachael Drummond, Alexandra Fatovich, Evan Gamble, Andy Hoff, Adam Karell, Liz Loza, Ted McKnight, Katerina Mikailenko, Paul Natonek, Rob Norton, Tony Rago, Neil Rodriguez, Suzanne Sena, and Stephanie Tobey.
A group of friends get trapped at a baby shower when a mysterious outbreak starts turning people into homicidal maniacs.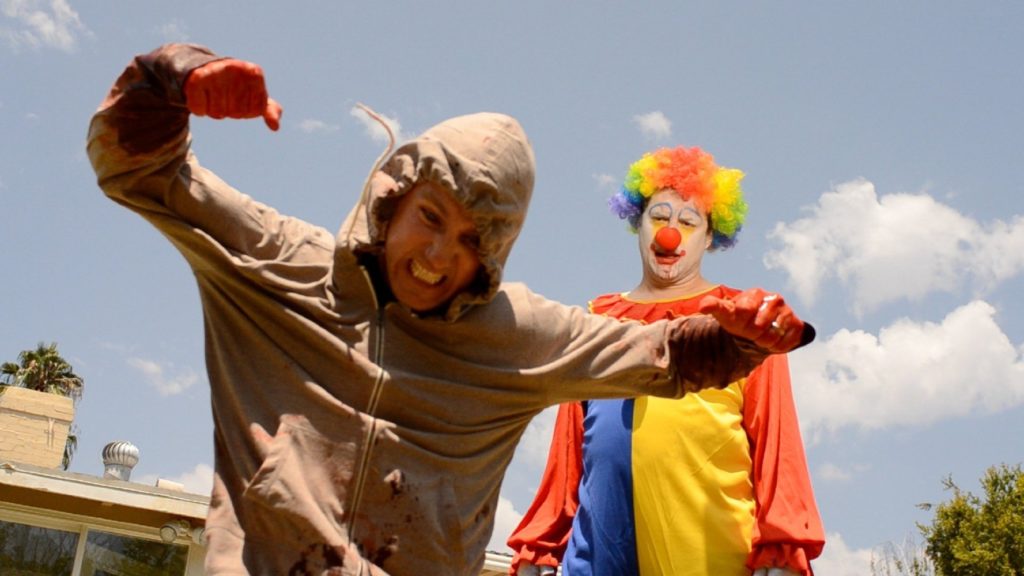 Killer Party is a super low budget movie, but don't let that fool you. The film looks very professionally done. It's well shot, the gore is great, and the cast does a fantastic job. Killer Party hooked me from the first scene, introducing me to a likable family that is going through a rough time financially and has another child on the way. The interaction between them was adorable, and they felt like a very realistic family. This made me care about them from the get go. A lot of the other characters started out fairly stock but as the stakes got higher, the characters showed who they really were with a plain Jane who evolves into the group's resident badass and a man showing how little he truly cares for his friends when it comes to them or him.
The film isn't afraid to play with audience expectations by messing with and subverting genre tropes. Some of the characters that died surprised the shit out of me (with one death legitimately pissing me off) and events did not play out in the way I expected. The infected felt unique, retaining their overall personality but amplified and murderous, which led to them being simultaneously creepy, funny and intimidating. They beat people to death with their bare hands and turned without warning, which ramped up the tension, leaving the characters not knowing who to trust. The film's ending is rather abrupt. I got the feeling that this might have been due to a lack of funds to create a climactic battle, but as it left the story wide opening for a sequel. I really didn't mind how it ended as I enjoyed Killer Party quite a bit.
Final Thoughts
Killer Party is a well done horror comedy that isn't afraid to fuck with your expectations as well as your emotions. The film features an excellent cast, creepy villains, and some solid kills and gore, all on a budget. I highly recommend you give Killer Party a shot. You can rent the film on demand or purchase a Blu-ray here.