You will be hard-pressed to find a horror fan who has never heard of George A. Romero and his influential groundbreaking horror film, Night of the Living Dead, which has inspired so many genre filmmakers for decades. One of the great pleasures I had during my time covering ScareLA 2018 was an exclusive interview I was granted with George A. Romero's son, George Cameron Romero, who has lived and breathed the genre at a depth that most of us can only dream about. With raw inspiration from a young age, Cameron Romero decided very early on to pursue his own career in horror filmmaking, creating 23 of his own genre films (at least so far) while remaining incredibly humble and down-to-earth. I was lucky enough to talk with him about his thoughts on his father's work, the horror genre and get a brief insight into his upcoming passion project, which will surely do justice to his father's memory.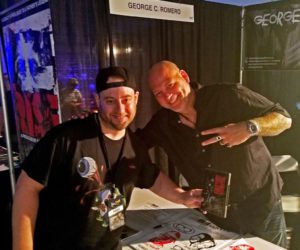 PopHorror: Hi, George! Thank you for taking the time to speak with me at ScareLA 2018! So, being the son of the legend, George A. Romero, have you always been a fan of horror?
George Cameron Romero: Yes, absolutely! I was introduced to it at such a young age, and I just loved it. I was hooked!
PopHorror: Among your father's work, what would you say is your favorite project and why?
George Cameron Romero: Well, Night of the Living Dead will always be the standard, just like for so many other people. But when it comes to his work outside of this classic, it has to be The Crazies. There was just something about it that gave a glimpse into a side of him as a filmmaker and an artist that I don't think many people had seen of him prior to that film. And, personally, I feel like you got to see a lot of him in that film. Every time I watched it, for someone who knew him like I did, it just felt like we were just hanging out, because I saw parts of him in the film that I don't think other people saw.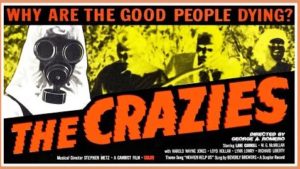 PopHorror: Very cool! How has your father's legacy influenced your work as a filmmaker? When did you decide that was the path you wanted to follow for yourself?
George Cameron Romero: I would say that I decided that I wanted to pursue filmmaking when I was 5 or 6 years old. (laughs) I have been doing this for over two decades. I don't think his work has influenced just me, but literally thousands and thousands of people… everybody from special effects artists to writers to musicians to poets. His reach was so far and wide, and while I think, in a way, it was terrible that everything ended up in the public domain, the way I have grown to look at it over my life is that it was basically an open source of creation that was inadvertently given to the fans. And everyone just fell in love with it because it was not only a learning ground, but it became a proving ground for young artists.
I was so influenced simply by how much his work touches people on so many levels. I have had some of the best conversations of my life with people who have shared stories with me about him or his work and how it changed their lives for the better or inspired them. I know that there are people who say that what we do as filmmakers isn't important. But to have that positive impact on other people is important. And I think what we do can be important. What my father did was extremely important. And I that is what influenced me. There was a gravity and a weight to it that gave me a little bit of a different perspective. That perspective was just how seriously I wanted to grow up and take up the craft.
PopHorror: That's very true and inspiring in itself! How do you feel about the zombie subgenre of horror and all the different directions it has taken over the years?
George Cameron Romero: I think I touched on it a little bit, but I think it's a beautiful thing. I think anything that can be so grabbed onto by so many people who have a true love and passion for it is great! It's not like fans of this and fans of that who passively love something. I mean, people are deeply affected. And it's hard to hate on anything that anybody does in the subgenre, or of horror in general, because of why they do it. It's almost the purest form of this stuff that you can find, because people do it for a love that you just don't see in other fan genres. Well, except for maybe the comic book stuff. (laughs) But even that isn't quite like horror.
PopHorror: Having grown up with horror on the level that you did, I'm sure you have seen the genre develop from an incredible perspective. In what ways have you seen the genre fall short, and in what ways have you seen live up to its potential?
George Cameron Romero: I think the biggest way of falling short is just the fact that there may be what some consider to be an over saturation. That can make some people be too critical of the hard work that folks put into their projects to use it as a proving ground. That is probably the biggest issue, for me. It is how harsh it can be. It's like the old expression: It's a tough room. Walking into the horror genre is a tough room. Walking into the horror fan base is a tough room. But it lives up to its potential because it grows and grows. And it kind of expands, very much like a horde. People love it, and I love that people love it.
PopHorror: There is so much that goes into making a film that I have to agree. People can be too critical at times. But the common interest and horror passion is something unlike anything else in entertainment. For a simple question with likely not so simple of an answer, what would you say that you love most about the horror genre in general?
George Cameron Romero: That is a simple and not so simple question. What I love most about it is that you have the freedom to make your own rules. What I love most about it is that it is one of the only genres to where, if you're successful at telling your story, you create a bubble, in a sense of the word, and you keep your audience inside that bubble. And that, I think, is one of the measures of what makes good horror. It is a film's ability to keep me inside its own universe for the duration of their own time.
PopHorror: The ability to really draw you in is a sign of a great film, for sure. With the development of social media, I think it is safe to say that the genre has transformed. From your perspective, how has social media had a positive impact on the horror genre?
George Cameron Romero: I think it goes back to the open source stuff. Social media has taken the handcuffs off and allowed people who have been affected by this craft and dream about doing it to actually do it without the need for millions of dollars at their disposal. It has opened up doors for people to go out and just make a zombie film on their cell phones. And whether or not it's good, bad or it gets distribution, the film is getting made and it has allowed people to start becoming artists. A lot of people will look to the genre just because they feel like they need to get an idea out of their heads. Social media has allowed that to happen, and I think that is a beautiful thing, as well, because it allows people to really explore something that they might feel like they have to do, but don't necessarily know how to do it.
PopHorror: I can see that being crucial at the independent level, for sure. In what ways, if any, have you seen social media have a negative impact on the horror genre?
George Cameron Romero: I think it can be seen as having contributed to what some may see as over saturation. I think there is so much out there that people may not know where to look, and I think that opens doors for people to hate first and love later.
PopHorror: I can see what you mean. Social media can be sort of a double edged sword in that way. What has been your favorite project of your own that you have worked on?
George Cameron Romero: You know, it's funny. I have made 23 films by producing and or directing, and I have to say that Staunton Hill was a phenomenal experience. It was my ability to write a sort of a letter to the '70s and the stuff I loved growing up. It was a lot of fun to make that film, so I would have to go with that.
PopHorror: I'm not sure if I have personally seen that one, but I will have to check it out! What style of horror do you, personally, find terrifying?
George Cameron Romero: I would have to say psychological. Jump scares, gore and all of that stuff is what I grew up with. It's great and it's beautiful art. But the psychological stuff… the stuff that really fucks with your mind is the stuff that really gets me.
PopHorror: I'm a fan of all things horror as well, but I have to agree. Certain psychological horror can stick with you for a bit longer. Where do you see the horror genre heading in the future?
George Cameron Romero: I think I see it heading to a place to where it is going to become a tighter-knit community of creators and viewers. It's going to become a place where viewers will go out and find their own content and where creators find the place where their viewers are looking for that content. And I think it will become this happy marriage of people who want this brand of horror and creators can take a step back and find out what their viewers want and can create almost specifically for a group of fans. And if people do it right, the possibility exists for almost a customized subgenre of horror.
PopHorror: Especially with the ongoing impact of social media and the internet, I could very well see that becoming a possibility. So, you have a project in pre-production called Rise. What can you tell me about this film?
George Cameron Romero: Rise is something I wrote in 2010 with the hopes of making the film with my father. Unfortunately, that didn't happen due to his passing. So, for me, it is the most important thing I have ever written. I hate to throw the word "important" around, but for me, it is extremely important. It's a way to tell the world and the fans exactly how I feel about my father and what we did. Rise is my prologue to my father's early work. It is a period film that takes place 6 years prior to the events of Night of the Living Dead. And it's going to be great. I'm not going into too much detail right now, but we have some phenomenal people attached to the project. We have Robert Kurtzman doing the special effects and Shane Hurlbut doing the cinematography. We have some amazing pieces of the puzzle being put together, and I think we are going to make something that viewers not only want and need, but something that bridges any generational gaps that may exist. It's going to be a great place for people to discover the Romero work, and it's going to be a great place for people who have been fans for the last 50 years to continue their love for what my father created.
PopHorror: That sounds incredible! When do you think we will see a release for Rise?
George Cameron Romero: We're moving as fast as we can, and I'm hoping to have a release date set for sometime next year. So, the official answer is as soon as possible.
PopHorror: Is there anything you would like to add about what fans can expect from Rise?
George Cameron Romero: Fans can expect something that I think will address all the questions they may not know they have, and maybe a bunch of questions that they do know they have. I think it's really a phenomenal piece of the puzzle. And I really wish my dad was here to go to the premiere with me, because I know he loved it.
To George Cameron Romero, thank you for taking time away from the convention for this incredible moment to learn about your father, yourself and your work. Personally, it was truly a surreal experience and an honor. To our readers, we will keep you up-to-date on Rise when more details become available!