A few months ago, we told you about the upcoming indie film #FromJennifer. a black comedy shot entirely on GoPro cameras. Although they're not related story wise, #FromJennifer is the third film in the Jennifer series, following To Jennifer (2013) and 2 Jennifer (2016). This one stars some pretty familiar faces. But was it any good?
Released by Sector 5 Films and Lone Morsel Productions, #FromJennifer was directed by Frank Merle (Carnage on Graves Farm 2009), who wrote the script with To Jennifer creator James Cullen Bressack. The film stars one of my all time favorite actors, Derek Mears (Friday the 13th 2009, Hatchet III 2013, Dead Snow 2: Red vs. Dead 2014), as well as Candyman's Tony Todd, Danielle Taddei (Swimming 2006), Meghan Deanna Smith (Sharknado: Heart of Sharkness 2015) and Aaron Abrams (Hannibal TV series). I was also pleased as punch to see photographer Jenny Brezinski in the role of Fred.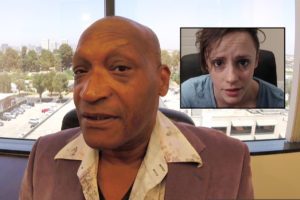 Although the official synopsis for #FromJennifer says: "An actress (Taddei) becomes obsessed with internet fame after her manager Chad Wolfe (Todd) drops her for not having enough of a social media presence," I feel like they're missing a big part of the storyline. Not only does Jennifer – not Jenny, that's a female donkey – obsess about her lack of internet fame, but she's also pissed about a viral sex video that her ex-boyfriend, Ralph (Abrams), uploaded of her on the internet. These two things are the catalyst that send Jennifer off of the cliff of insanity. She figures that she's going to kill two birds with one stone – get revenge of Ralph and the guys like him who upload sex shaming videos and increase her social media presence. How does she plan to do that?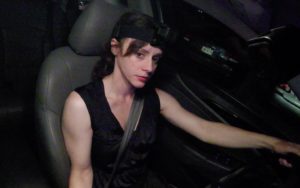 First things first. Jennifer's friend and flamboyant internet celeb, Stephanie Hart (Smith), gives her a GoPro camera and tells her to record her road to success. She hires eager-to-please, gentle giant Butch Valentine (Mears) to help her put her plan into action. Not only is Jennifer going to get her revenge on Ralph, but she's also going to make an example of the guys who like that sort of thing and show the world through the power of YouTube.
With a ton of relatable references ("People don't buy DVDs anymore") and some fantastic acting from Mears and Taddei (who sounds so much like Jami Gertz that I had to blink a few times to make sure it wasn't really her), #FromJennifer is a black comedy to end all black comedies. With the entire movie being shot on GoPros, the audience gets to see the action through the actor's eyes. Sweet, loyal Butch towers above the rest of the cast, scaring the shit out of everyone even though he only wants to help his friend with her mission. Like an angry chihuahua, petite Jennifer orders him around, frustrated by his frequent yet accidental fits of rage.
Jennifer (watches Butch throw her tied up ex-producer in the pool): "Why did you do that?!?"
Butch: "He wouldn't apologize."
Jennifer: "I appreciate the sentiment but you can't go around killing people!"
Butch: (lowers his head) "I'm sorry."
Jennifer: "Don't do that anymore! Pinkie swear!"
I loved all of the Little Red Riding Hood references in #FromJennifer. Merle included nods in the costumes, revenge plot masks and even names like Chad Wolfe. I thought it was hilarious that, despite the fact that they were obviously up to some sketchy business, no one even noticed what they were doing because that probably wasn't even the weirdest thing those people had seen that day in LA. My only complaint was that the three dates that Jennifer goes on are a bit repetitive, but in this film full of ax-chopping hilarity, this is a tiny pet peeve.
Final Thoughts
I think every horror fan will find something they love in #FromJennifer. It's funny and meta and black as pitch. There's not much gore, but there is a penis-related injury that will surely have most men squirming. This film is a a great freaking time. Do yourself a favor and see it.