Close your eyes and picture the ugliest, slimiest, hairiest, bloodthirstiest monster that your brain will allow you to imagine. Got it? Now do the same thing, only let yourself focus on the fluffiest, cuddliest, sweetest creature possible, one you would let sleep next to your newborn baby in its cradle. I bet you thought of bunnies for the second one, didn't you? What if I were to tell you that both of these creatures are one and the same? Let me introduce you to Cute Little Buggers.
From Uncork'd Entertainment comes Cute Little Buggers, a film directed, written and produced by Tony Jopia (Deadtime 2012) from a script penned by Andy Davie (Crying Wolf 3D 2015) and Garry Charles (Unhinged 2017). Bond girl Caroline Munro took care of casting, while also sneaking in to the film in a cameo playing the psychic, Mystic Mary.
The director's brother, Stu Jopia, also had a role in Cute Little Buggers as John, one of the trio of treasure seekers visiting Deddington hoping to get rich. Also starring in the film are Kristofer Dayne (Crying Wolf 3D 2015), Lydie Misiek (Adam et Eve 2014), John R. Walker (The Amityville Playhouse 2015), Crying Wolf 3D's (2015) Honey Holmes (as Angela Holmes), Sara Dee (Sightseers 2012) and Tim Hope, as well as Dan Abrams (Rock Band vs Vampires 2017) and Killer Bird's (2015) Steve Aaron-Sipple (as Steve Sipple) as the outrageous and hilarious aliens.
The visual effects were created by a smorgasbord of people. Involved were Brainy Monkey Post Production's Andrij "Andre" Evans, Abbas Films and Games' Raed Abbas, Wojciech Chylinski from CG Folks and Crying Wolf 3D's Alex Dewar and Matthew Walsh. Trish Pender (Burying the Mother In-Law 2017) and Neil Stephens (Chestwyrm 2013) were in charge of prosthetics.
Synopsis:
From the director of Deadtime and Crying Wolf comes Cute Little Buggers! Will you let them take our women? It's Gremlins meets Hot Fuzz set in the English countryside. When hostile aliens crash land on local farmland, the villagers at the summer ball get suspicious when young women start going missing. The villagers soon band together around our hero, Melchoir, to fend off the invaders and bring back peace to the sleepy English countryside! B-movie laughs in this creature feature from Director Tony Jopia.

What Works
There is so much that works in Cute Little Buggers. First of all, the film starts with the sweetest little song called "So Cute." The song was created by frequent collaborators Martin Pavey and Sara Dee (PC Hitchins). Speaking of Sara, the entire cast is fantastic. They had ass kicking women in Phyllis (Honey Holmes) and PC Hitchins, whose superhero changeover was nothing short of amazing. There was the humble yet handsome Melchoir (Kristopher Dayne), and the hard-nosed old bastard Burt (Tim Hope). I also loved piss-collecting eccentric Walter (Benji Mingh), the concerned gypsy Mystic Mary (Caroline Munro) and the straight man PC James (John R. Walker). The two aliens were my absolute favorite characters. I could have watched them for the entire film. Let's not leave out Neckbeard the Pirate, whose infatuation with treasure got him a bit more than he bargained for after his little trip into the woods.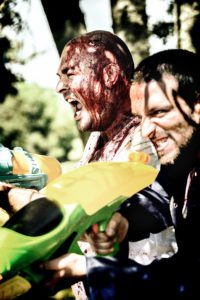 Secondly, I absolutely love horror comedies. They're right up there with creature features for me. So when a film not only scares me but makes me laugh out loud, I know I've struck gold. Cute Little Buggers is a mix between Jaws, Slither, Critters, Cockneys Vs Zombies, and Gremlins, all favorites of mine. I love that Tony Jopia used pure British humor and didn't try to make it palatable to all audiences. My favorite scene had to be the one of the guy grabbing a toaster as a weapon against the killer rabbits. When they asked him what he was planning on doing with a toaster, he replied, "Mixing me toasties." This made me laugh way more than it probably should have.
The gore was fabulous. Bodily fluids were splashing from all corners of the screen, rabbits were exploding with high regularity… I do have to admit, despite knowing that the bunnies were the bad guys, I still felt bad every time one burst apart. There were limbs being severed and whips, arrows, bullets and cricket bats were flying with utmost abandon. Gory be!
Last but not least, who would ever suspect such sweet little woodland creatures as such bloodthirsty machines of death? People already know to be afraid of huge animals like rabid dogs, bears, ants, snakes and sharks. But bunnies? This was a genius move by Tony Jopia. He didn't need to make them radiated and huge or give them bulging, pus-filled eyeballs and buck-toothed fangs. No, these little guys are just average little puffballs hopping around with the squirrels and hedgehogs until… BAM!
What Doesn't Work
While the CG didn't bother me (I considered it part of the humor), some may be irritated by it. There was one thing that bugged me, however. One of the characters gets shot in the face with an arrow, and when he yanks it out, the holes where the arrow was all but disappear. It's very quick, and unless you're looking for it, you probably won't even notice it. I happened to catch it, and it stuck with me. Also, it may be a British thing, but I wasn't too fond of the constant, hateful dialogue. Being pissy can be funny at times, but for me, this was just too much. The sound seemed a bit off in a few scenes, but nothing too distracting.
I noticed discrepancies in character accents which were explained away/glossed over. Although he grew up in Deddington until he was 15, Melchoir had a heavy European accent (how long he lived with his mom in another country was never explained). Rose still had strong French accent, despite the fact that she'd spent 10 years in the UK and her dad's accent was strongly local. My biggest complaint would have to be the amount of attack/abduction scenes. While I understand that the Cute Little Buggers were ambushing people left and right, nothing new was added with each subsequent scene. Mostly those involving people not important to the plot (French backpackers, I'm looking at you). It's not really that big of a deal, but I think the film could have used a few less (or more original) of these scenes.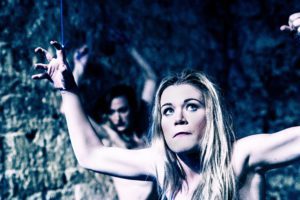 Final Thoughts
Cute Little Buggers is disgusting, hilarious, over the top and action packed. I never would have guessed that fluffy little bunnies could be so terrifying! If you're in the mood for a hilarious, cheesy romp through the English countryside with some ass kicking characters, immoderate CGI and hysterical one-liners, look no further than Cute Little Buggers. Keep your eyes peeled – the movie premieres on VOD this November 7th.