Art The Clown fans, rejoice! The Clown Prince of Terror is back for more murder and mayhem. The official trailer for the upcoming slasher sequel, Terrifier 2, dropped this week, and we've got it for you right here!
Check it out below, then read on for all the details!
Terrifier 2 Synopsis
After being resurrected by a sinister entity, Art the Clown returns to Miles County where he must hunt down and destroy a teenage girl and her younger brother on Halloween night. Pray you don't get in his way.
Terrifier creator Damien Leone wrote and directed the film. It stars Felissa Rose, Lauren Lavera, Elliott Fullam, Sarah Voigt, Kailey Hyman, Chris Jericho, and Casey Hartnett. David Howard Thornton returns to reprise his deliciously evil Art The Clown role.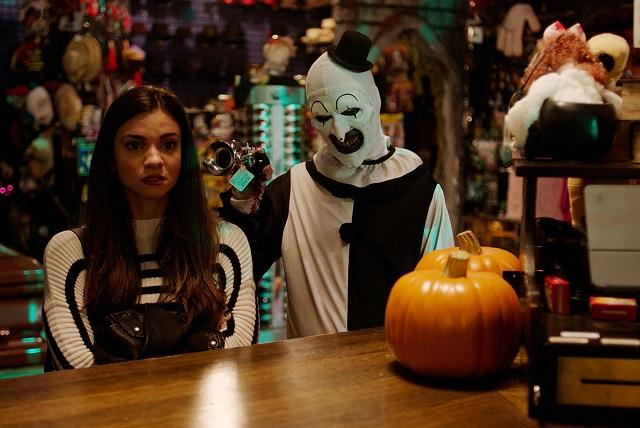 Bigger and Badder
Leone promises the sequel will be "10x bigger than the original." He's even gone so far as to say:
"Terrifier 2 will be the merciless, no holds barred follow-up you've been hoping for. If you thought we pushed the envelope in part 1… you haven't seen anything yet."
I love it! This badass trailer certainly brought big smiles to our faces!
Terrifier 2 hits theaters October 6, 2022 from Bloody Disgusting and Screambox. Watch for it!
Final Thoughts
Great news! We enjoyed the original (read our review here), and we can't wait to see the sequel! Psst… if you haven't ridden the Terrifier train yet, the original is now streaming free with ads on Vudu, Tubi, and the Roku channel. Check it out!
What do you think, horror fam? Did you enjoy the trailer? Tell us in the comments!