While browsing through titles at the store, looking for my next horror fix, I come across Hangman. I read the back and instantly think to myself, "Oh great, another found footage film." Aside from Afflicted (2014), I have not been at all impressed with that genre. I continue to read and see that Jeremy Sisto (Wrong Turn) is in it. I've loved many roles he's been in and what can I say? The man known as Elton from Clueless had me sold. I make my purchase and it sat on my shelf for a good two months. BIG MISTAKE! Did Hangman leave me feeling differently about this horror genre?
Directed and Co-Written by Adam Mason, Hangman is a fun and thrilling horror film that I didn't expect to love, but I did. I loved the story, the hangman was awesome, and some scenes actually freaked me out. It begins with a camera following a family leaving for vacation, then cuts to someone setting up cameras in their home. They come back from vacation to what "looks" as though someone had broken into their home, everything was tossed and thrown about. However, nothing seems to be missing. Aaron (Jeremy Sisto) and his wife Beth (Kate Ashfield), along with their two children, Marley (Ryan Simpkins) and Max (Ty Simpkins), continue to go about their life like nothing happened. Unfortunately, they're completely unaware that their life is about to be completely turned upside down.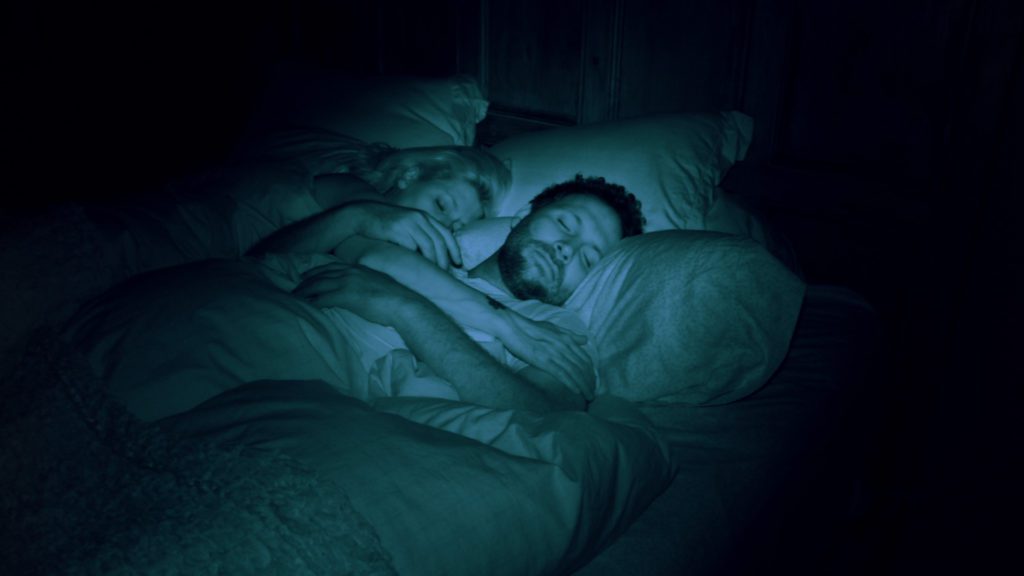 The Hangman (Eric Michael Cole) begins to watch and toy with the family. Beth wakes up to find a jug of orange juice left open on the counter. She questions Aaron about it. He chalks it up to saying one of the kids probably left it out. This is the only problem I have with this movie. This family just had their home broken into and they're not concerned that someone could still have access to their house? That they won't come back? No worries at all? This is a typical horror movie cliche. However, we wouldn't have many beloved horror movies if it weren't for those annoying cliches.
I love the Hangman because he's such a trickster and acts like part of the family. Everything he does has a purpose and the build-up and tension put you on the edge of your seat. The orange juice was only the beginning as he begins to intervene with each family member. First, he comes to Max and convinces him that he is just a part of his dreams. He follows Marley and her boyfriend and films them on dates. He continues to leave the orange juice out to play mind games. Aaron and Beth have some friends over and he watches in plain sight; however, nobody even seems to notice. He also pays a lot of attention to Beth. The Hangman is a very sadistic home invader and you can't wait to see what he is going to do to this family next.
Some of his stalker scenes are so creepy that you don't know if it really happened or not. It's hard to say much because I don't want to give anything away. Plus, sometimes things are far scarier when left to the imagination, in my opinion. But this movie seriously has some freak moments! It is based on a true story and those movies are the ones that seem to get under my skin because they could actually happen. I will say one scene, in particular, had me completely freaked out and even though I watched this a couple of days ago, it still has me shaking my head about it. The build-up to the ending is heart pounding and  I don't usually jump, but one particular scene had me jumping out of my seat!  Sisto, you didn't leave me disappointed in being the reason I picked this movie!
Final Thoughts:
When you come across this movie don't be like me and just leave it on the shelf waiting to be watched. Pop this bad boy in and enjoy the ride! I can only hope there will be a sequel to see what twisted games the Hangman would have for another family. Did I just say "sequel"? I must have really enjoyed this movie. Seriously, don't let judgment over a specific genre detour you away from watching a new story. Some movies are hidden gems that are surprisingly fun and will not always disappoint you. Take chances and watch more horror!