I've currently been watching some uncomfortably bizarre films and The Believer most definitely falls under this category. The film was written and directed by Shan Serafin. The cast includes Sophie Kargman, Aidan Bristow, and Billy Zane.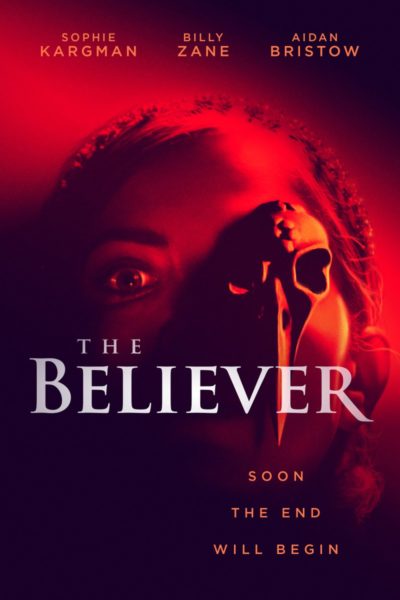 Synopsis for The Believer 
The story of an out-of-work scientist facing mental deterioration finds he may be battling his wife's obsession with demonic activity. Lucas is an out-of-work nuclear scientist, struggles with tension in his marriage after his wife Violet mysteriously terminates her pregnancy without his consent. As Lucas' physical health begins to inexplicably deteriorate, Violet's behavior grows increasingly bizarre and he seeks clarity from his therapist Dr. Benedict. Exhausted by his job search, strange events begin to occur in the home and his medical condition progressively declines. Benedict recommends they try an alternative therapy, but it only makes matters worse.

Lucas questions Benedict's effectiveness as his grip on reality begins to fade. Violet's deceitful behavior arouses his ever-deepening suspicions, and after a visit from two mysterious guests, her insidious behavior becomes disturbingly pervasive. Lucas' anger and frustration turns to fear as Violet's sinister intentions are revealed. Lucas tries in vain to escape the evil web she has spun, but by the time he discovers the truth, it might be too late.
This film was pretty wild and the story was bizarrely unique. On the surface, The Believer just seemed to be about a couple struggling with their relationship and the loss of their child. But it's far from that.
Sophie Kargman and Aidan Bristow have a special on-screen chemistry that portrayed both love and hate for one another. Their performances throughout this film are tense, emotional, uncomfortably cold, and awkward. I also loved Billy Zane's character. It was a different type of role for him but he killed it as always.
There are many layers to this film to discover and unfold. It's packed full of mystery, wonder, suspense, and uncertainty. I never knew what to expect next and I'm still not sure I understand everything. And because of this, I definitely will be watching The Believer again.
Final Thoughts
This film was definitely not what I expected, but worthy of a watch and may just surprise you! The Believer released on April 3 via Freestyle Digital Media.