They say a picture is worth a thousand words, but what if those words told your death? Or the death of someone you love? All of this and more happens in the new horror thriller Camera Obscura. But does the camera do the killing or is it someone else? Find out if this film is worth watching!
Camera Obscura is directed by Aaron B. Koontz (producer of Starry Eyes), who co-wrote the script alongside Cameron Burns. The film stars Christopher Denham (Argo), Noah Segan (Deadgirl), Nadja Bobyleva (Bridge of Spies), and Catherine Curtin (Orange is the New Black).
Official Synopsis:
A veteran war photographer with PTSD (Denham) sees imminent deaths in his developed photos, questioning his already fragile sanity and putting the lives of those he loves in danger.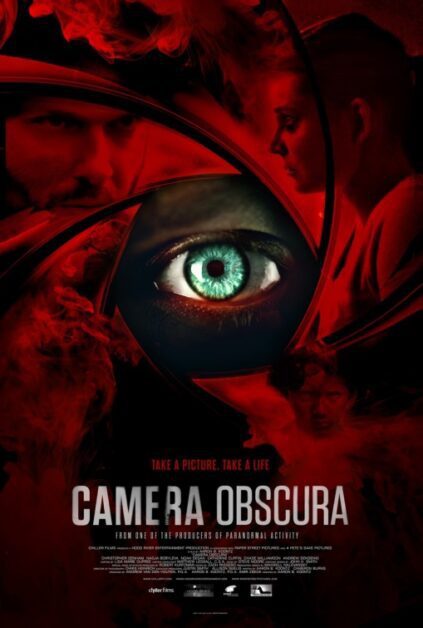 This was a refreshing horror thriller that touched on a little bit of everything when it comes to horror: psychology, suspense, and plenty of blood and gore. Although Camera Obscura had some slow moments, there are 3 main reasons to watch it.
I absolutely loved this intelligent horror story. Can you imagine taking pictures and, within those pictures, seeing how your loved one will die? Then you discover that if you replicate the photo by killing someone else, it saves the person you love for a short period of time? How far would you go to save them? All of these questions run through your head and you can't help but put yourself in the place of Jack. It's intriguing and reminded me a lot of Final Destination, which the director said he is a fan of.
Christopher Denham was wonderful in the lead role of Jack. It was amazing how quickly he went from loving husband and friend to a serial killer with little to no remorse. Nadja Bobyleva was great throughout the film, but her shining moment is when she loses her shit on Jack. As a viewer, you could feel her anger and the pain she felt for losing any trust she had for the man she loved. Noah Segan plays the perfect supporting actor and without him, the ending would not have been nearly as intense!
Holy shit, they delivered the blood and gore full on. Every kill was more gruesome than the last and I was actually shocked by how far they went. I loved it, though. It really showed how much the PSTD and photographs messed with Jack's head and how far he was willing to go.
Although some of the things that happened, I did expect… there were other parts where I didn't. It's a rare moment when the ending takes a bizarre twist and you're left thinking, "Oh shit, what now?" I'm glad it went that way it did.
Final Thoughts
Overall, I truly enjoyed watching Camera Obscura and getting to know the behind the scene details with the director and actor. It's one that will make you think about life and what you would do if you were put in a tragic situation. It was released in theaters on June 9th and will be out on VOD/Digital HD on Tuesday, June 13th. Check it out when you can!