The massive success of George Lucas's Star Wars in 1977, coupled with the growing popularity of TSR's Dungeons and Dragons role-playing systems (basic and advanced) gave rise to a new era of filmmaking in Hollywood: Sword and Sorcery! I'm not saying Sword and Sorcery films were invented in the 1980s. They were around long before then with Disney and Harryhausen and others. But when  Hawk the Slayer premiered in 1980, followed by Excalibur and Clash of the Titans (read our retro review here) in 1981, the genre gained new life.
In 1982, a slew of Sword and Sorcery films raided the box office, most famously John Milius's Conan the Barbarian (read our retro review here) and Albert Pyun's The Sword and the Sorcerer. It was a full-on S&S revolution! 1982 marks the 40th anniversary of both of those epics, which means another Sword and Sorcery classic is also turning 40. Of course, you know I'm talking about Don Coscarelli's The BeastMaster!
Look back with us on four decades of action, adventure, and animal wizardry in our all-new retro review! First up: the trailer!
THE BEASTMASTER (1982) Synopsis From Anchor Bay Entertainment
Born with the courage of an eagle, the strength of a panther, and the power of a God.

He was the unborn crown prince of a family slaughtered by lords of evil. But when he grows to manhood, the warrior Dar embarks on a perilous journey to seek his revenge on the monstrous priest Maax. Now with the help of a cunning hunter, the love of a beautiful slave girl, and the extraordinary ability to communicate with animals, Dar must battle his way through a wasteland of sorcery and black magic on the ultimate quest for freedom and vengeance.
Don Coscarelli (read our tribute here) (Phantasm, Bubba Ho-Tep) directed the film and co-wrote the screenplay with Paul Pepperman. It is loosely based on Andre Norton's novel, "The Beast Master." Norton, unfortunately, was not a fan of the film, to the point where he asked to have his name taken off of it. He told Starlog Magazine, "the only thing they used from my book in that movie was the idea of a hero who is in telepathic contact with animals."
The film stars Marc Singer (V: The Mini-Series), Tanya Roberts (A View To A Kill), Rip Torn (Men In Black), and John Amos (Die Hard 2: Die Harder). The BeastMaster was shot on location (exteriors) in Nevada and California, and on the MGM lot (interiors).
Here's a look at the official poster art!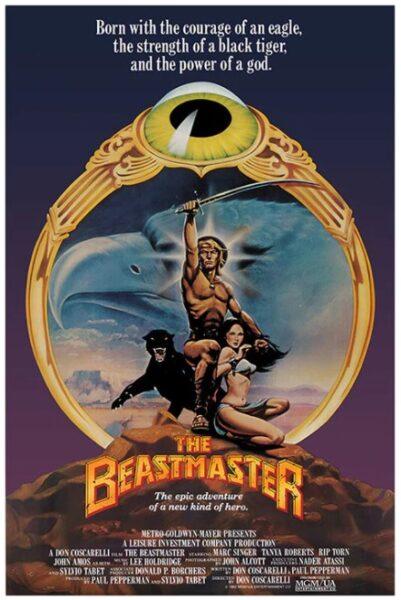 Release and Reception
MGM released The BeastMaster on 1013 screens on August 20, 1982, making it the weekend's only new, wide release. It finished in fourth place behind mega-hit E.T. The Extra-Terrestrial (in its 11th week), An Officer and a Gentleman (4th week), and Friday The 13th: Part III (2nd week). The film earned $4.68 million that weekend en route to a $14 million worldwide gross, against a $9 million budget. Don Coscarelli won the Antennae II award at the 1982 Avoriaz Fantastic Film Festival. Young Joshua Milrad was nominated for a Young Artist Award.
Critical reviews were almost universally bad. TV Guide panned the film, saying "Not much action or excitement here." The New York Times praised the locations and scenery, but derided it as looking "both big and cheap." Variety's reviewer found it confusing and described it as "non-interesting." Gene Siskel called it a "brainless adventure film," and complained it dragged on at least 2o minutes too long. About the only relatively positive review I could find was from the Los Angeles Times, which praised the film as a "comic book adventure come alive."
Fan Reviews and scores are, unsurprisingly, far more kind. This is, after all, a film steeped in nostalgia, While it failed to take in the $80 million that Conan raked in, or even the $40 million that The Sword and the Sorcerer did, it definitely found new life on home video and on cable television, most notably on HBO and TBS. The average Metacritic user score is a 7.6 out of 10, while IMDB users rate it 6.2 out of 10. Rotten Tomatoes currently rates The BeastMaster at 46% positive for critics and 54% for the audience.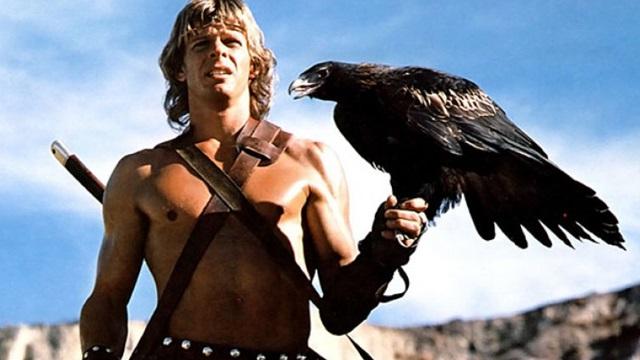 The BeastMaster – What's To Like?
If you like fantasy films and Sword and Sorcery films in general, you're almost guaranteed to like The BeastMaster. There's a definite formula to the majority of these films, and it works. The hero's journey from birth to tragedy to an epic quest to ultimate victory. John Amos and Joshua Milrad make for charismatic, capable companions along the way, as does the lovely Tanya Roberts (who would later star in another fantasy adventure, Sheena (1984).
The protagonist, Dar, is every bit the hero here. Marc Singer got into incredible physical shape for this role, in a time before it was the default setting for Hollywood action heroes. Schwarzenegger is the obvious contemporary here, but The BeastMaster exists in the time before peak bodybuilding Stallone and before "the muscles from Brussels," Jean-Claude Van Damme. Singer even manages a single manly tear in one of his scenes, revealing the hero's sensitive side.
What Beast Master is complete without his beasts? The animal companions in this film are really cool, even though by all accounts, it sounds like they were an incredible pain to work with on set. Of course, everyone loves the ferrets, who save the hero on many occasions, and how can you not like a giant tiger painted black to look like a panther? An eagle? Awesome! The vision effect in the scenes where Dar sees through the eyes of the creatures is also pretty cool.
The film looks really good. Cinematographer John Alcott (The Shining, 2001: A Space Odyssey) brought his A game to this production. The New York Times was correct in its assessment that the locations are visually stunning. There are some incredible overhead shots, undoubtedly filmed from a helicopter, that take great advantage of the California and Nevada desert scenery.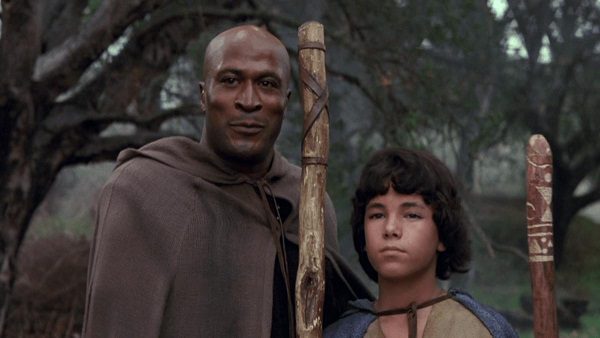 The BeastMaster – What's Not To Like?
For as good as the film looks from a cinematography standpoint, there are a number of issues with the "cheap" part of "big and cheap." The makeup effects really do not hold up well at all in high definition. You have this crystal clear picture, and you can see the prosthetics glue and rubber hanging off in every "monster" scene. Is this going to ruin the film? No. In a way, it adds to the charm, but it's definitely noticeable.
Rip Torn is a great actor, but man, he is so ridiculously over the top here. From the big, fake prosthetic nose, to the silver teeth, and snarling away lines like "he dies tonight," Torn's performance falls into the "so bad it's good" realm of overacting. In a particularly evil turn, Torn's evil wizard Maax (pronounced May-Aks), attempts to sacrifice a child in a fiery pit. Dar sends his eagle to rescue the child, and as the eagle and child fly to safety, Maax snarls, "He wants your children!" It's gold.
Gene Siskel's assessment that the film runs on about 20 minutes too long is also fair. The BeastMaster boasts a nearly two-hour runtime, and that results in some flagrant pacing issues. If you're watching the movie for the first time in 2022, it's going to be even more noticeable to you, than it is to someone like me who's seen it countless times and is revisiting it after a 10-plus year hiatus.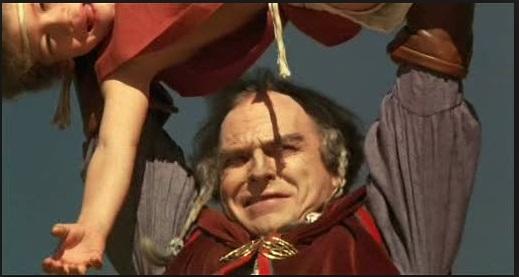 A Longtime Fan's Spin
The BeastMaster is really a classic case of the whole not equaling the sum of the parts. As I mentioned earlier, you've got a great hero and some good-looking scenery, and a solid supporting cast. The creatures are cool, and the way the hero commands them to help him out of bad situations is really an innovative story hook not often seen in fantasy films. Young me had a massive crush on Tanya Roberts. She's just gorgeous in this (and everything, really).
The film is full of cool things that pervaded the Dungeons & Dragons campaigns of my youth. Cursed "eye" rings that allow evil wizards to spy on your camp. Cool throwing weapons (before the Glaive in Krull) The adventuring party on a quest to defeat the big bad. Unstoppable supernatural soldiers. A killer sword (that was stolen from the set, according to Coscarelli after filming wrapped). Evil witches who tell of ancient prophecies. And the ultimate: the man-sized bat creatures that wrap their wings around you and digest your flesh until nothing but bones and armor remain. Scared the shit out of me as a boy!
Unfortunately, when you add it all up,  you've got a not-so-memorable villain, a very disjointed story, and some glaring pacing issues that prevent the film from really taking off and becoming an all-timer. I, personally, enjoyed revisiting it for the nostalgia factor and the childhood memories, but I'm not sure how well this film will play to a modern, first-time viewer. If you love fantasy films, though, you're definitely going to want to give this one a try. It's silly fun if you're in the right mood.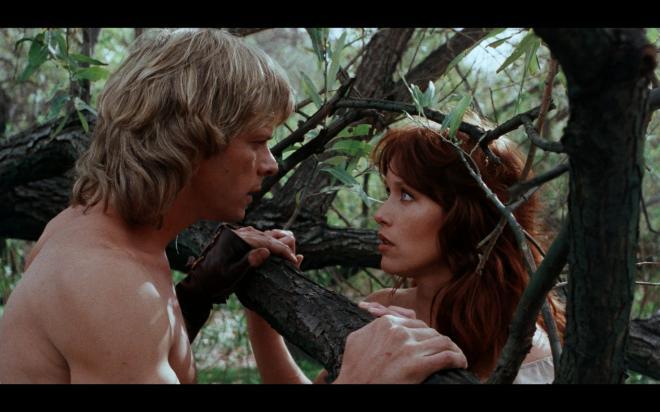 Legacy and Home Video
The BeastMaster went on to spawn two movie sequels and a television series. BeastMaster 2: Through The Portal of Time was released in 1991. Coscarelli was not involved, but Marc Singer returned (still in phenomenal shape) as Dar, starring alongside Kari Wuhrer and Conan the Destroyer's Sarah Douglas. Singer would return again in 1996 for BeastMaster 3: The Eye Of Braxus, featuring Tony Todd. The television series did not feature Singer. It ran from 1999 to 2002, and is currently streaming free on Vudu.
At the time of this writing, The BeastMaster is streaming on Amazon Prime Video. You can also buy or rent it on a variety of digital platforms, including VUDU. Physical media fans will be pleased to find a variety of DVD and Blu-ray releases, as well as a 4K UHD Blu-ray set from Vinegar Syndrome that appears to be the most complete release so far. If you're a tape head, you can also find a variety of VHS copies floating around on eBay and other online auction sites.
Amongst the plethora of special features, the Vinegar Syndrome 4K UHD release includes a feature-length documentary called The BeastMaster Chronicles. I haven't seen it yet, but the reviews are amazing. This may very well be the film that gets me to break down and get a 4K UHD setup at home.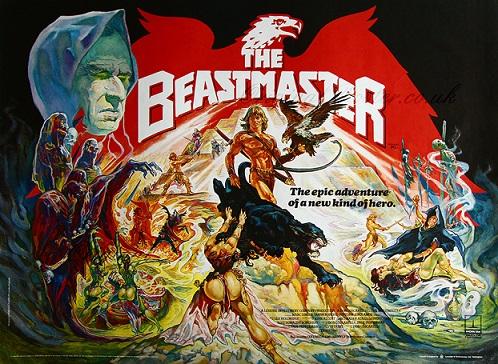 Final Thoughts
Comedian Dennis Miller once joked that HBO stood for "Hey, BeastMaster's on!" It's especially funny because it's true. As a child of the 1980s, I watched the film countless times on HBO, and when it wasn't on HBO, it was on TBS (aka The BeastMaster Station). I gotta say, I really enjoyed revisiting the film for its 40th birthday. So much so, that I watched it twice this week. And you know what? It was better the second time!
The BeastMaster is a fun, Sword and Sorcery adventure romp from the golden age of Hollywood fantasy films. Is it Conan? No, but like the Los Angeles Times review said, "it stands on its own merits." Marc Singer is a great fantasy hero and the film is full of enough good ideas, cool concepts, and striking imagery to keep fantasy fans happy.
If you're a BeastMaster fan from back in the day, it's time to go back and watch it again. If you've never watched it, pop yourself a big bowl of popcorn and sit back with your favorite beverage and venture into the world of Dar, Kiri, Seth, and Maax…and animal friends, of course!
"Life is a circle. I'm sure we'll see each other again." ~Seth (John Amos), The BeastMaster