Although he spends his days designing custom movie posters and company logos for his graphic design business DBGgraphix, Gary Berger has another passion. And that passion is horror. The first time he got behind the camera, he created Servus de Infernum through his newly formed production company P. P. Urpansoph Films along with Josh Mowatt. How did he do? Read on for a review and check out the short itself at the end of the article.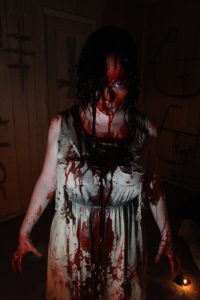 The official synopsis:
When you walk into the darkness, what horrors await you from the Servant of Hell.
Servus de Infernum is the debut film of director Gary Berger, who went on to create two more shorts with Mowatt in the year since this one released on August 10, 2016. Sharing the director's chair is Josh Mowatt, who also stars in the film as the witch's victim, helped co-write the script and produced as well. Mowatt and Berger teamed back up for two more projects so far: The Final Photograph (2017) and The Klondike Incident (2017). The movie also stars Katie Monroe and Scott Slagle (Sunset 2015) composed the theme music, a requiem that includes the jabbering of Hell's own spawn.
Coming in at just over five minutes, Servus de Infernum starts off with a nameless woman (Katie Monroe) leaving her job at the hospital and making her way to a dilapidated house in the middle of the woods. It's here that she transforms into a cold, ragged witch. Without a word besides her monotone chanting, the witch hypnotizes her victim (Josh Mowatt), a spaced out man standing in the corner, to lie down on the pentagram painted onto the floor. What does she have in store for this poor guy? Nothing good, that's for sure.
Berger's debut project was made for just $100, but don't let that sway you. The short is tense, bloody and disgusting. I would not call Servus de Infernum scary per say, but for a first time effort, I'd say that the short is a successful horror tale. The fact that no one talks during the film's runtime makes it all the more creepy.
So check out the short below and let us know what you think in the comments!