Sometimes when I'm feeling less then fresh, I like a little comedy to go along with my horror. A lot of the times, these two genres go hand in hand. So when a friend sent me over the trailer for Killer Rack and mentioned that it was streaming on Amazon, I was sold. This was the perfect bloody pick me up. If mention of a massive killer breast doesn't grab your attention, then I think you need to keep reading.
Director Greg Lamberson and scriptwriter Paul McGinnis (who also happens to have quite a fun role in the film) come together to deliver one of the funniest laugh out loud movies I've seen all year with Killer Rack. It has a 7.2 rating on IMBd.com and has scared up quite a few awards such as Best Feature (Scarecon), Best Monster (Friday Night Theatre Film Festival), Best Screenplay (Buffalo Screams and Shock Stock) and, last but not least, Outstanding Horror Comedy (Zed Fest). After viewing the film, it's apparent those awards are well deserved.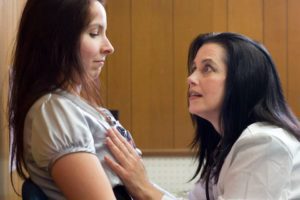 Killer Rack follows Betty (Jessica Zwolak), a woman who is insecure with her body image. Everyone seems to get noticed for their physical appearance, especially the girls with bigger boobs. Her own boyfriend doesn't even want to touch her. She sees an ad on TV for plastic surgery, so she decides to go and get a consultation. Little does she know that she is about to meet a psycho plastic surgeon Dr. Thulu, played by the ever so talented Debbie Rochon. Dr. Thulu is looking for the perfect vessel to take over the world and Betty is that vessel. Thus ensues one hell of a fun, quirky, killer implant death spree, entertaining throughout the entire 90 minute run time. Will Betty's boobs take over the world or will she be able to quickly deflate them?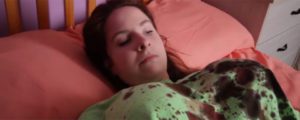 There are so many reasons to love this film. I watched it on one of my worst days and it literally could not make me stop laughing like an idiot. It has clever puns and movie references from Grease to The Evil Dead. Killer Rack also has one heck of a musical number. Last but not least, it has the ultimate boob showdown. This is a movie I think people will quote for decades to come! One of my personal favorites is, "I told you I was more of an ass man." You know it's going to be great when you hear that Lloyd Kaufman of Troma Entertainment is involved! Let's not forget the voice talent of the beautiful Brooke Lewis.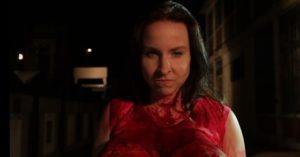 Final Thoughts:
This movie is so much fun and it's a ride I will gladly take again. Killer Rack also points out some relevant body image issues and also helps support breast cancer awareness. I am certainly going to be adding this horror comedy to my collection as soon as possible. I must give a little nod to Lamberson and McGinnis: "Have I told you I loved you?" You both would probably say back: "Yeah, but not enough." Hopefully this review does just that and I can't wait to see what you guys come up with next! Killer Rack is one of the "breast" horror comedies you'll see, I promise you that!