When Friday The 13th was released in 1980, most people (including its cast and crew) believed it would be a standalone horror film. Enter Friday The 13th Part 2 the following year. Once the studios realized that these slasher films would be cheap to produce and easy to turn a profit, we saw the birth of an enduring franchise. But this subgenre may have never been born without the story and success of Friday The 13th Part 2. This is the installment that introduced us to the first incarnation of the hockey mask-wearing, sharp object-wielding destruction machine that we've all grown to know and love. As this beloved 1981 sequel turns forty on May 1, 2021, we're taking a look at what made it so iconic.
Friday The 13th Part 2 was directed by Steve Miner (Halloween H20: 20 Years Later 1998 – read our retro review here), and written by Ron Kurz (Off The Wall 1983). This sequel came one year after the original and tells the story of Jason Voorhees, a mongoloid who's been living off the land at Camp Crystal Lake ever since seeing his mother beheaded in the first film. Jason drowned at camp there as a young boy and was resurrected to defend his territory from all incoming campers and councelors. This is one of the standard bearers of the "hack 'em up" slasher that we've come to appreciate during the height of this subgenre.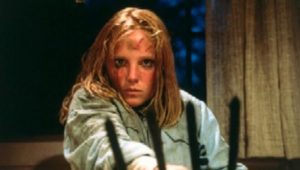 We open with a masterful six minute recap of the previous film using a dream sequence to tell the story and to keep continuity by killing off Alice (Adrienne King: Killer Therapy 2019), the survivor from the first movie. Then we're introduced to our new crop of kids, including Ginny Field (Amy Steele: April Fool's Day 1986). Ginny is looked at as perhaps the greatest final girl in this franchise's history. She shows a toughness and leadership qualities early on in the film, and then later tries to diagnose the reasons for Jason's killing spree. Her empathy for Jason not only gives her depth that many others don't show in slashers but also humanizes Jason and provides a method to his madness. She even tries to outsmart the killer later in an iconic scene where she dons his mother's sweater instead of simply running away.
Warrington Gillette (Penny Dreadful 2005) and Steve Dash (Mr. Hush 2010) split time as Jason, and they did a nice job bringing this forceful character to life for the first time as an adult. In a film like this, you come to expect worthwhile kills and gore gratification, and you get both in this movie. Scenes like the wheelchair tumble, the wrong way machete slice, and the post-coital double spear have been played back by gore-hounds for decades. This film set the stage for the formulaic sequels that would envelop the '80s and '90s. The campground is scenic, Harry Manfredini's (House 1985) score is haunting, and it's the perfect entry into the camp slasher subgenre. To date, there have been ten more movies involving Jason Voorhees. As of this writing, Friday The 13th Part 2 is currently streaming on Hulu and is a must watch as summer approaches. Just don't watch it the woods alone.