Grammaton Punch (5 Issue Miniseries)
Written by Miles Gunter
Art by Briane Andan
Ray Parker Jr. may try to tell you otherwise, but when it comes down to it, there's no one to call when you've got ghosts. 11-year-old Van Nguyen is all too familiar with the problem. Being born under a solar eclipse, Van has been able to see ghosts and be touched by them. Unfortunately, these spirits are no Caspers. His own personal visitor is "Eyeball Lady," a parasite who takes big chunks out of Van's lifeforce and health.
Thankfully, Van gets fed up with it one day and realizes if she can reach out to him, he can probably touch back. Not only a touch though; Van is able to unleash the titular Grammaton Punch. It serves as a temporary exorcism mixed with spiritual pepper spray, knocking the Eyeball Lady away for longer and longer… Never fully deterring her though. After he discovers this ability, young Van decides to use it to help others being haunted, even though it ostracizes him from his peers.
While Van is building his confidence, there are still bigger and spookier spirits on the rise. This includes one that appears to be a demonic Theodore Logan from Bill and Ted's Excellent Adventure that feels very much like he could serve as either the first significant challenge for Van or the Big Bad Boss at the end of the series. Not to mention the allusions to other "eclipse babies". Will they have the same power as Van? Something different? Only future issues will let us find out.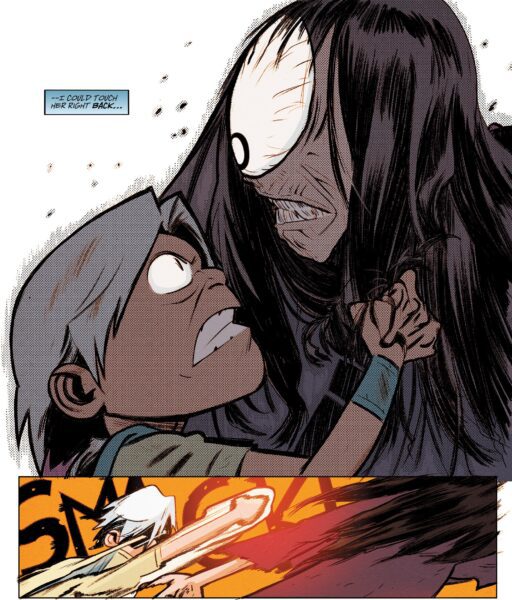 Comics like Grammaton Punch are why I gravitate toward indie comics. They, and Grammaton Punch itself, provide new talent, fresh and fun ideas, and accessible diversity. Van's condition could easily be compared to a chronic health condition, something he cannot escape, but he has to learn to battle and survive on his own terms, not those of typical people. This presents it in a manner anyone can process and makes sure the audience knows, Van is no less for it.
Miles Gunter is no stranger to writing about sci-fi and horror, with experience writing for BPRD, Dark Fang, and NYC Mech. This leads to the plot having equal elements of horror and action while not overdoing either. Briane Andan's artwork is right alongside Gunter's writing, giving a very dynamic early 2000s TokyoPop-esque look to the proceedings, as well as throwing in several fun visual easter eggs that also work seamlessly inside the story. I see you, fellow kaiju fans.
While it's unclear where exactly the comic will be going and exploring in its 5 issues, between fan easter eggs and the fun, action-oriented setup, I'm sure Grammaton Punch will be a Grammaton blast. Issue 1 dropped exclusively as a Comixology Original on March 14th, 2023 with issue 2 coming soon!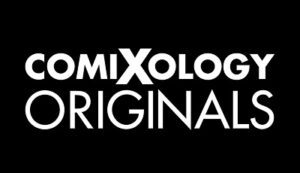 About Comixology Originals:
Amazon's Comixology Originals exclusive digital content line is available at no additional cost for members of Amazon Prime, Kindle Unlimited, and Comixology Unlimited, and for purchase at amazon.com/comixology. Prime Reading offers all Amazon Prime members a rotating selection of more than 3,000 digital books, magazines, comics, and more – all at no additional cost to their Prime membership. Kindle Unlimited gives customers access to more than 3 million digital titles, including thousands of audiobooks and comics, plus current magazines for just $9.99 a month with a free trial period at amazon.com/kindleunlimited. Comixology Unlimited offers over 45,000 comics, graphic novels, and manga for just $5.99 a month with a free trial at amazon.com/comixologyunlimited.