When I found out one of my favorite horror anthologies, V/H/S, was getting its own spin-off movie, I was both stoked and concerned. The vignette was Alien Abduction Slumber Party on V/H/S/2 (2013). Now, I'm on the record saying that the V/H/S/2 is a perfect movie – you can read my article  'VHS: An Ode to Found Footage' here. So naturally I was a little reserved about this new adaptation. But when I saw the original director and co-writers Jason Eisner and John Davies were returning, I was 100 percent on board.
Check out this beautiful poster art!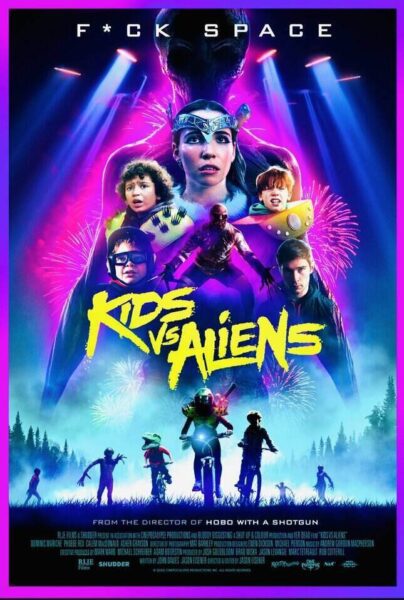 Kids vs. Aliens
Synopsis
All Gary wants is to make awesome home movies with his best buds. All his older sister Samantha wants is to hang with the cool kids. When their parents head out of town one Halloween weekend, an alltime rager of a teen house party turns to terror when aliens attack, forcing the siblings to band together to survive the night.
Directed by Jason Eisener (Hobo With a Shotgun (2011)
Written by Jason Eisener and John Davies (V/H/S/2)
Starring Dominic Mariche (Are You Afraid of the Dark (2021), Phoebe Rex (From (2022), Calem MacDonald (The Umbrella Academy (2020)
The Setup:
Gary and his best friends, Jack and Miles, encapsulate everything that's genuine and free about being a kid. Uninhibited creativity that's only matched by their ride-or-die companionship. Goonies never say die!
Gary's sister Sam is a teenager whose internal dilemma is trying to decide if she's losing her authentic self or attempting to discover it, but her only company is Gary and his compadres. She's fallen into the guardian role of her little brother Gary because their parents are constantly absent on business trips. Fortunately, their parents are loaded and she shares most of Gary's interests like pro wrestling, making movies, and swordplay.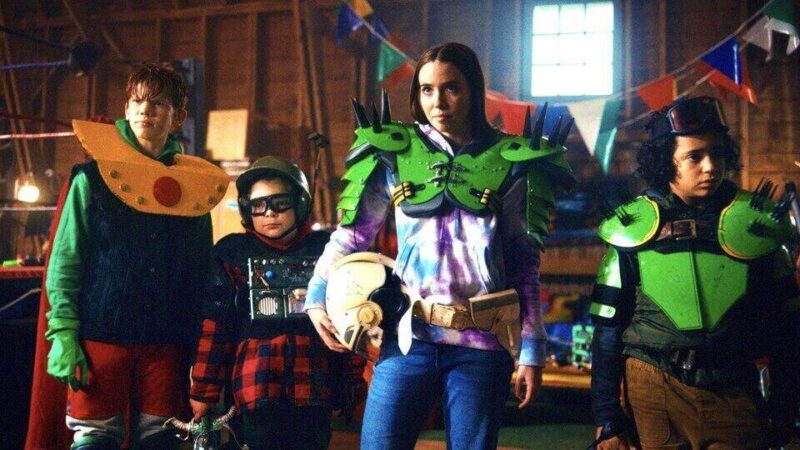 Sam can't stop her young womanly desires. She seemingly has caught the eye of her little brother's bully Billy. He becomes all she can think about and Sam begins flaking on her movie-making comrades. Billy comes with a neck tattoo, a 90s Mustang GT, and a pack of goons. Not only does he ruin everything Gary and his friends love, now he has his eye on his big sister, along with a hidden agenda to throw a big Halloween party at Sam and Gary's parents' house.
"Listen, man, we're just kids being kids, we're allowed to be pieces of shit sometimes" ~Miles
Sam wants something different in her life so she goes against her instincts, and allows Billy and his goons to throw a party at the house. The drunk teenagers waste no time in destroying the home, but the party is quickly brought to an end by an earth-shaking clamor equipped with blinding hot halogen lights.
Party guests are abruptly seized and dragged into the lake by large, harrowing aliens. Sam is forced into action and plunges into the abyss to rescue Gary, Jack, and Miles. The kids are now forced into a real-life scenario of their imagination. They'll have to battle their way through troops of aliens, ritualistic skin-melting goop, blade battles with alien-created barbarian mutants, and oh yeah Billy's C.H.U.D. ass. Can the kids make it out alive or will the aliens get to use their skin to fuel their ships?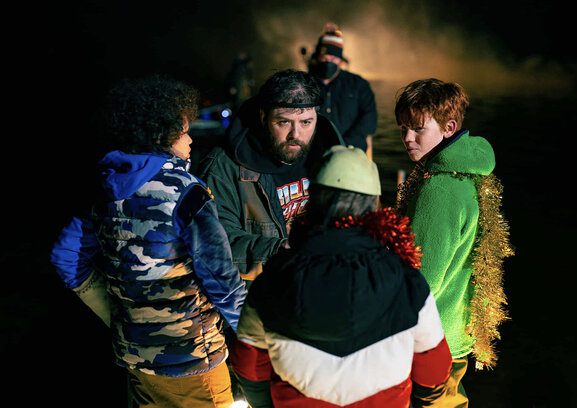 The Payoff
Kids vs Aliens (2023) worked on every level. The sound design was off the hook. From the encounters of the alien ships sounding like the Titanic crashing into icebergs in the sky, to the synthesizers in the woods during chases, to a rock band going off during alien and kid battle scenes, all while tractor beams are sucking kids through shattered rooftops. It was captivating.
The kids' dialogue was as genuine as can be, including all the unnecessary extra cussing. It was painstakingly accurate as far as what it was like to be a kid. I definitely would've been friends with Gary, Jack, and Miles. The lines seem forced or corny at times, but I believe that was the goal, as it felt like the kids were living through one of their own actual movies. It totally worked.
The aliens' appearance was different than what I recall from V/H/S/2 Alien Abduction Slumber Party (2013). More makeup and costume rather than CG, perhaps, but they still kept it true to my favorite movie. They were strong, aggressive, and creepy. And oh yeah, did I mention they can swim? Doesn't seem fair.

There wasn't over-the-top gore unless you count aliens getting their limbs chopped up, but there was some skin-melting goo. The makeup effects were artfully mesmerizing. So much so that I have questions!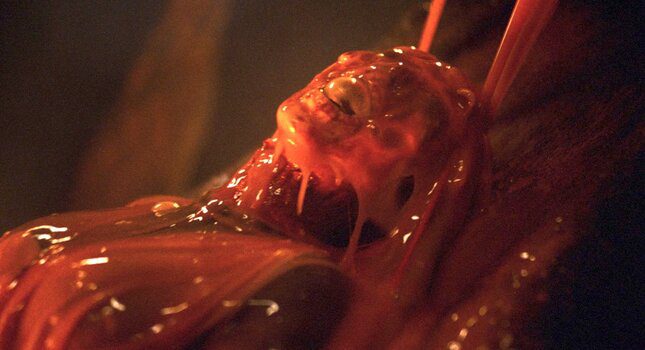 Kids vs Aliens (2023) Final Thoughts
Kids vs Aliens is a bonafide blast! With a run time of 75 minutes, Jason Eisner wasted no time having fun revisiting and going deeper with his and John Davies' characters. Understand this wasn't a remake, but an adaptation. So there were going to be some things different from the original segment short.
I'm honestly grateful and appreciative of how they still stayed true to the setting and the character's feel. It really translates to the passion that these writers had for these kids. They definitely understood the assignment. I read Jason Eisner based the characters on people from his childhood growing up in Nova Scotia, and perhaps that's why it's received so authentically.
Check out the trailer below and you can catch Kids bs Aliens on SHUDDER now!