In the words of William Tecumseh Sherman: War is Hell. This proves to be especially true for a group of allied soldiers during the final days of World War I who are tasked with destroying Trench 11, a place that may be hiding a dark secret that could take victory out of the Allies' grasp. What, exactly, do they find?
Premiering at this year's Screamfest, Trench 11 was directed by Leo Scherman from a script he wrote with Matt Booi. The film stars Rossif Sutherland, Karine Vanasse, Adam Hurtig, Shaun Benson, Charlie Carrick, Ted Atherton, Robert Stadlober, Luke Humphrey, Jeff Strome, Werner Artinger, and Andrew Cecon.
In the final days of WWI, a shell-shocked soldier must lead a mission deep beneath the trenches to stop a German plot that could turn the tide of the war.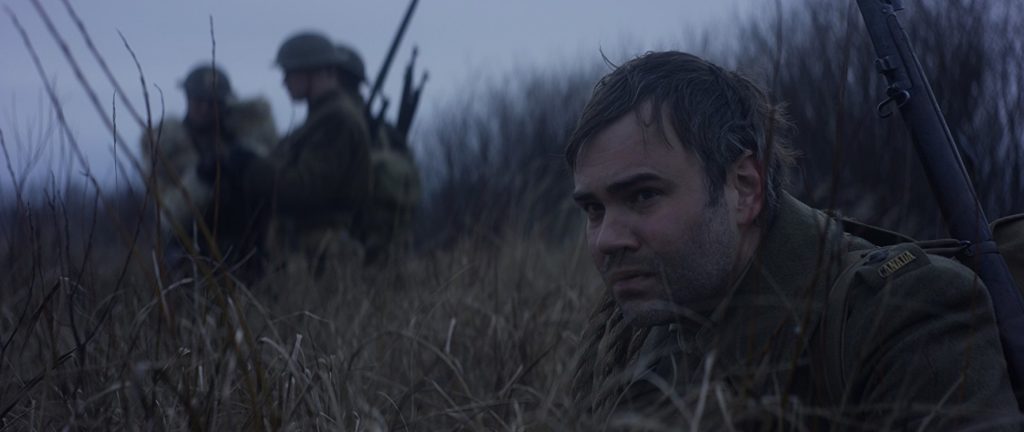 I've always enjoyed war movies. There is just something about a group of soldiers coming together for a common goal that I can't help but find myself solidly immersed in. Trench 11 was no different. The film follows a group of American soldiers and a Canadian tunneler who are tasked with helping British Intelligence destroy an Axis bunker called Trench 11. Soon, they find themselves attacked by German soldiers who may be less than human. The tension between the American soldiers, the Canadian tunneler and British Intelligence is already pretty high, but this thoroughly increases once they are attacked. This is in no way helped by the claustrophobic environment where they can see little to nothing, leaving them increasingly vulnerable.
The roles of the soldiers and their backgrounds aren't particularly fleshed out, but this failed to hold the film back in my eyes. The soldiers function as everymen; they could be anyone, which makes them relatable. One of the things I liked most about Trench 11 was the evolving relationship between Muller, a Prussian commanding officer, and Berton, the Canadian tunneler, played by Shaun Benson and Rossif Sutherland (son of Donald) respectively. They start as enemies, men on opposites sides. They eventually form a bond based on mutual experience and a common goal, which blossoms into an unexpected camaraderie.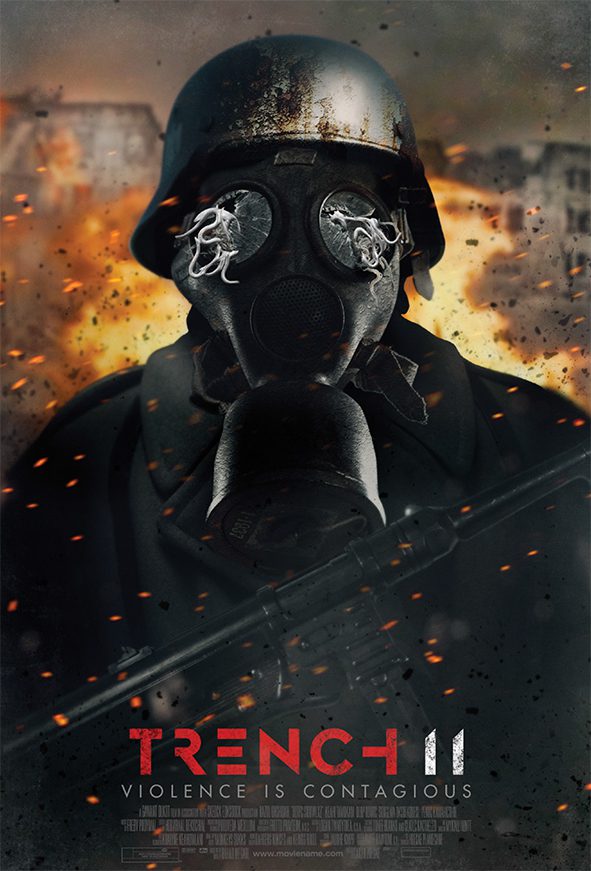 Let's move on to the film's horror aspect. The horror manifests as humans taken over by an engineered parasite that gradually takes over the brain, causing an increase in violent behavior and a decrease in fear – basically humans who lack a survival instinct. They don't care if they die trying to infect you, as long as they do. Their only goal is spreading their infection, which is spread via bodily fluid, much like zombies.
We aren't really given a whole lot of information about the creation of the parasites, as we are just told by the villain of the movie that he created them as a weapon to win the war, and that's really it. That being said, the kills are pretty fucking excellent, including a nose being ripped off, leaving a gaping hole in the guy's face, several bloody shootings, a vial to the eye, and my favorite: a shotgun to the face, which led to a spectacularly brutal exploding head with brains flying everywhere.
If I had any minor complaints, it would be the lack of development for the villain and the quickness with which much of the cast is killed off, as well as the previously mentioned lack of explanation for the film's monsters.
Final Thoughts
Trench 11 is a brutally fun war torn horror film. The heroes, while not extremely developed, are likable and have good chemistry. The cast does a great job, with Shaun Benson and Rossif Sutherland making their character's relationship being one of the films strongest suits, right up there with the well executed and bloody kills. If you dig war films, horror movies or both, then I highly recommend checking out Trench 11.