Short horror films are typically made by filmmakers to get their feet wet in the industry while showcasing new and upcoming talent. While some short films go unnoticed, others are able to make some noise among the independent film festival circuit. Recently, director duo Joseph R. Davis and Brian Gerson of PROco PROduction coMPANY accomplished this along with noteworthy recognition for their horror short Tender.
When a fine dining date goes from awkward to malicious, Tanya (Joyce Hall) finds herself drugged and chained in the home of Nathan (Ryan Demarest), a self-proclaimed "transporter." What follows is a conversational exchange where Tanya begs to be let go while Nathan creepily suggests other ideas. Brief torture ensues, which is rudely interrupted at the sound of a doorbell ringing.
While the story behind Tender may not be completely original, this horror short, for good reason, received noteworthy recognition, earning a nomination for Best Directors at Hollywood Dreamz International Film Festival. Exhibiting impressive attention to detail in its brief 11-minute runtime, Tender successfully captures a dark atmosphere, which is expected from any self-respecting abduction film. With low lighting and strategic camera work, the director duo transformed their garage, which served as the onset location, into the shadowy, unkempt backroom of a lunatic.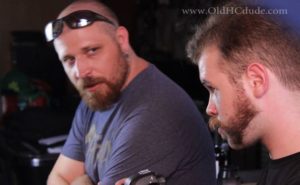 Helping to bind and chain your attention are the performances of Hall and Demarest. Despite a certain level of expected awkwardness, Hall finds a balance, displaying a curious liking to her soon-to-be captor, suggesting that she could fall for this charmingly creepy individual. However, when she does fall, she is rendered unconscious. Waking up to Nathan watching in the shadows, Hall gives a performance of a strong-willed woman as opposed to playing a simple victim, winning her Best Actress at Things 2 Fear Film Festival. This has you hoping all the more that she will find a way to escape.
Playing off of this defensive feisty victim with seeming ease, Demarest portrays the perfect, well-dressed creep by rocking a button down with class while hinting of ill intent from the start. Mannerisms, facial expressions and a strange level of confidence speak volumes, as it is clear Tanya is not Nathan's first victim. Demarest ups the creep factor when Tanya awakens her drug-induced slumber. It soon becomes clear that he gets some level of sadistic pleasure and satisfaction from what comes next.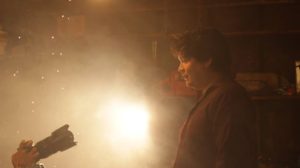 While the ending has a slight suggestive plot twist that comes as a pleasantly gruesome surprise bringing the film full-circle, some scenes could have been edited to emphasize and clarify what had just happened. Better use of screen-time could have also helped to further in-depth backstory and character development. Though Tender has many admirable elements, it only scratches the surface, leaving one to wonder more about Nathan and how he meets his victims.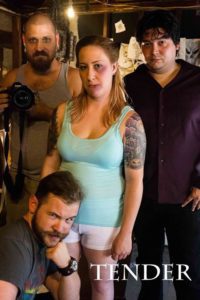 While it may not be perfect, Tender is an outstanding short that has earned deserving recognition at Action on Film International Film Festival, Ekurhuleni International Film Festival, as well as at Post Mortem International Horror and Bizarre Short Film Festival. Having accomplished much with just a horror short, Davis and Gerson (also known as DaG) could do wonders with a full feature budget. To view Tender and other DaG projects, check out the link below.
http://www.procoproductioncompany.com/pages/PROjects.html
As for any upcoming projects that these two outstanding directors have in the pipeline, you can be sure that PopHorror will keep you updated.