There are three rules you must follow when taking care of a Mogwai. First of all, keep him out of the light; he hates bright light, especially sunlight. It'll kill him. Second, don't give him any water, not even to drink. But the most important rule, the rule you can never forget… no matter how much he cries, no matter how much he begs, never feed him after midnight.
The second film in the Gremlin franchise, Gremlins 2: The New Batch, turns twenty seven this year. The film was released in theaters on June 15, 1990, six years after the original. I had watched Gremlins two years prior and loved every minute of it. Hell, I even had a Gremlins sticker book that I absolutely cherished. So when I seen the trailer for Gremlins 2: The New Batch on TV, I knew had to go see it. I talked my father into taking me to our local cinema on opening weekend. Being only nine years old, I was really excited to see Gizmo and what antics he would get into this time around. Little did I know that Gremlins 2: The New Batch would take a completely different route than it's previous film.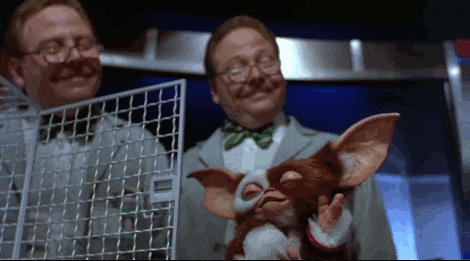 Several Gremlins originals were brought back for the second round, including director Joe Dante and scriptwriter Charles S. Haas (from characters based off Christopher Columbus' original script), as well as cast members Zach Galligan as Billy Peltzer, Phoebe Cates as Kate Beringer, Dick Miller as Murray Futterman, and Howie Mandell as the voice of Gizmo. Also cast were John Glover (Robocop 2) as Daniel Clamp, Robert Prosky (Last Action Hero) as Grandpa Fred, Robert Picardo (Star Trek: First Contact) as Forster, Christopher Lee (The Lord of the Rings trilogy) as Doctor Catheter, Sixteen Candles' Haviland Morris as Marla Bloodstone and Gedde Watanabe as Mr. Katsuji, .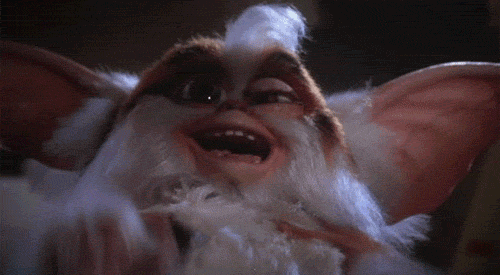 The story takes place a few years after the incident in Gremlins. Billy and Kate have moved to New York, where they work for media mogul Daniel Clamp, a Donald Trump-type character. Meanwhile, Gizmo's former owner has just died and he's been captured for the genetics part of the Clamp building. A little while later, a certain someone gets wet, creates a new Gremlin species, and learns to finally fight back after years of abuse. While Gizmo and the surviving humans fight back, the new Gremlins and their leader, the Brain Gremlin, are planning to escape when it gets dark. And if they do, New York will never be the same.
The original Gremlins was a financial success, and Warner Bros. asked Joe Dante to make a sequel straight away. Dante declined because he saw Gremlins as having a proper ending, so a sequel would only be needed for pure profit. Moreover, the original film was a taxing experience for Dante, and he wanted to move on. Work on Gremlins 2 continued without him as the studio approached various directors and writers. Storylines considered included sending the Gremlins to cities like Las Vegas or even the planet Mars. After these ideas fell through, the studio returned to Dante, who agreed to make the sequel after receiving the rare promise of having complete creative control over the movie. He also received a budget triple that of the original film's. Dante later acknowledged that, by this point, too much time had passed between the films, thus possibly reducing Gremlins 2's appeal.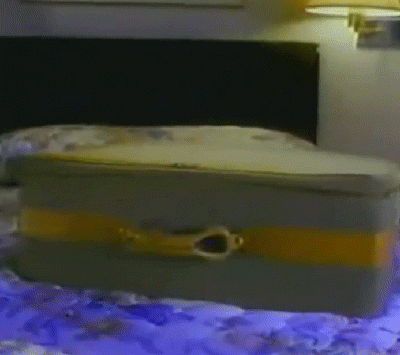 Like most sequels, Gremlins 2 went bigger and even more chaotic than the first film. The high tech corporate skyscraper was a great setting. A genetics lab, TV studio, offices, and a cafeteria are just some of the unique places for the reptilian Gremlins to raise some hell.
The one big difference Gremlins 2 has over its predecessor is the comedic tone. Where the first film was a dark comedy, Gremlins 2: The New Batch jumps the shark into complete slapstick. You know right off the bat that it is going to be silly with Daffy Duck and Bugs Bunny introducing the film before the opening credits start. You can tell Dante is a huge fan of Looney Tunes by the way the Gremlins are portrayed in this film. Granted, the Gremlins are still dangerous, but they are more about causing mischief and having fun than killing people with chainsaws.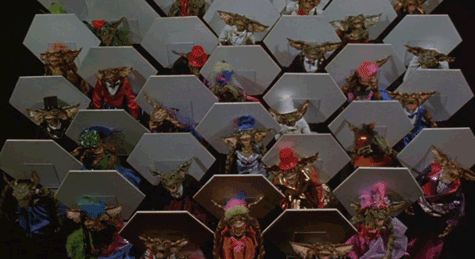 One of the many things I love about Gremlins 2: The New Batch are the creature designs. To this day, the works of Rick Baker (American Werewolf in London) and his crew at Rick Baker Cinovation Studios are some of the best creature designs I have ever seen! The Gremlins themselves end up going through a varying amount of evolution thanks to the genetics lab in the Clamp building. They find weird concoctions that help them evolve, which I'm sure led to some challenges for Baker and his crew to come up with some unique designs.
For example, there's the Brain Gremlin that ends up becoming highly intelligent and rallies the other Gremlins to work as a team instead of being all about themselves. There's the Vegetable Gremlin that has sprouted vegetables all over his body. The Female Gremlin that looks almost like Bugs Bunny dressed in drag. But the three that really stand out are the Electric Gremlin, who is made of pure energy and can travel through telephone lines, the Bat Gremlin that grows bat wings and is injected with sun block so he can terrorize New York during the daytime, and the creepiest, coolest looking of them all… a Mohawk Gremlin who turns him into a massive spider!
Although it has mixed reviews by many of the known critics, Gremlins 2: The New Batch still holds up very well with its satire of movie sequels. It was also one of the first horror films to be meta. There are a few scenes where the film references the original and asks the questions that some of us has had pondered, like when Billy is trying to explain the three rules to the Clamp security team and they start asking questions. "What if one of the creatures has a piece of food stuck in its teeth and it ends up coming loose after midnight? Does that mean they have eaten after midnight?" "What about time zones?" "What if they're on a plane that passes through to a different time zone?" Dante himself even messes with the audience. At one point, he has the Gremlins gain control of the film reel and stop the movie (this scene had my dad and I thinking something went wrong) only to have Hulk Hogan make a cameo and threaten the little buggers to put the movie back on.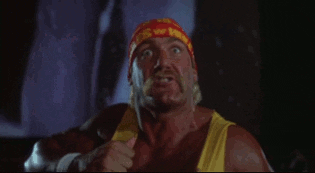 I absolutely love Gremlins 2:The New Batch. If you haven't seen the movie at this point, I don't know what you are waiting for. I highly recommend it. I leave you with the words of the Brain Gremlin: "So, check it out one time, won't you?"