One Cut Of The Dead is one hell of a meta horror-comedy. It often shines, but the pacing ultimately brings it down a notch, in my opinion. There was so much hype surrounding this film from festival reviews, starting years ago now it seems. After reading them, I was pretty excited to be covering this movie.
Don't get me wrong. One Cut Of The Dead wasn't terrible. In fact, there was a lot I enjoyed about the film. The stars had great chemistry with each other, and the story was often fun to watch, especially after the first act throws you for a loop.
However, I couldn't get past the pacing and the editing choices made after the first act. It felt like the middle of the film lasted through all three acts. A question film buffs sometimes ask themselves is: "Would you rather watch a three-hour movie that felt like 90 minutes or a 90-minute movie that felt like three hours?" I found myself checking to see how much time was left multiple times, and it often came with a, "Really? Only 50 minutes?" The second act just had the pacing of a snail.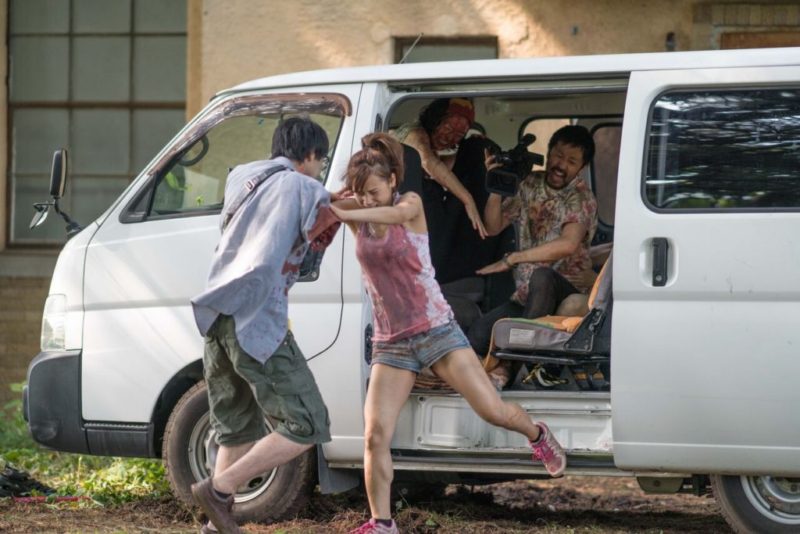 In the final act, the film did pick up and got back to what it does best – letting the stars riff off each other. It was as beautiful as listening to an excellent guitar solo when the band lets the main stars do their thing. Even though the pacing might have been my biggest issue with this film, there were many things to highlight, including the performance of Yuzuki Akiyama. She is a knockout and proves to be a star in the making. It was breathtaking to watch her in One Cut Of The Dead.
One Cut Of The Dead was directed and written by Shin'ichirô Ueda (Rice and Boobs 2011) and also stars Takayuki Hamatsu (Suits Japanese TV series), Harumi Shuhama (Strawberry Song 2019) and Kazuaki Nagaya (Fukushima Day 2011). It opens theatrically in New York and Los Angeles on September 13th and will screen in cinemas across the US at a special one-night event on September 17th. And if you can't see it in theaters, it will be coming to Shudder soon!