Streeting this month, in a fresh high-def scan from Unearthed Classics, The Grand Tour (aka-Grand Tour: Disaster In Time and Timescape) is a little known sci-fi gem from director David Twohy (Pitch Black) that adds generous helpings of feel good family drama to a well conceived time travel premise.
THE GRAND TOUR Synopsis
"Before they can complete renovations on their new inn, Widower Ben Wilson and his daughter Hillary are visited by a woman seeking immediate lodging for her strange group of travelers. Why they won't stay at the hotel in town is just the first of many mysteries surrounding the group that lead Wilson to a startling discovery affecting his family and neighbors."
The film stars Jeff Daniels and Ariana Richards. Here's a look at the poster art!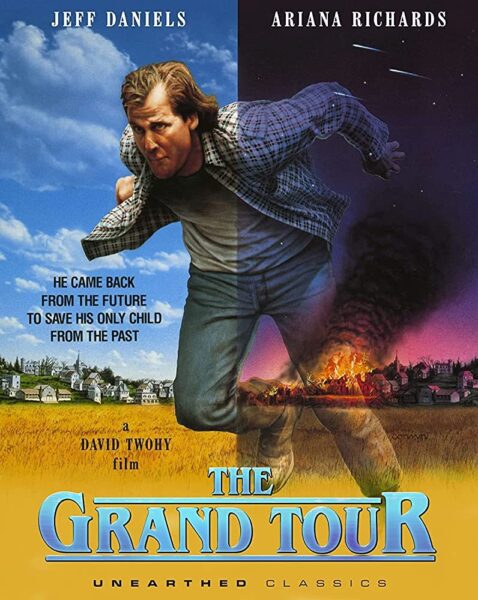 Ben (Jeff Daniels; Dumb & Dumber, in a rare dramatic role) is a newly minted single parent after his wife was killed in a horrific car/horse carriage accident. Along with his precocious daughter Hillary (Ariana Richards; Jurassic Park, Tremors), Ben is remodeling a manor house into an inn in their small Ohio town. Complicating matters is the arrival of a group of oddly dressed tourists led by Madame Iovine (Marilyn Lightstone; Anne of Green Gables) who are definitely not who they seem.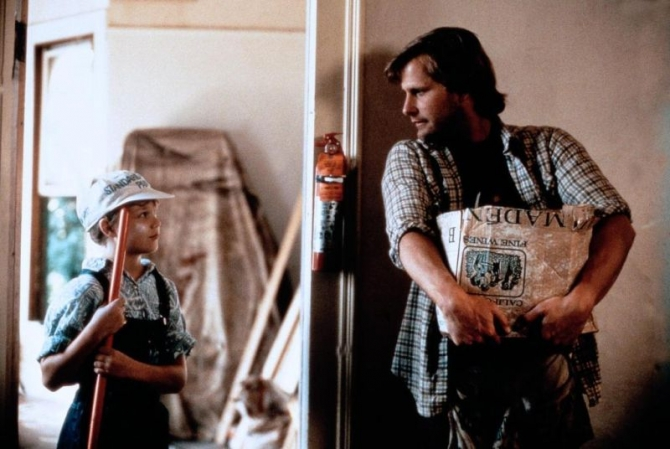 The Grand Tour is a really fun film that wears it's melodrama on it's sleeve. It boasts an inventive plot—the tour group are actually "disaster junkies" from the future, that travel through time to human witness tragedies, and the character personalities run the gamut: from the secretive Iovine, the sinister Spall (prolific voice actor Nicholas Guest), the somewhat bumbling Quist (David Wells; Buffy the Vampire Slayer) and the seductive Reeve (Emilia Crow; Scarface). Spotting the familiar faces is actually one of the things that make this such a fun watch, as the gorgeous Mimi Craven (ex-wife of Wes, you know, that one guy…) pops up in flashbacks as Ben's dearly departed wife, and veteran character actor George Murdock (Star Trek V) steals scenes as the bitter, scheming father-in-law.
Interplay between the cast is what ultimately makes The Grand Tour such an endearing film, the father-daughter chemistry between Daniels and Richards is undeniable, and the comedic relief of Jim Haynie (The Fog) as exasperated bus driver Oscar, make the proceedings even more charming. All of this helps to set up the inevitable events that threaten both the town at large, and Hillary (I mean, these folks are here to see a tragic event…). The lengths, and methods that the travelers will go to hide their identities, and that the "bygoners" will go to alter history to save their family unit move the narrative along at a satisfying, entertaining pace towards a sweet, heartfelt conclusion.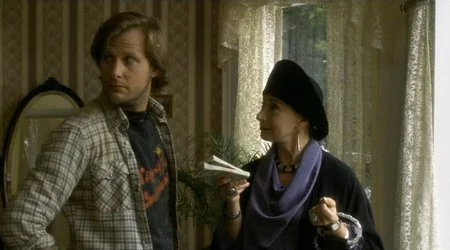 Clocking in at 99 minutes, the high-def transfer on this Blu-ray looks exceptional for a 30 year old film. Some grain here and there, but still very crisp and sharp and no discernible audio issues. A few trailers and promos, as well as the alternate Timescape title sequence, round out the extras, but the real draw here is the film proper. The Grand Tour is a fun, well crafted, warm sci-fi drama, that deserves to be revisited.
The Grand Tour Blu-ray is available now from MVD Visual and other retailers.