Where did January go? We blinked and missed it! It's February, now, and that means a ton of great new horror offerings from our friends at Shudder. From Boris Karloff to rare slashers to Tales of Terror to horror originals with a sprinkling of Joe Bob thrown in, Shudder has a little something for everyone this month.
Check it out!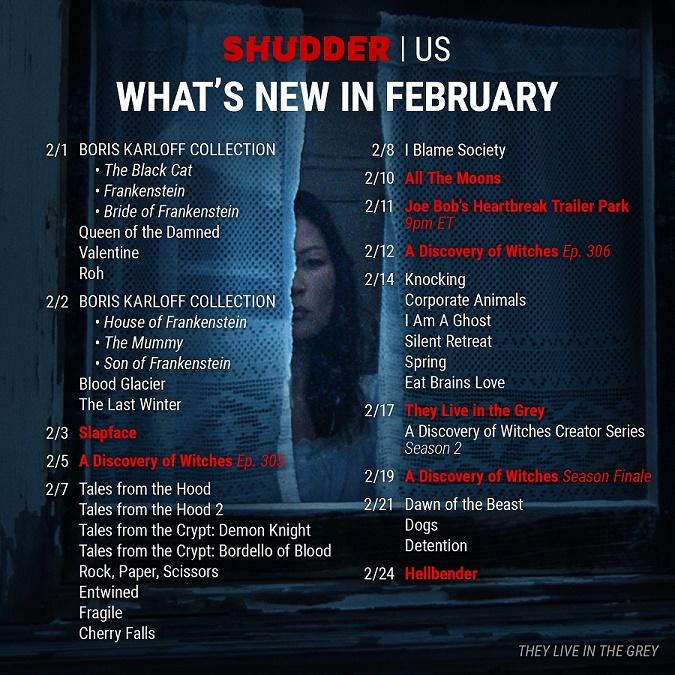 Shudder February, 2022 Programming At A Glance
Some highlights, from our perspective:
Slapface – A Shudder original! This movie is excellent. Read our review here!
Cherry Falls – Holy cow! This movie is impossible to find streaming anywhere. Cheers to Shudder for finding a way to secure the streaming rights!
Valentine – Love or hate Valentine's Day, February is the perfect time to stream this underrated slasher!
The Boris Karloff Collection – A great selection of movies to go along with Thomas Hamilton's Boris Karloff documentary, The Man Behind The Monster, also on Shudder. We loved it! Read our review here!
Joe Bob's Heartbreak Trailer Park – Hooray! Who doesn't love a good Joe Bob Briggs holiday special?
Hellbender – We've been looking forward to this one since we first saw the trailer!


Wow, lots of great stuff! We just can't get enough of our favorite horror streaming service. Don't have Shudder? Get a free trial at www.shudder.com.
What do you think? What are you looking forward to most this month? Tell us in the comments!