It's been awhile since I've watched a movie that was filmed in present day times but captured the essence of the 1970s or the 1980s so perfectly. The last movie to do that for me would have to be Ti West's The House of the Devil. That is, until I watched Brooklyn Ewing's She Was So Pretty this past weekend. This is the exact type of filmmaking that gets me so excited about the future of indie horror! What makes me love this film so much? Let's discuss!
She Was So Pretty was written and directed by Brooklyn Ewing. Can I just take a moment to give a nod to this amazing woman in horror? Ewing completely blew me away with this film. After hearing a tidbit about how She Was So Pretty came about and how she wanted you to feel throughout the movie… I can tell you for certain she does exactly that far and beyond the average filmmaker. She absolutely understands this genre and I think she is going to be quite the force to be reckoned with in the horror community.
Official Synopsis of She Was So Pretty:
Alfred James Ellis III, Alfie for short, is a romantic. His love for women who have struggled is immense. He spends months searching for the perfect girl to become his live-in sweetheart. When he finds one, he treats her to all his favorite things, like coffee in the mornings, eating together, curling up to watch vintage cartoons, and even slow dancing. He carries three knives in an old briefcase, spends hours brushing hair, loves orange circus peanuts, and likes playing doctor. He spends months just stalking his victims, and finding ways to insert himself into their lives, before he decides to take them. Alfie is looking for love, and Valerie Vestron is looking for a vacation from the nightmare that is her life. When her friends decide to drag her out of town on a trip to a cabin in the woods, they get more than they bargained for.
Excuse me a moment while I dish on all the things I loved about She Was So Pretty. The official synopsis for this film is great for the simple fact that you think it's going to be your run of the mill backwoods horror story, but it's so much more than that. Plus, I definitely didn't see that twist coming at the end! The shots in this movie are beyond stunning, especially when you learn that this film was done on a zero dollar budget, not to mention, it originally started out as a short film based on Larew's mannerisms. If Ewing can pull this off with no budget at all, it makes me curious as to what masterpiece she'll create with a decent size one. I'm pretty sure it will blow everyone out of the water!
The lead Alfie played by Jerry Larew is total perfection. He is the ultimate creeper without a mask. Actually, the whole cast is a shit-load of fun as they all deliver that vintage grit that we haven't seen since The Devil's Rejects. The apple of Alfie's eye is Valerie (Whitlee Flinn) who is an absolute bombshell. She conducts the perfect balance of a scared final girl, who despite the circumstances, is completely ruthless and will never give up hope…even if there is none. Kennedy (Justin Ewing), Davis (Garrett Chewning), and Detective Baldwin (Chris Parsons) give much needed comic relief as the rest of the movie is outrageously intense.
The musical score was created by FaceXHugger and the soundtrack is available on Bandcamp right now. I assure you the music is amazing and probably my favorite soundtrack to a film in quite some time. You can check it out for yourself at https://dirtcandyproductions.bandcamp.com/releases.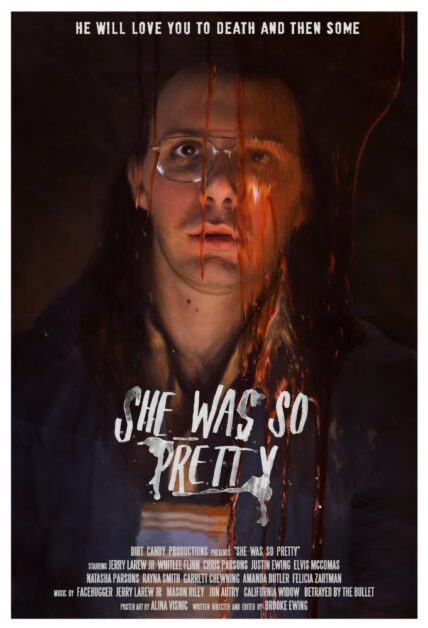 Final Thoughts
She Was So Pretty blew me away on all cylinders. Although it had a few flaws, I was completely enamored with the film and masterpiece that Ewing created. It had a zero dollar budget yet was able to deliver a phenomenal story that movies with million dollars behind it can't even come close to. I highly recommend you watch it as soon as possible.  You can check out the final advanced showing at Days of The Dead Indianapolis where the cast and crew will be doing a Q&A next month! I am also happy to announce that a sequel is actually in the works so stay tuned to PopHorror for more information!