Knock Knock.  Who's there?  Orange.  Orange who?  Orange you excited to read this review? With technology so readily available to us we are bombarded everywhere with horrific stories in the media.  I like to think that people are basically good, but trust is a fragile thing these days. It is never safe to assume that visitors who knock at our doors have no intentions of hacking us up with an ax.  This leads us to invest in more deadbolts, learn self-defense tactics, and tune into our inner warning system.  Director Eli Roth's 2015 film Knock Knock encourages us to always be aware of who we let into our homes. 
Knock Knock begins with a happily married man, Evan Webber (Keanu Reeves), who is seeing his family off as they head out to enjoy a family-planned beach vacation.  Evan decides to stay home due to having too much work as he has a demanding career as an architect.  So, he has the entire house to himself for the weekend.  The first night of solitude brings a random knock to his front door.  Upon answering he finds two women standing on the front porch. Genesis (Lorenzo Izzo) and Bel (Ana de Armas) claim they are lost and that their phone died.  Evan is gracious enough to let them come in to use his phone. Before long, they become very seductive and eventually tempt him to the point of no return.  We come to find that these women have more sinister plans for Evan than he realizes.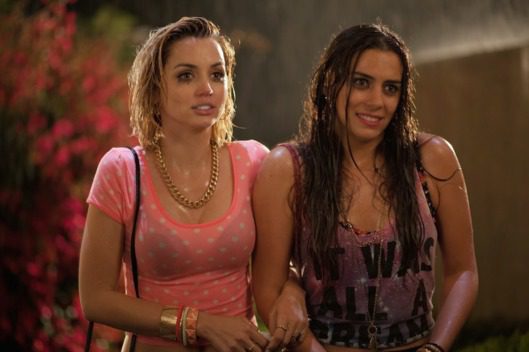 I cannot stress enough about how much I love this movie.  The story is super sexy, suspenseful, and on its way to becoming a cult classic.  However, it does revolve around the sore subject of cheating.  While I'm certainly not a fan of that concept, Knock Knock takes that idea in a different direction and you will certainly not want to miss it.  In my opinion, the acting is what really brought this film to life.  Unlike his action roles in Point Break and Speed, Knock Knock shows us a different side of Keanu Reeves.  I felt he did a phenomenal job as he showed just how hard temptation can be to resist.  He also makes you question whether or not he really is "father of the year" or if this is a lifestyle he keeps on the down low.  I don't think I've met a film of his that I didn't like.  He is a very adaptable actor, not to mention very easy on the eyes. Izzo and Armas are great in this film as well.  They really brought out the darkness in their characters even though the situation makes it really hard to dislike them.  How is that for an absolute contradiction?  Believe me when I say that these bitches are crazy!
Did you know that Lorenzo Izzo is actually married to director Eli Roth?  She has appeared in a few of his movies including the 2013 film, The Green Inferno.  Both films show her acting range and how she is capable of switching up roles.  The Green Inferno broadcasts her running for her life while Knock Knock portrays her as a villain.  Personally, I feel it is a fantastic move for Roth to utilize her in his films.  She helps bring across the dark comedic nature that he is known for.  I think we will be seeing much more from them.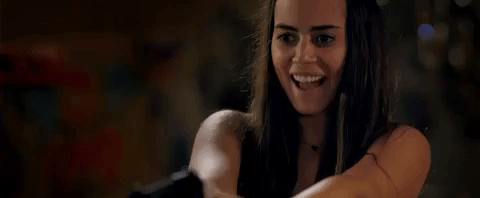 Knock Knock tells the tale of temptation and the consequences that often follow. I absolutely loved it because the story was one I had not come across yet.  Also, the awesome cast builds the suspense all the way up to the climatic ending. You just never know who will knock on your door.  Be careful in that regard because what seems like sugar and spice might not end up being all that nice.