It's a spooky summer night around the campfire. The beers are flowing, the party is wild, and it's time for a scary story to change the lives of some unfortunate, trespassing teenagers. This setup sounds like the perfect backdrop for a nostalgic horror movie, but very few do it like 1981's Madman. Madman is one of the first summer camp slashers as it recreates the myth of The Cropsey Maniac. As these unwitting teens summon Madman Marz, bodies start to pile up.
Now in 2022, we have a full 4K restoration of Joe Giannone's creepy classic, thanks to Vinegar Syndrome. They've reissued and improved their 2015 Blu-ray release, so let's break down why this is a must-have for any collection.
First and foremost, the picture and sound quality on this Madman 4K are top notch. Not only does this release give you a choice of audio tracks, but they offer two separate audio commentary options. One features four men from the original production team (the director, the producer, and two actors), and the other comes from The Hysteria Continues Podcast. If you want to watch the movie as it is, you also get the option to view it with a fifty-two second intro from writer/producer Gary Sales (Ramsey: The Vandy Case 2021).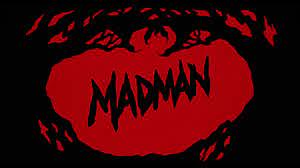 But the technical quality isn't the only selling point here, as fans of this film will be positively overwhelmed with the amount of extras on this release. For starters, we get a 91 minute "Making Of" documentary, produced and directed by Victor Bonacore (The Bunnyman 2011). It features Paul Elhers (Madman Marz himself), Gary Sales, and many others. They detail stories about how Vincent Price (House on Haunted Hill 1959) almost joined the cast, how The Burning (1981 – our retro review) had the same story five weeks ahead of them, and how their poster artist became cast as their lead villain. We get a former set tour, memorabilia from collectors, and even a fan-made trailer for a sequel. This documentary is worth the price point alone.
But that's not the only bonus feature on this Madman release. There's an interview with actress Gaylen Ross ("Betsy") that runs nearly twenty minutes where she details how their "summer shoot" wound up being shot in fall/winter. She also discusses the awkward hot tub scene and how the cast all gained weight from being on location with a wonderful chef. Next up is Alive at 35, a twenty-one minute reunion between the producer, writer, and actor. There's also an In Memoriam Featurette, where they take nearly six minutes to pay homage to the fallen members of the crew (director Joe Giannone, actor Tony Nunziata, and actor Fred Neumann). The Still Gallery isn't run-of-the-mill either, as the 7:20 of candid photos are narrated by Gary Sales as well.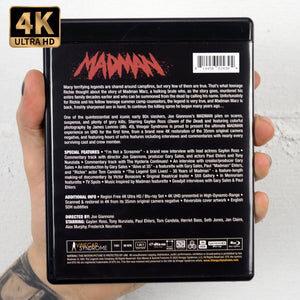 The crew of Madman even spends time discussing the potential future of the franchise, as Paul Elhers and his son have written a sequel/reboot to the 1981 legend that may still be produced. If so, we should all hope that it gets as much attention and care as this complete Vinegar Syndrome release.