As the old saying goes, you just can't keep a good guy down. After a year-long break from his slashings and slayings, everyone's favorite pint-sized, supernaturally-possessed doll is returning on Oct. 5 with the premiere of Chucky season 2. Created by Don Mancini, the mastermind behind the Child's Play franchise, the TV series follows Chucky (Brad Dourif, One Flew Over the Cuckoo's Nest 1975) as he wrecks havoc on a group of unsuspecting teens in his stomping grounds of Hackensack, New Jersey.
The inaugural season, which received rave reviews from critics and fans alike, concluded with numerous cliffhangers. Chucky's original friend 'til the end Andy Barclay (Alex Vincent [our interview], Child's Play 1988) is driving a truck-load of Good Guys who are all under the influence of Charles Lee Ray; Junior Wheeler (Teo Briones [our interview], Ratched 2020) and countless others meet their demise at the miniscule hands of Chucky; and Tiffany Valentine (Jennifer Tilly, Bride of Chucky 1998) takes her crazy to the next level by making her captive Nica Pierce (Fiona Dourif, The Stand 2020) a quadriplegic.
Needless to say, there's much anticipation as Chucky season 2 approaches. Ahead of its airing, PopHorror had the absolute pleasure of speaking with Mancini and the teen cast of the show: Zackary Arthur (The 5th Wave 2016), who plays Jake Wheeler; Björgvin Arnarson (The Seventh Day 2021), who plays Devon Evans; and Alyvia Alyn Lind (Masquerade 2021), who plays Lexy Cross.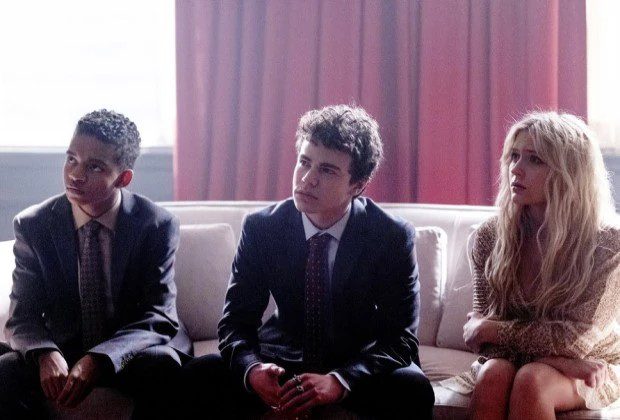 This time around, Chucky gets to let loose in a brand new setting: the Catholic Church. After the events of the previous season, Jake, Devon and Lexy are sent to Incarnate Lord, a faith-based institution for troubled youth, where (of course) Chucky follows them. Once there, he finds some members of the clergy to be his fresh victims. He's also reunited with Devon Sawa (Final Destination 2000), who is portraying a priest this season after both of his characters — brothers Logan and Lucas Wheeler — were killed off last year. Given the setting, this means we get some revamped Chucky one-liners, including "Hi, I'm Chucky. Wanna pray?"
Upon receiving the script for Chucky season 2, Arthur instantly knew that it was something special. "I was just like, 'Oh my God, this is gonna be crazy. People are not gonna be ready for this.'" Arthur reflected on having conversations with Mancini about what the creator envisioned for the sophomore season. In fact, Arthur remembers the day on set in 2021 that this storyline was brought up: "We were filming in the theater in episode 8 and he [Mancini] was like, 'OK, how about we have it in a Catholic school?' It's just really interesting to see how that idea developed over time and became this whole great spectacle, so I'm really excited for people to see it."
Arnarson, whose character experiences a rollercoaster of emotions in season 1 — from the death of his mother (Rachelle Casseus, Each His Own Devil 2019) to falling for Jake — is also thrilled for audiences to see what they've put together. He told PopHorror, "When I read it [the script], I was like, damn this is about to be wild. This is gonna be a wild ride."
The upcoming season sees the highly-anticipated return of Chucky and Tiffany's twins, Glen and Glenda, who haven't been part of the franchise since 2004's Seed of Chucky. Portrayed by nonbinary actor Lachlan Watson (Chilling Adventures of Sabrina 2018), the trailer features Chucky's red-haired offspring visiting Tiffany (or is it Jennifer Tilly?) at her house. Based on comments by Mancini, it seems that Glen and Glenda are set to appear in episode 4, which rumor has it briefly deviates from the religious storyline of Jake and friends. It was previously announced that Tilly's Bound co-stars Joe Pantoliano (our interview, Mememto 2000) and Gina Gershon (Killer Joe 2011), along with her sister Meg Tilly (Psycho II 1983) and friend Sutton Stracke (The Real Housewives of Beverly Hills 2020), are also part of Chucky. Is it possible this episode picks up with the timeline of Seed in Hollywood? We certainly hope so.
In the meantime, PopHorror spoke with Mancini about his decision to finally bring back the twins. "Those characters have always meant a lot to me and over the years, it was incredibly gratifying to hear from queer fans and trans fans just how much they love the characters of Glen and Glenda, how much those characters meant to them. So I've been thinking about bringing them back for a long time," he said. According to Mancini, this was the opportune moment for a Glen and Glenda reintroduction because he now has eight hours, rather than 90 minutes, to play with.
Chucky might usually be merciless, but you can't say he doesn't support the LGBTQ+ community. In season 1, when Jake expresses surprise that his new doll has a queer child, Chucky tells him, "I'm not a monster, Jake." Many aspects of the franchise, such as Jake's struggle to admit that he's gay, are inspired by Mancini's own experiences. This includes his challenging years growing up in the Catholic Church as a young gay kid. It's very likely that Jake and Devon's relationship will be tested in this new environment, but hopefully "Jevon" stays strong.
Meanwhile, Chucky viewers are about to witness Lexy struggle at the reform school. At the start of the series, she has it all — cute boyfriend, powerful parents, wealth and popularity. But thanks to Chucky, she's humbled very quickly as he kills Junior and her father (Michael Therriault, Cult of Chucky 2017). By the end of season 1, she's true friends Devon and Jake, the latter of whom she once bullied non-stop. But at Incarnate Lord in season 2, separated from her new buddies, she appears to be in a very dark place.
For Alyn Lind, it's a pleasure to portray someone who undergoes such drastic transformations. The actress praised Mancini for ensuring each character has some sort of arc and never writing them as one-note. On Lexy's various transitions from the beginning of Chucky, she said, "People were gonna hate her in the beginning, but by the end you'll like her hopefully, if you can forget all the terrible things she's done. So playing that arc in season 1 was so much fun and now going into season 2, I feel like I get to play completely different characters. I've played Lexy this whole time with the same sass and sarcasm, but it's three completely different characters. She's not as naïve and self-absorbed and narcissistic and she's just trying to keep people she loves safe while coping from all the trauma that she's experienced, losing everybody in her life that she believes matters. It's a lot for a 15 year old."
Thank you Don, Zack, Björgvin and Alyvia for speaking with us! If anyone needs us on Wednesday, Oct. 5, at 9 p.m. EST…don't.