Automation is what you get when you cross I, Robot (2004) with The Office TV series, and it's a match made in heaven. That may be an odd mix to wrap your head around, but the filmmakers pull it off perfectly, marrying these two opposite concepts to make Automation a stand out must-see.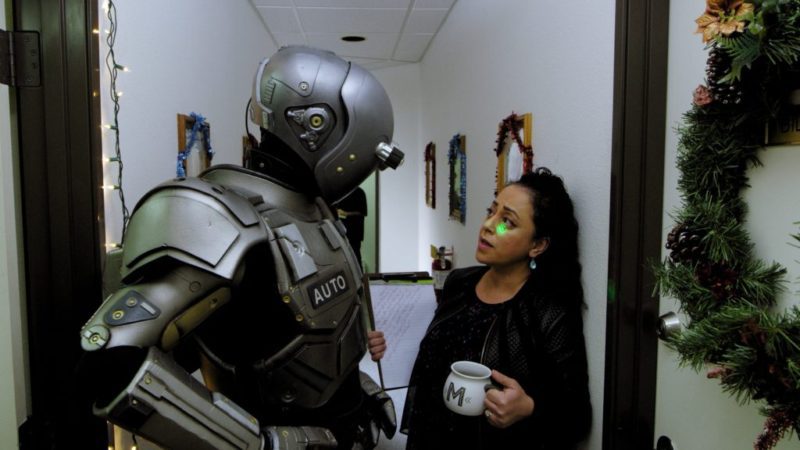 Synopsis
A workplace robot, AUTO, transforms into a killing machine when it discovers it will be replaced by a more efficient model.
What more could you want? A killer robot in a workplace environment running amok! I can't help but think of the glorious thrill ride that was Chopping Mall (1986 – check out our retro review here).
After I saw Director Garo Setian's (The Drifter 2005) trailer, I had an idea of the direction I thought Automation was headed, and I was right, which made me happy. What really sold me was when I realized Parry Shen was in the film. I'm a huge fan of his work in the Hatchet film franchise.
Shen plays Alan the creator of AUTO, the sole workplace robot who just wants a new battery. Unbeknownst to AUTO, Alan plans to provide the company with a fleet of new robots that threaten not only to replace him but also some of the human staff as well.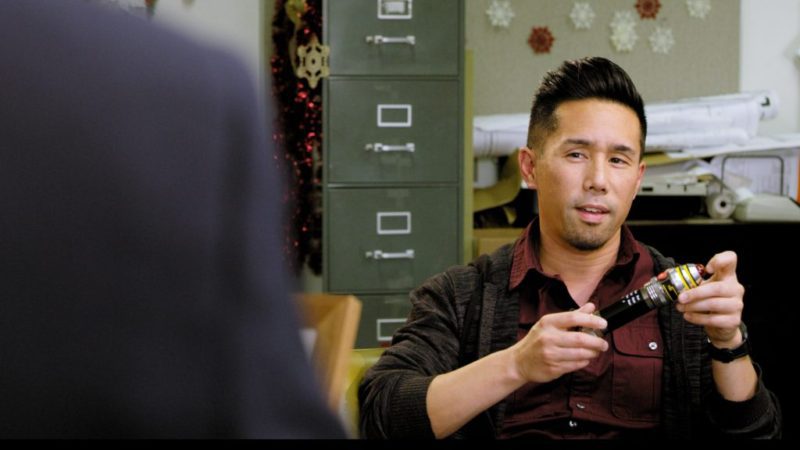 The entire cast is full of seasoned vets, all bringing great personality to their characters and working perfectly together. Elissa Dowling (We Are Still Here 2015 – read our review here) plays Jenny, one of the contracted loner workers who chooses to take on the night shift in order to bypass the drama of the regular staff. Working off-hours affords Jenny plenty of opportunity to befriend AUTO and teach him the subtlety of human interaction.
Scream queen Sadie Katz (Party Bus To Hell 2017 – read our review here) does a wonderful job with her character, Susan, the no-nonsense co-owner of the company taking over for her late father. She brought AUTO in due to her past relationship with Alan and plans to replace as much staff as she can right before Christmas. Graham Skipper (All The Creatures Are Stirring 2018 – read our review here) plays Devin, who enjoys nothing more than bullying AUTO and isn't very pleased with the idea of being replaced by robots. When he takes out his frustrations, it sparks a series of events that sends AUTO spiraling out of control.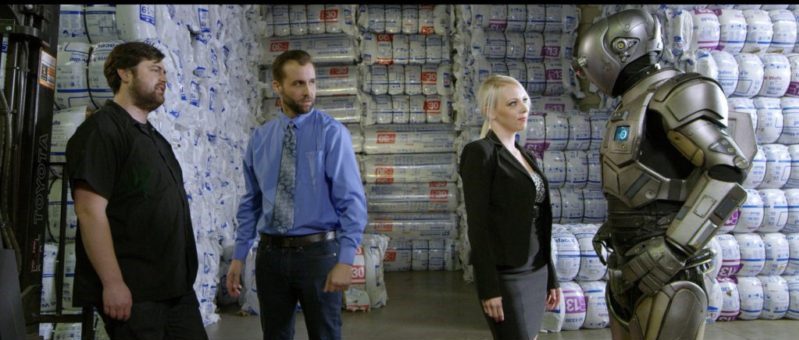 The writing team of Director Garo Setian, Rolfe Kanefsky (Party Bus From Hell 2017) and Matthew L. Schaffer (Rat Man TV series) produce a script that is not only hilarious in its use of timed humor and brilliant setups but also extremely socially aware. I was repeatedly surprised at the ingenious ways the film tackles some very real subject matter such as bullying, PTSD, job security and immigrant workers. It also asks: when does a machine become sentient? There is even some romance and genuine sadness that creeps in right at the end.
Final Thoughts
Automation was surprisingly different than the killer robot movie I thought I was getting, and I can't be happier about that. The movie had a fresh take on the genre and was paced brilliantly by its humor. The effects and kills were great, with a couple that stood out and caused the room to erupt, which is always a sign of a hit.
As soon as the credits began to roll at the end of Automation, I said out loud, "I love it… I could rewatch this again right now," and I plan to as soon as I can get my hands on the Blu-ray which includes separate commentaries with Writer/Director/Producer Garo Setian and Co-writer Rolfe Kanefsky, as well as Producers Garo and Anahit Setian and Dan Bowen. The Blu-ray also includes deleted and alternate scenes, bloopers, and the behind-the-scenes featurettes called Writing The Screenplay,  Building AUTO with "Evil" Ted, AUTO's Voice. Last but not least, there is an interview with voiceover Artist Jim Tasker (AUTO), and bonus interviews with the cast and crew.
 Automation drops on Blu-Ray and VOD December 3rd from Epic Pictures and DREAD following a limited theatrical run kicking off Friday, November 29th. I, for one, welcome our new robot overloads, and so should you. Be sure to check Automation out!