Coming soon from producer Mem Ferda and director Jamie Bailey (This Was America) comes the new horror film, Deinfluencer. The film stars Simon Phillips (Panama), Anne-Carolyn Binnette (Butchers), Caylin Turner (The Things That Shape Us), and Marie Lucinani-Grimaldi (Dimanche).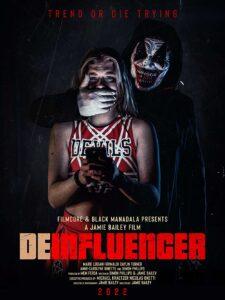 Synopsis:
A cheerleader is imprisoned and made to jump through social media challenges for a seemingly motivated kidnapper – but does he want more than he is telling her?
Mem notes:
"It's worrying that youngsters can be easily lured and pressured into conforming to artificial standards set by Social Media Influencers and celebrities in a desperate need to be accepted by their peers. I felt compelled to spotlight this issue by making the Deinfluencer and giving a horror spin to it!"
Check out the trailer below:
Tune in to PopHorror.com for more information as it comes out.