If you grew up an adolescent in the 90's then you might remember stashing the Species II (1998) VHS from your parents' sight, along with your other awesome paraphernalia. And it wasn't for the violence. Now I adore sci-fi horror, but let's just say I wasn't watching Species II for "the story." It was a mix of bloody alien horror and Baywatch. Hello alien ménage a Trois, goodbye artistic merit. Pre-teen me was thrilled, I can't say the same about my grandma's VCR pause button. So eat your heart out Shape of Water, because it's about to get weird while Species II swings for the fences.
Species II set out to capitalize on the success of its blockbuster predecessor Species, but fell drastically short and busted domestically. The film grossed only $19.2 million from its $35 million budget.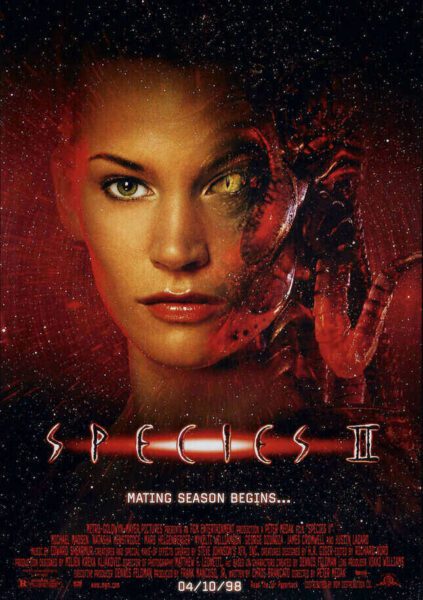 Species II (1998) Synopsis
Species II is a 1998 American science fiction horror thriller film directed by Peter Medak (The Changeling (1980) and co-written by Dennis Feldman (The Golden Child (1986). The film is a sequel to Species (1995) and the second installment in the Species series. The film stars Michael Madsen (The Covenant (2006), Natasha Henstridge (Species (1995), Marg Helgenberger (Mr. Brooks (2007), Mykelti Williamson (The Purge Election Year (2006), George Dzundza (Basic Instinct (1992), James Cromwell (L.A. Confidential (1997) and Justin Lazard (Universal Soldier (1999).
The Setup
The first American space mission lands on Mars. Patrick Ross, the mission commander, collects soil samples from our red planet neighbor. However, a substance in the sample thaws out on the ship due to an unknown malfunction. The alien DNA crawls and proceeds to infect the astronauts. Causing a 7-minute gap of radio silence on the voyage home. 
Upon return, Ross, as well as Dennis Gamble and Anne Sampas, are examined by the space agency doctor, Dr. Orinsky. Apparently, the standard procedure for returning home from a Mars mission is to remain sexually abstinent for ten days. Despite the quarantine, Patrick attends a fundraiser honoring the astronauts. He quickly disregards the advice and makes out with a young lady in the lounge section. After his speech, Patrick visits her room. There he rejoins the young lady and discovers her sister, who apparently "shares everything."  *giggity*
Patrick violently has sex with both women and within minutes each sister undergoes an accelerated pregnancy. Both of their stomachs rapidly balloon and burst open with his half-alien offspring emerging. So begins Patrick's rapidly rising body count.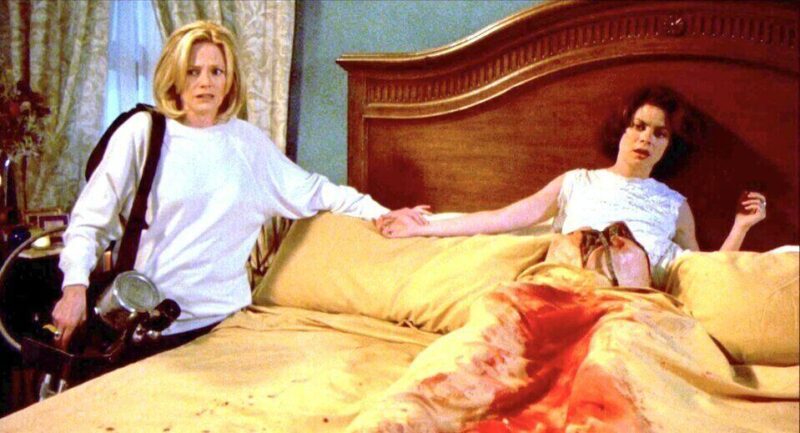 Meanwhile, Under military supervision, scientists led by Dr. Laura Baker have created a more docile clone of Sil, named Eve. In an effort to understand the alien life form and prepare for defense should it ever arrive on Earth. An isolated Eve, undergoing tests in the lab, shows signs of great physiological excitement every time Patrick has sex with women. – alright alright alright.
"Welcome to the maternity ward… from Hell!" ~Press
Aware of this, the scientists activate Eve's alien DNA with some very science-y 90's lasers to track Patrick telepathically. Lucky for us, Patrick also senses Eve, who is now showing signs of being in heat.  In order to get closer to her, Patrick gives himself up to Press and Dennis. As he enters the lab, Patrick tries to enter her isolation cell but is chased off by Laura, Dennis, and Press. Patrick retreats to his family hideout to help his alien children to cocoon. There he awaits the inevitable escape of Eve while incubating alien children to grow into mature adults so they can mate with humans. The hope: eventually destroying the entire human population.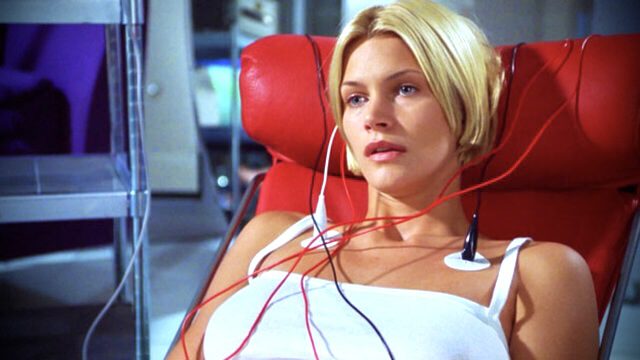 The Payoff
I wasn't too confident in how well this sequel was going to hold up after not visiting it since the 90s. Well, I'm here to gladly report a couple of surprises. I thoroughly enjoyed the outbursts of laughter due to the pace and underwhelming writing. The Species II script is so bad it's actually pretty great. Think Phantasm (1979) – level hilarious. There's a scene where Michael Madsen's character Press is being re-recruited to track down another alien for this sequel by the Colonel. Press is a hard "no" until only a couple of lines of dialogue. He's just flat-out offered a million dollars, tax-free, and boom we got our sequel. I erupted with laughter. I'm positive that was accurate in the collective casting contract negotiation process as well.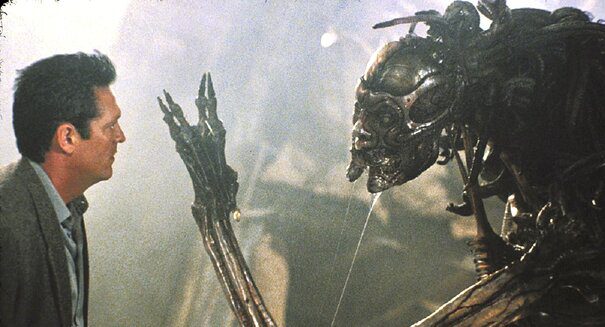 Hilariously, there's no chemistry with any actor in Species II and everyone in the movie knows it. It's a literal comedy. Michael Madsen has stated his disdain for this sequel, especially in comparison to the original. He once referred to it in an interview as "That crock of shit…"
Much to my surprise, however, the makeup, animatronics, and costume effects in kill scenes are still pretty metal and make for an entertaining watch. Unfortunately, it was the late 90s when they were incorporating CGI effects that held back the glamour of bloody alien deaths. But hey, there are slow-motion bloody boobs running!
Species II (1998) Final Thoughts
It was a pretty rad treat to find that this movie evolved into a comedic, entertaining b-horror movie. All it was missing was Tom Serv-O and Crow in the front row. The misogynistic and tone-deaf writers were the downfall. However, it's a piece of history, and the fact that Species II even existed on a blockbuster theatre ticket is a tale of the times. Still, as a B-horror movie and with lower testosterone, I found this time capsule to be a fun gem to revisit. You can catch Species II on Cinemax and on other digital platforms now.
Check out the (laughable) trailer below!