Before I became a father, I can remember some friends telling me "You don't know what love is until you have kids". What they should've said is, "You don't know what fear is." I can't think of a more unacceptable horror than not being able to protect my children. We have this preservation instinct installed by nature, even though we don't live in caves anymore. These anxieties still exist and are real for a reason.
Haven't you ever had a small feeling or instinct that you extinguished just for the sake of being polite or not embarrassed? We live in civilizations that teach us etiquette and conformity. What has horror cinema shown us? When the virus spreads, zombies walk, or aliens invade, it's humans who become the real monsters when civilization breaks down. Present-day real-life monsters camouflage themselves as charming, trustworthy, and disarming, everyday people. Speak No Evil (2022) is a barbaric reminder that we are not as far from the caves as society likes us to think we are.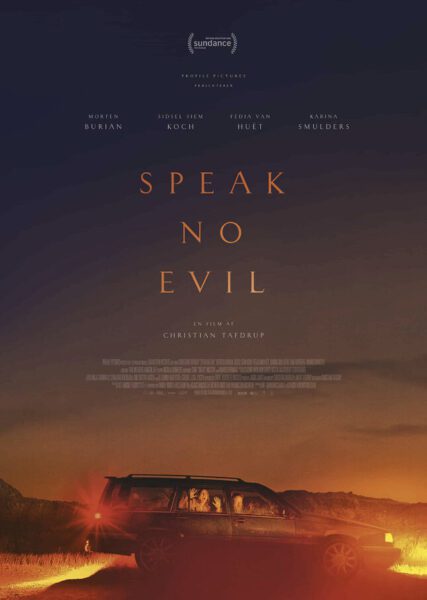 THE SETUP
Bjorn (Morten Burian- Loving Adults (2022) is a considerate, soft-spoken husband and an emotionally intelligent father. Bjorn with his wife Louise (Sidsel Siem Koch-Doggysyle (2018) and young daughter Agnes (Liva Forsberg) are on a vacation getaway in Tuscany. There are amazing hillside views, chef-prepared meals, and classical string music in the courtyard of the Tuscan resort. However, Bjorn has experienced these things before. He has an internal crisis of accepting the man he's become. He's tired of hosting dinner parties with his uninspiring friends. And "the same old team-building bullshit". He longs for some adventure outside his hollow routine. He's tired of faking smiles and is claustrophobic in his own life.
While in Italy they meet Patrick (Fedja van Huet- Character (1997), his wife Karin (Karina Smulders- Bride Flight (2008), and their mute child Abel (Marius Damslev) also on vacation. Bjorn finds Patrick's perspective and brutal honesty refreshing. Patrick opens up to Bjorn about embracing this wild feeling in his chest, it's powerful and hard to describe, but he loves it. Bjorn admits he has the same feeling but he locks his up and can't access it.  They hit it off so well that Bjorn wants to take a new chance. So his family accepts Patrick's invitation to their Dutch home in the countryside.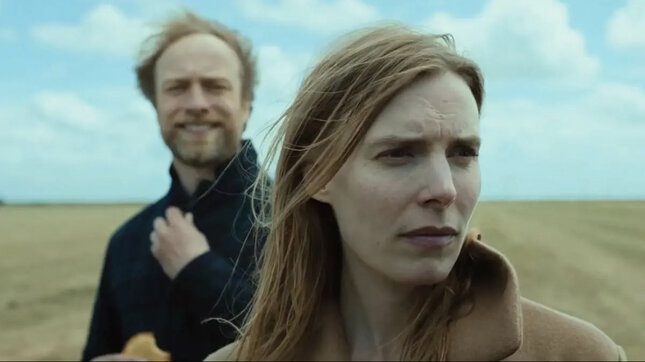 In just one day at Patrick's family's home and they can start to feel something's off. Especially when they discover Abel's deformed tongue and his frightened disposition. However, Patrick explains the special needs of their son and creates doubt in Bjorn and Louise's Judgment.
Patrick's courtesy mask begins to slip, and the awkward red flags begin to stack up. Bjorn and Louise discover inconsistencies in their backgrounds over conversations. Karin oversteps on instructing Agnes as her own child. Patrick reveals he has a temper. They consistently forget Louise's food restrictions. Patrick aggressively disciplines Abel. They stick Bjorn with a hefty dinner bill. Patrick drives everyone back from the restaurant drunk while blaring music. One night Louise even finds their daughter Agnes sleeping in Patrick's bed. 
Louise and Bjorn grow more uncomfortable and feel compelled to leave in the middle of the night. Again Patrick and Karin masterfully justify their bad hosting miscues and their different parenting styles. They convey their sincere apologies to their guests, and Bjorn and Louise are convinced to doubt their better judgment and stay.
On the last night of their stay, Bjorn is disturbed by an earlier confrontation with Patrick and can't rest. Bjorn wanders outside to inspect the countryside home's detached garage. He stumbles upon a horrible discovery that will force him to decide what he's willing to do to save his family.
"Why are you doing this to us?"~Bjorn

"Because you let me."~Patrick (Speak No Evil (2022)
The Payoff
Speak No Evil was unsettling from the beginning. The orchestra composition from the opening credits illustrated something abominable afoot. This film was a slow burn of manipulative conversations and suspicious behavior. However, the story didn't waste any time to get our characters into place, so I had to adopt them fast. Thankfully I found the characters believable and acted to perfection. I didn't find the subtitles cumbersome. The film was over 95% in English. The element of language barriers between the Dutch and Danish families made each sequence more vulnerable and worked well.
The way Patrick sinisterly exploits Bjorn's kind demeanor is a thing of real-life horror. Uncomfortable and creepy as hell. The progression of Bjorn's family ignoring their own instincts more than Patrick's red flags was like watching someone play Russian roulette. The inevitable shoe was going to drop, and my skin crawled the entire movie. The setting takes place in the remote countryside of the Netherlands. There's nothing for miles but dirt roads, trees, and rock quarries. It's a big open space, but you can't help but feel claustrophobic for our protagonists.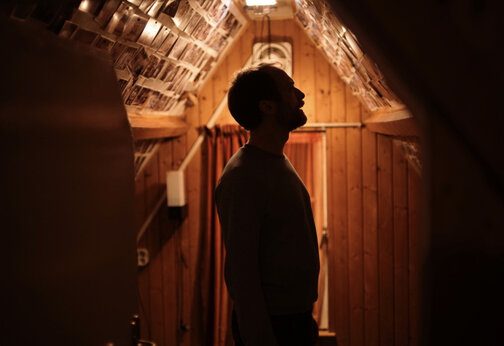 Final Thoughts – Speak No Evil (2022)
Speak No Evil (2022) is *THE* social horror with no boundaries. This movie was a gut punch of brutal darkness that will leave bruises. Speak No Evil was upsetting as it was riveting. There was this constant feeling of dread, but what this movie conjured was even more unsettling. It dares you to look away. Speak No Evil has no rules and it will frustrate you. Some viewers may say the characters are unbelievable, but I didn't find the circumstances to be too farfetched, even if this movie crossed my own horror boundaries.  George  Carlin once said, "all you'd have to do is remove electricity from civilization, and all our old friends would come back." In that sense, In the face of barbarism, civilization is no match. Watch Speak No Evil at your own risk.
You can watch Speak No Evil-2022 streaming now on Shudder and on digital. Check out the trailer!