Though I grew up watching old horror flicks with my dad, when I hear people mention The Blob, my mind jumps right to the remake, which hit screens in a cinematic golden year for horror, 1988 (see also: Killer Klowns from Outer Space, Child's Play, Beetlejuice, A Nightmare on Elm Street IV: The Dream Master, Night of the Demons, and Waxwork, just to name a few gems from that year).
I'm not the biggest fan in general of remakes, as too many of them run together in my mind, not different enough from the original to be noteworthy, or so different that it doesn't seem to be relevant to the original at all. I was wholly unprepared for how much I would come to love The Blob.
From the get-go, the decade of excess is on full, beautiful display. I won't lie, this movie had me at Brian Flagg's (Kevin Dillon: The Doors 1991) entrance.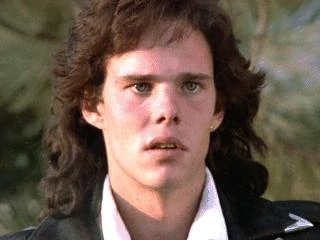 There's so much going on here, and it's all thrilling: the shaggy mullet, the earring glinting in the sunlight, a creased and worn-out leather jacket, and a roaring motorcycle, which all combine to let the viewer know that Flagg is tough-guy. Small-town trouble personified.
And to up the ante, this juvenile delinquent is glaringly handsome with those bright blue eyes and killer cheekbones. You really want to see what's up with this guy, so smart call to introduce the Flagg character this way!
The "who's who" of actors you've seen before continues, with of course our heroine, beautiful teenage cheerleader Meg Penny, played with wide-eyed innocent perfection by modern horror queen Shawnee Smith (Saw (2004) a good 15 years before she'd capture all of our hearts playing victim-turned-accomplice Amanda in the much-beloved Saw series, cementing her status as a Scream Queen.
This remake was written by Frank Darabont (The Shawshank Redemption (1994) and Chuck Russell (and directed by Russell). Russell also penned the iconic A Nightmare on Elm Street 3: Dream Warriors. These guys know their stuff.
To set up the story, we see a brilliant meteorite fall from the sky, landing among the trees near a wooded area. What is this scorching stone that plummeted to its end, and how will it affect the residents of quaint, safe, boring old Arbeville, Colorado? Let's find out!
What a day for a ball of slimy stuff to plunge from the sky – Meg is about to hit the town with a cutie jock named Paul Taylor (Donovan Leitch Jr: And God Created Woman (1988), but sadly, this date will be one for the books, and not in a good way. As the duo drives to their destination, they accidentally strike a pedestrian, a lonely old vagabond who likes to pick up litter and cans in the woods with his dog.
As they head to the hospital with a reluctant, pouty Flagg in tow (who was nearby as the accident occurred) they notice the injured man has something funky on his hand. Yep, it's the Blob, and it's about to spread. Poor Paul had to meet his untimely end, but I will just say right now that the film's budget was $19 million (over half of that going to the SFX) and the practical effects are simply awesome.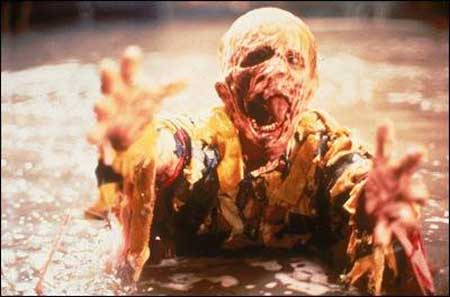 Obviously they are of the time, but I think for the '80s, the Blob itself looks really cool, and the kill scenes are fun, gory, campy, and graphic. I remember thinking this film was really gross as a kid, and it still holds up! Many of the special effects for this film were designed by a then-23-year-old Tony Gardner. If that name rings a bell, it should: Tony is one of the main SFX people behind the Child's Play films (beginning with Seed of Chucky and including the series), and you've also enjoyed his work on iconic movies like Hocus Pocus, Freaky, Army of Darkness, Zombieland, and Old.
As the townspeople try to outrun the shiny pink ooze (I really love the phone booth kill!) and meet their ends in various and creative, goopy ways, the teenagers work to discover what kills it and why it's here. When the government shows up, the mystery is solved: the Blob is a government experiment, and the government doesn't care about the Blob's risk to the humans of this disposable little town.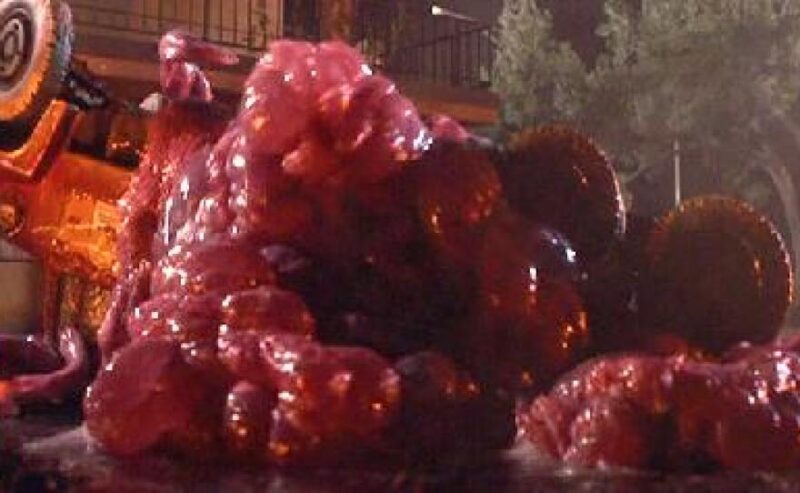 Now, here's where purists will either decide that this remake's main plot point is TOO different from the original to enjoy this film. In the original film, The Blob is an alien life form, something not even remotely man-made. However, in this modern update, the government becomes the threat – it's more of a human biohazard.
I personally find the alien element a little spookier, but I think this key plot variable is what makes the remake different enough to set it apart from its previous iteration, and in turn, even more enjoyable.
If you decide to give this film a rewatch, make a note of a few things. Our own Bill Moseley (House of 1000 Corpses (2003) plays a soldier who gets a good amount of screen time toward the film's finale. You'll also recognize Art LaFleur (The Santa Clause 2 (2002), Ricky Paul Goldin (Mirror Mirror (1990), and Jeffrey DeMunn (The Mist (2007).
Lastly, The Blob was considered a commercial flop, not even recouping half of its budget. Reviews were poor, and it was hailed as an irrelevant, unnecessary follow-up to the original '50s masterpiece. However, The Blob was released on DVD in 2001 and Blu-ray in 2014, and finally got the Shout! Factory special edition it so rightly deserves in 2019.
I absolutely love this film. The small-town characters and vibe, the classic cheerleader-falls-for-bad-boy trope, the gruesome, creative, and spectacular special effects, and the fast-paced story that never gets boring. And don't turn it off after the film – listen to the end-credits song, "Brave New Love," a heavy metal song that could only be from the '80s.
My husband and I loved this song so much that we looked up the band (a Swedish group called Alien), which we'd never heard of, but discovered some other pretty rad songs by them (one with the amazing title, "Tears Don't Put Out the Fire").
So, if you haven't taken a trip to Arbeville in a while, pick up the slick Shout! Factory feature-packed Blu and get sucked into The Blob all over again!