When I was in seventh grade, the first book report I remember doing was for Lord Of The Flies. To this day, it is still one of the most disturbing novels I've ever read. There was just something so unsettling about seeing such young kids without adult supervision being transformed into little soulless monstrosities. At the time, I was just beginning to read Stephen King novels, and I remember thinking that Lord Of The Flies was darker and more terrifying than anything that I had read by King.
It seems that the killer kid subgenre has always intrigued me. It must also intrigue horror fans because these movies still seem to be popular, with fans discussing films like The Bad Seed (1956), Lord Of The Flies (1990), Village Of The Damned (1960)…
One of my favorite kid killer slashers has always been Bloody Birthday. It has been forty years since this nasty little exploitative film was released on April 28, 1981. In recent years, the film has garnered quite a cult following since being re-released on Blu-ray. Let's go back and discover why Bloody Birthday has become such a classic.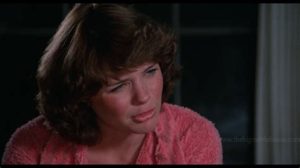 Bloody Birthday is directed by Ed Hunt (Halloween Hell 2014, Starship Invasions 1977), and is co-written by Hunt and Barry Pearson (Plague 1976). The cast includes Lori Lethin (Return to Horror High 1987) as Joyce Russel, Julie Brown (Earth Girls Are Easy 1988) as Beverly Brody, K.C. Martel (E.T. 1982) as Timmy Russel, Elizabeth Hoy (The Blues Brothers 1980) as Debbie Brody, Billy Jayne (Parker Lewis can't Lose TV series) as Curtis Taylor, and Andrew Freeman (How to Eat Like a Child 1981) as Steven Seton.
Synopsis:
Debbie, Curtis, and Steven may look like innocent little kids, but their innocent façade conceals a wicked, murderous bent. Ten years after the three were all born during a solar eclipse, the twisted kids begin a ghastly campaign of murder and bloody mayhem. Only babysitter Joyce and younger brother Timmy can stop these deadly little darlings before it's too late.

Bloody Birthday is Simplistic Yet Uniquely Ambitious
One of the reasons I love Bloody Birthday is for its simplicity. It reminds me of some of the seventies exploitative films that never had some grand plot but were always so simple to follow. I wish we could return to such simplicity in horror films today. In Bloody Birthday, all we need to know is that Debbie, Curtis, and Steven were born during a solar eclipse, and that's why they are naturally evil. So simple, yet so effective.
Yet, I can't really say that Bloody Birthday is just a simple fun slasher either. It really stands out from the crowd for me. If you look back at the myriad of slashers that came out in the 1980s, most of them seem to blend in together. A masked killer goes after sexually active teenagers, there's a high body count, etc… but this film is uniquely different in that instead of a masked killer, you have three sociopathic kids going around killing victims. This facet alone makes it stand out from the crowd and makes the film memorable.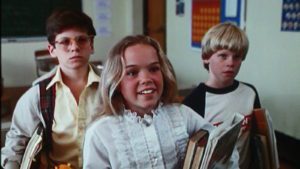 The Three Kids From Hell
Elizabeth Hoy as Debbie Brody, Billy Jayne as Curtis Taylor and Andrew Freeman as Steven Seton gave amazing performances playing such disturbing children. When I first sat down to watch this film, I really wasn't expecting much. When I heard the movie was about killer kids, I figured the children's acting would be subpar. I'm glad to say I was completely wrong. Their performances amazed me, especially Elizabeth Hoy's and Billy Jayne's acting.
There is one scene that completely unsettles me where the kids are in the junkyard, and Curtis tricks Timmy by locking him in a old freezer. It's a hot day, the sun is glaring right down on the freezer, and Timmy is trapped in there. Afterwards, he and the other kids simply walk away. Billy Jayne killed it in that scene, and he truly terrified me.
Elizabeth Hoy, in my opinion, kills it in every scene she is in. I see her character, Debbie, as the leader of the three children, whereas Curtis is the muscle of the group. I really can't think of any other children playing these roles besides these three great child actors.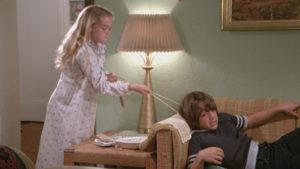 Halloween and Friday The 13th's Inspiration for Bloody Birthday
Something else I love about Bloody Birthday is how the film pays homage to Halloween and Friday the 13th. In the beginning of the movie, Joyce (Lori Lethin) is walking with her best friend, Beverly (Julie Brown), down a street that looks exactly like the streets of Haddonfield in Halloween. Even better, Beverly's father is a cop who pulls up to the two girls while they are walking and has a similar conversation that Annie's father had with her and Laurie.
In the junkyard scene when the three demon kids hijack a car and try to run over Joyce, Curtis, who is driving, is wearing a burlap mask just like Jason does in Friday the 13th Part 2. It's pretty fun if you've never seen Bloody Birthday to notice these little nods to Halloween and Friday the 13th.
Closing Thoughts
I'm really glad that Bloody Birthday is getting the attention it deserves. I'm not going to say that the film is the greatest genre film ever made, but it's definitely one of the most unique. It's one of the rare 80s slashers that actually makes me think. It is quite a scary realization when you think about how a little innocent kid, left to their own devices, could become a monster. It's disturbing to know that you never really know what's going on in your child's mind.
Those who are parents are often looked at as being able to control their children and their actions. But, the reality is that we can't control or know our children completely or what's going on inside their heads. And this is why I love Bloody Birthday, because it looks just like another ax-in-the-face slasher movie but is so much more!