Back in 1975, Jim Sharman's The Rocky Horror Picture Show changed the world's idea of what a cult classic film could be. There's no denying that this musical comedy has created an entire world of its own, with midnight screenings, costumes, singalongs and the most ludicrous audience participation ritual ever created. Take a look back at The Rocky Horror Picture Show with these fun, little known facts about one of the most often quoted movie ever.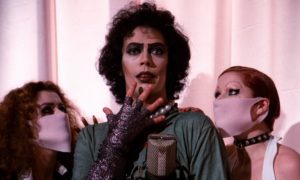 In this cult classic, sweethearts Brad (Barry Bostwick) and Janet (Susan Sarandon), stuck with a flat tire during a storm, discover the eerie mansion of Dr. Frank-N-Furter (Tim Curry), a transvestite scientist. As their innocence is lost, Brad and Janet meet a houseful of wild characters, including a rocking biker (Meat Loaf) and a creepy butler (Richard O'Brien). Through elaborate dances and rock songs, Frank-N-Furter unveils his latest creation: a muscular man named "Rocky." 
https://www.youtube.com/watch?v=Pgx1QZFNMz8
1. O'Brien has said that the skeleton in the clock was real and belonged to the woman who had commissioned the clock. In March 2002, Sothebys auctioned off the coffin clock for a whopping £35,000.

2.David Bowie's personal makeup artist, Pierre La Roche – he worked during the "Ziggy Stardust" tour and the album cover look for "Aladdin Sane" – created the film's makeup looks. As a fan of both Rocky Horror Picture Show and David Bowie, this made me so excited.
3. The floating lips that open the film belong to Patrica Quinn (Magenta), but the song, "Science Fiction/Double Feature," was actually sung by Richard O'Brien. When Quinn found out the song had been taken away from her, she turned down the film, saying, "Well, you can take your movie and shove it where the sun don't shine. Not interested." Because there wasn't a nicer way to say it, Quinn was taken to meet with producer John Goldstone, who showed her the sets and costumes and she changed her mind. The lips were a late addition, done on the last day of filming.
4. None of the actors knew what was under the dining room table — their horror and reactions were real.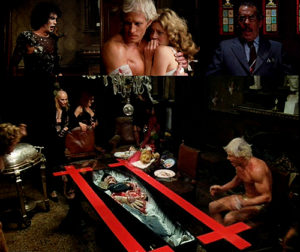 5.Grant Wood's American Gothic is parodied throughout the film and reflected in items such as the pitchfork ray gun.
Thanks for checking out these fun facts about The Rocky Horror Picture Show! Drop a comment on what you love about this glorious cult classic!