One huge highlight of being a reviewer of horror films is that we get to chat with the directors and actors of some of our favorite horror movies. We get the chance to pick their brains and get the real scoop on the films that we love. This weekend, we talked with Glenn Douglas Packard, Director of this decade's hottest new slasher, Pitchfork! As an added bonus, Packard was nice enough to ask some of his incredible cast a few questions for us. Check out this fun interview and some never seen before behind the scene photos from Pitchfork!
PopHorror: Thank you so much for agreeing to this interview! What inspired you to get into the horror genre? Also, who is your favorite horror director?
Glenn Douglas Packard: I have been drawn to the horror genre since I went to the movies to see my first scary movie with my cousin Beth. It was Creepshow and I was 13. Then I went home and rented Evil Dead. I have been in love with horror filmmaking ever since and decided that I was going to go after this passion of mine. I have many horror directors I admire: Wes Craven, Adam Wingard, Ti West, Mickey Keating and M. Night Shyamalan. But my very favorite is Sam Raimi. I love every film he has directed.
PopHorror: I love Creepshow! Now I have to know – what is your favorite horror movie?
Glenn Douglas Packard: It is impossible to say just one, so let me list my favorites before saying my number one. Inside, The Final Girls, I Saw The Devil, You're Next, The Descent, The Loved Ones, Evil Dead (all of them), Them (Ils), Stake Land, REC, Trick r Treat, The Host, American Mary, Kidnapped, The Orphanage, The Texas Chainsaw Massacre (2003) with Jessica my woman crush. How about the new Lights Out or Train to Busan – so good!  I can't leave out the classics that scared me as a kid… Salem's Lot, Burnt Offerings, Friday The 13th, the Hellraiser franchise, Halloween, Invasion Of The Body Snatchers… but my very favorite is the 2007 French horror film Frontier(s). I love the story, the gore, the villains, the suspense, and the final girl! It had is all for me.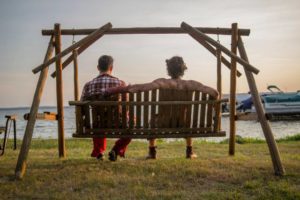 PopHorror: You have really great taste in horror films! Okay, time to pick your brain on Pitchfork. How did you come up with the idea for the film? How did you decide on Pitchfork's slasher mask and costume?
Glenn Douglas Packard: I had seen a rerun of an Oprah Winfrey episode where a boy had lived his youth abused by his parents and treated basically like a dog. Eventually, he had turned his life around and was now an inspiration to others dealing with child abuse. I had thought, "What if it went the other way? What if it had driven him mad?" Pitchfork had been in my head for 8 years before I started filming. It was an amazing feeling to release him and to see him come to life.
I went back and forth with his look – well, at least with his mask. I knew his hand was replaced with a pitchfork, wedged into his bloody stump and wrapped in barb wire. But I went back and forth with what was going to be on his face. It was either going to be the face of a dog ripped off some poor animal, representing the way he was treated as a young boy, or he was going to wear a mask of a teddy bear to counteract the pitchfork arm. The skin being scary and bloody, and the teddy bear mask showing innocence but still spooky. I entrusted my makeup artists Chris Arredondo and Candy Domme to deliver the final look, and they did just that. You see in the DVD/Blu-ray special features the first time I see what they executed for me. I was so happy! I felt it had both elements to his overall look in the end, which I didn't expect but could see it – a dog/teddy bear-like look. I just want to say that the writer of the film Darryl F. Garigilo really helped Pitchfork come to life and none of this could have been possible without him.
PopHorror: That has to be my all time favorite answer to how a story came about for a movie. You did a great job of conveying that on screen! What made Pitchfork so lovable? Also, is he super human?
Glenn Douglas Packard: Like Jason, Freddy, Leatherface, or Michael, I know that there is a love for these characters and their back stories. They make you, in a way, feel sorry for them and actually start rooting for the slasher. Without giving to much away in the first film, I wanted you to be scared of Pitchfork but also feel for him. Daniel Wilkinson played him to perfection. His eyes showed so much of the emotions going on with Pitchfork during the film. In this movie, you see Pitch becoming the monster. Suddenly, he is loose and out in the world for the first time in a long time. He is also scared like a wild animal, but protects himself. In the end, he realizes the monster he is, gives in and excepts his fate. The rage inside Pitchfork makes him super human.
PopHorror: Aside from Pitchfork, Ma and Pa are such dynamic characters and absolutely unexpected (in
the best way). What was the driving force behind them?
Glenn Douglas Packard: I wanted the film to start out light-hearted, for those first time horror movie goers. Then I wanted it to get dark and distributing, giving them something to remember and set up for the next installments. Ma (Rachel Carter) and Pa (Andrew Dawe-Collins) gave me the ability to make that happen. These twisted and dark characters nailed that for me. It was a way for me to give a glimpse into the backstory of Pitchfork.
Funny story – I wanted the actors that played the parents of the film and Hunter to be from Michigan. I was having the hardest time finding an actress to play Ma. Many of the actress and their managers asked that we re-write the part. Over the phone, I explained to my lifelong friend Rachel, who was cast as Mrs. Killian at the time, that I was having a problem finding an actress to play the role of Ma. She said she would kill to have a role like that. I slept on that. The next day, I called her and offered the role. She couldn't have done it more perfect.
PopHorror
:
What was your favorite scene to film and what were some of the cast's favorite scenes?
Glenn Douglas Packard

:
There wasn't a scene I didn't enjoy, but my favorites were the one take of Hunter (Brian Raetz) and Mrs. Killian (Carol Ludwick) having their talk from the barn to the house… just very real and close to home for me. The lovers, Rocky and Janelle's fall, was always a visual in my head. Director of photography Rey Gutierrez and the actors Keith Webb and Sheila Leason nailed it! The overhead drone shot of the white van on its way through the countryside and the slow motion shots of the opening titles with the cast set the film up with that classic scene found in so many films but it also showed the beauty of those scenes and was a horror homage. Although I really wanted a beautiful sunrise during the last scene, I just loved the way Pitch comes running down the road with the actors in a zombie-like state. It's visually beautiful.
Ryan Moore

(Matt)
: My favorite scene from filming Pitchfork was my death scene – because I was covered in dirt and blood and got to beg for my life.
Andrew Dawe-Collins
(Pa)
: My favorite scene to film was the scene where Ma and Pa slip Hunter and Claire the roofie that knocks them out. The whole thing was awesome with Ma singing. Pitchfork arriving just before they pass out and me getting to drag him off by the ear!
Celina Beach
(Lenox)
: Filming my death scene… aside from little keypoints Glenn had given Daniel and I, it was all pretty much improvised. It was such an unbelievable rush, extremely challenging – given I was hysterical for four hours straight – and incredibly fulfilling as an actor.
Pitchfork
goes down as one of the best experiences in my career to date.
Nicole Danbro

(Flo)
: My favorite scene was the barn dance. There was so much energy and I loved the dancing. Plus I loved improvising with my Amish dude, Shane Adkins.
PopHorror
:
Speaking of that barn dance….there has been a lot of talk about it. Is there some type of hidden meaning behind it?
Glenn Douglas Packard

:
Yeah, there is a love/hate for that barn dance. Some people love it, some hate it. It just made sense. Many said it was because of my 25-year career in the music/choreography industry was the reason why it was in there, but actually, this is based on my coming out story in the beginning. These characters are based off of friends in my life. They came from a school of arts in NYC. When my friends and I got together, we would party and dance together. It's what artist do when there is a group of us together. We like to show off and do some of our latest dance moves. So it made perfect sense to have these characters want to put on a barn dance and party.
PopHorror
:
I thought it was so fun and gave the movie a little something extra! Almost all great slasher movies have a sequel or prequel. Can we expect one from
Pitchfork?
Glenn Douglas Packard: I'm happy to report that there will be both in my lifetime. I will make sure to deliver both of these films.
PopHorror
:
That makes me so excited! I really do think
Pitchfork
is the birth of the next great horror icon. What does the near future hold for you and cast?
Glenn Douglas Packard

:
I've been asked to direct an LGBT werewolf film, as well as
Pitchfork 2: Homecoming
. In my choreography world, I'm creating the new Men Of The Strip show at Tropicana Casino and Resort, opening up The INstitute in Michigan – an elite training complex for the next generation of talented dancers… Oh, and working on a
Pitchfork
 comic book with Andrew Dawe-Collins. So cool!
Nicole Danbro: I have two movies coming out. The horror film The Axiom will premiere this fall, and I just wrapped as lead in a dark comedy produced by Loveline veteran Anderson Cowan called Groupers. You can also catch me in several Lifetime TV shows, including My Crazy Ex: Dr. Donothing next month
Celina Beach: Right now, I'm kicking some serious ass in the dance studio as a Vixen Workout Instructor! I'm taking acting classes, working behind the scenes as a makeup artist and raising my beautiful, little 3-year-old son, Phoenix.
Ryan Moore: Jeepers Creepers 3!
Andrew Dawe-Collins: The feature horror film Dog Lady Island and action drama Halt are both out in late 2017. The horror film Black Widow Witches begins shooting this summer. The horror film Rotten to there Core is going to festivals this year. The action film Corporate Red begins shooting in the fall of 2017. The drama Millionaire begins shooting in the spring/summer of 2018. I also have some really fun auditions coming up that I hope pan out!
PopHorror
:
I will certainly be checking those all out and can't wait for the sequel to
Pitchfork
! Final question: What advice do you have for anyone that wants to break into the industry?
Glenn Douglas Packard

:
It's a dog eat dog world out here. Make sure you have some thick skin because it can be brutal if you have a heart. Make sure this is your passion. If it is your passion, there is nothing that can stop you. You've got one life to live so go out there and live it to the best of your ability!
PopHorror
:
Thank you so much for taking the time to do this interview and congratulations on
Pitchfork
!
Glenn Douglas Packard: Thanks so much! It was so great to answer these and take me down memory lane again!
Pitchfork
released on January 13, 2017. When you get a chance, pick up the DVD or Blu-Ray extended with tons of extra bonus footage or perhaps even both by clicking –
here!