One of the latest additions to the Unearthed Films catalog is Marcel Walz's, La Petite Mort. Conceived in 2009, Walz's early walk on the wild side features the priceless FX talents of Olaf Ittenbach. If that name isn't ringing a bell, well, ol' Olaf is responsible for the likes of The Burning Moon, Dard Divorce, and No Reason.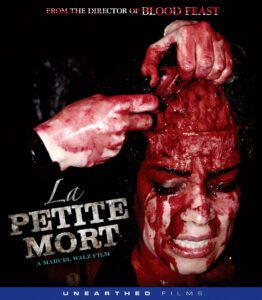 La Petite Mort follows three friends, Simon, Nina, and Dodo, as they explore the city of Frankfurt, Germany, killing time awaiting the next leg of their journey to their final destination in Spain. While enjoying the sights of the new city, the trio accidentally stumbles into a dungeon of a bar – literally. As the bar's patrons eyeball the young friends. a nefarious tone is established, and the trap is set. The friends are separated from one another and, subsequently, they succumb to excruciating tortures which are recorded by their captors.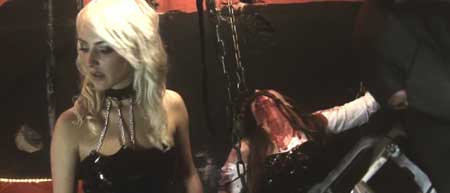 The film stars Manoush, the prolific German actress who has made a career appearing in European horror films – including those by fellow extreme horror mainstays Marian Dora (Cannibal) and Andrey Iskanov (Philosophy of a Knife, Visions of Suffering, Ingression). She again uses her unique screen presence to lead a band of wayward young women in a torture-for-profit enterprise.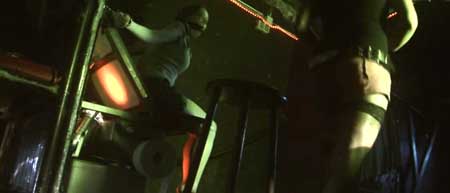 While Ittenbach is a well-known wizard in the FX world – especially in extreme horror – Marcel Walz, for some, became the poster child of modern German genre cinema. With several German-released slashers under his belt (Kadaver, Kilschee, Tortura) in addition to a sequel to La Petite Mort, he was awarded the opportunity to do a modern interpretation of Hershell Gordon Lewis' seminal, Blood Feast in 2016.
With La Petite Mort, though, he delicately dabbles in the dark arts. The surprising sparseness of nudity paired with the signature Ittenbach FX work is an unwonted experience. This may be displeasing to some fans. That said, the punctuated moments of gore are definitely worth a gander. Eye gougings, penis mutilation, and body eviscerations are among the highlights of La Petite Mort. It's honestly pretty impressive. 
La Petite Mort is now available to purchase through Unearthed Films. Be sure to check out the trailer below.