It seems only yesterday that it was 2007, and I was dragging my friends with me to the movies to see the latest Tim Burton project starring Johnny Depp (Dark Shadows, 2012), Sweeney Todd: The Demon Barber of Fleet Street. In my eyes, this dynamic duo could do no wrong. After smash hits like Edward Scissorhands, Corpse Bride, Sleepy Hollow, and (my personal favorite) Charlie and the Chocolate Factory, this belief was certainly warranted. At the time, I loved every second of the film. December 2022 marks the 15th anniversary of Sweeney Todd. It's the perfect time for a rewatch. Does this macabre musical stand the test of time? Let's find out!
For those unfamiliar with the film, it's based on Stephen Sondheim's 1979 musical of the same name. Depp portrays Sweeney Todd, a talented, albeit unhinged barber whose real name is Benjamin Barker. Years prior, he was sent to prison under a false charge by Judge Turpin (Alan Rickman, Die Hard, 1988), who would stop at nothing to have the barber's wife Lucy (Laura Michelle Kelly, Agatha Christie's Marple, 2007). Barker, now going by Sweeney Todd, returns to London to seek revenge on Turpin, who has his and Lucy's daughter Johanna (Jayne Wisener, Jayne Eyre, 2007) held captive. Meanwhile, Sweeney befriends twisted baker and longtime admirer Mrs. Lovett (Helena Bonham Carter, Planet of the Apes, 2001), who cooks up his victims and serves them to unsuspecting customers in meat pie form.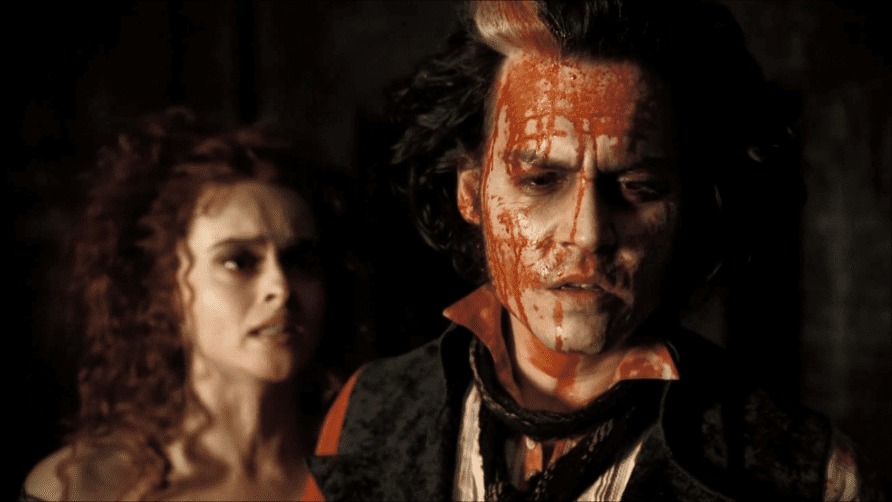 To start, it must be noted how absolutely top-notch and just flat-out cool this cast is, especially watching it 15 years later. As a massive fan of both Depp and Rickman, it was a joy to see these two industry heavyweights have the chance to share the screen before the latter's untimely death in 2016. For my fellow Harry Potter fans, Sweeney Todd is also a mini Death Eaters gathering, with Bonham-Carter, Rickman, and Timothy Spall (Vanilla Sky, 2001) taking on fresh villainous roles while still portraying Bellatrix Lestrange, Severus Snape, and Wormtail in the film franchise, which would go on for four more years. Oh, and don't forget Jamie Campbell-Bower (The Twilight Saga: New Moon, 2009), aka Vecna on Stranger Things, as the lovestruck Anthony.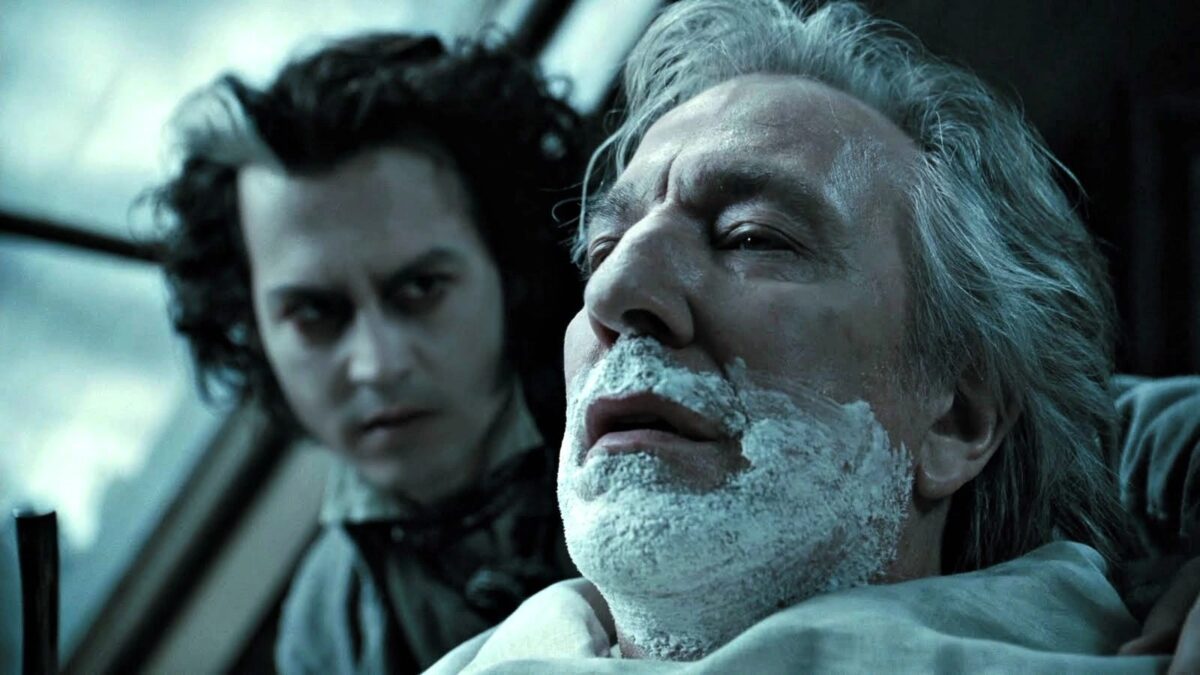 Typically, I'm not a huge fan of movie musicals. Oftentimes, I find myself groaning, "Oh God, they're gonna start singing again, aren't they?" But Sweeney Todd is different. In fact, I found myself looking forward to the next number. That's because the soundtrack is expertly incorporated into the plotline, rather than the cast jumping into jarring, big-chorus numbers. According to Burton, this was the goal. He said in a "making of" video, "We tried to avoid that kind of, a lot of dialogue and then people bursting into song and so to deal with that, we cut out a lot of choruses. We cut out a lot of secondary people singing things and let the main characters sort of project their feelings through the music. It's really coming from an internal place for them." Well done, Burton.
Sweeney Todd made history as being the first time Depp's singing voice was ever heard. Even upon landing the role of Sweeney, nobody — not even Sondheim — knew if he could actually carry a tune (another actor was brought in to do Wade Walker's vocals for Cry Baby (1990). Depp shared in a behind-the-scenes interview for Sweeney Todd, "I wasn't sure if I'd be able to sing any of it…" However, he knocks each song out of the park, especially "My Friends." Burton said, "I remember when I first heard Johnny, I thought, 'Wow, he's amazing. He sounds like some kind of rock star.' Just by the nature of him doing it, it brings something different to it."
Currently, Depp is fully embracing his rock star persona as a member of Hollywood Vampires (alongside Alice Cooper and Joe Perry) and on the collaboration album 18 with Jeff Beck.
From a horror perspective, Sweeney Todd has it all, from Burton's iconically gothic ambiance to the countless brutal slayings (featuring some perfectly loud "thunks" when victims slide into the cellar). But it's so much more. There are several romantic plotlines, including Sweeney's undying love for Lucy, Mrs. Lovett's obsession with Sweeney, Turpin's creepy living arrangement with Johanna, and Anthony's quest to rescue her. I mean, who wouldn't want a stranger outside their bedroom window belting out, "I'll steal you…?" Sweeney Todd also incorporates plenty of comedic elements, most notably Depp's tendency to blankly stare off into space.
Fifteen years after its release, Sweeney Todd certainly still stands the test of time thanks to its creator, cast, and all-around gory excellence. In 2023, it will be returning to Broadway, with Josh Groban (The Good Cop, 2018) as Sweeney and Annaleigh Ashford (American Crime Story, 2016) as Mrs. Lovett. Will I be snagging tickets? Obviously. Will I constantly be comparing the performance to the movie? Admittedly, yes. For me, what Burton, Depp, and Bonham-Carter created will forever be the standard for Sweeney Todd.