The folks at Mondo send word they've got an all new book heading your way. WARPED & FADED: Weird Wednesday and the Birth of the American Genre Film Archive tells the story of the Weird Wednesday film series and the American Genre Film Archive with insights from the people who were there. This looks like a wonderful historical piece. Way to keep those Wednesdays weird!
Read on for the details and pre-order information!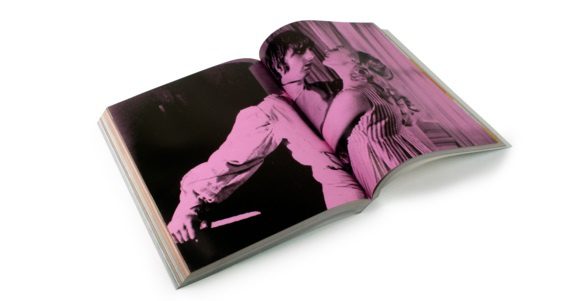 From The Mondo Press Release
Mondo is excited to announce the new book release of Warped & Faded: Weird Wednesday and the Birth of the American Genre Film Archive, available for sale on November 16, 2021 from author Lars Nilsen, editor Kier-La Janisse, along with several genre enthusiast contributors. Nilsen, a longtime Alamo Drafthouse film programmer and now at Austin Film Society, and Janisse, genre scholar and author (House of Psychotic Women), programmer and documentary filmmaker (Woodlands Dark and Days Bewitched: A History of Folk Horror), have written a definitive guide to exploitation cinema.

At the dawn of this century, a scrappy one-screen theater in Austin, Texas became ground zero for a revolution in film exhibition. That cinema, the Alamo Drafthouse, took the seemingly foolhardy step of offering free screenings of exploitation and horror movies that had quite literally been consigned to the scrap heap. The idea began in the sleep-deprived mind of its co-founder, Tim League. He piloted a grotesquely overloaded rental truck home to Texas, with hundreds of otherwise unwanted film prints in the back, an expense he could ill-afford. Why not, he thought, offer a screening series at the theater that would allow everyone to discover these movies simultaneously, as they unfolded on screen in all their speckled, splicey glory? And why not make it free?

From that fevered notion, a legend was born: the series, Weird Wednesday, continues to this day. The film archive that was born from that initial axle-warping payload is now called the American Genre Film Archive (AGFA). It has preserved, restored and distributed hundreds of films that might otherwise have been thrown into an abandoned mine or pushed off a barge into international waters.
Very cool. Here's a look at the official cover art!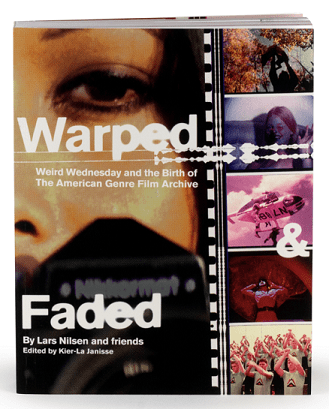 Final Thoughts
Pre-orders for the book are available now at MondoShop.com. On sale November 16!
We're big American Genre Film Archive fans. Their partnerships with Troma, Shout! Factory, and Full Moon (among others) help keep exploitation cinema alive. Three cheers for Alamo Drafthouse. We salute you! And we can't wait to read this. Thanks for keeping the dream alive.
What do you think? Will you grab Warped & Faded for your bookshelf? Tell us in the comments!