Although relatively new to the indie horror scene, Eric Huskisson has already been involved in several award winning horror projects, most notably The Confession of Fred Krueger and Volumes of Blood, both of which came out in 2015. Most recently, Eric was asked to act in, produce and master the props for the sequel to the dark comedy slasher anthology Volumes of Blood, titled Volumes of Blood: House Stories, which is due to be released next month. We caught up with Eric and asked him about his start in the industry, his love for the genre and what scares the shit out of him.
PopHorror
: First of all, thanks so much for taking the time to answer some questions for us at PopHorror. We're all huge fans of indie horror so we love getting a chance to talk to the people in the trenches. You've only been in the film industry for a few years now. How did you get started?
Eric Huskisson
: I've wanted to be an actor or work in special F/X since high school. I was getting ready to move to Florida several years ago to further my entertainment education but a couple of weeks before I left, I was offered a job with the local utility company. Since then, I've worked with the Theater Workshop of Owensboro a couple of times before luckily meeting PJ (Starks) a little over 3 years ago.
PopHorror
: Most of your projects (so far, at least) have been horror related. What draws you to horror?
Eric Huskisson
: I've been a horror fan since childhood. My dad would let me stay up late and watch B horror movies on Friday and Saturday nights. I grew to love the special F/X. I kept makeup and F/X supplies in a cigar box in middle school.
PopHorror
: That must have freaked out a teacher or two! Do you have a favorite horror movie? What do you love about it?
Eric Huskisson
: Yes.
Halloween
! I was 12 when I first saw it and it gave me cold chills! The way John Carpenter uses his music throughout and the relentless pursuit of Michael just grabbed me and hasn't ever let go. That mask spooks the hell out of me till this day.
PopHorror
: You played the killer The Face in PJ's first
Volumes of Blood
film. What was that like?
Eric Huskisson
: Hot, sweaty and with tunnel vision is the best way to explain it. I'm not complaining about it at all though. I've always wanted to play the villain or serial killer type. So when PJ offered me the role, I couldn't say no. Even though portraying The Face at times has been very trying, I've enjoyed the hell out of it. I'm reprising my role for our new film
VOB: Horror Stories
and we are talking about maybe making it a trilogy.  So The Face could be around for a while.
PopHorror
: A trilogy would be fantastic! I personally love the first film and I can't wait to see what you guys come up with next. You also played Mr. Underwood in Nathan Thomas Milliner's
The Confession of Fred Krueger
(2015). Are you a fan of the
Nightmare on Elm Street
franchise?
Eric Huskisson
: Yes. When it first came out, I loved it. It was a fresh horror idea and the idea of things happening to your dreams scared the crap out me. Freddie's sweater and razor glove really haunted me because they reminded me of a nightmare I had as a child! I was honored Nathan asked me to help with this film. The story works so well and he did a great job directing it.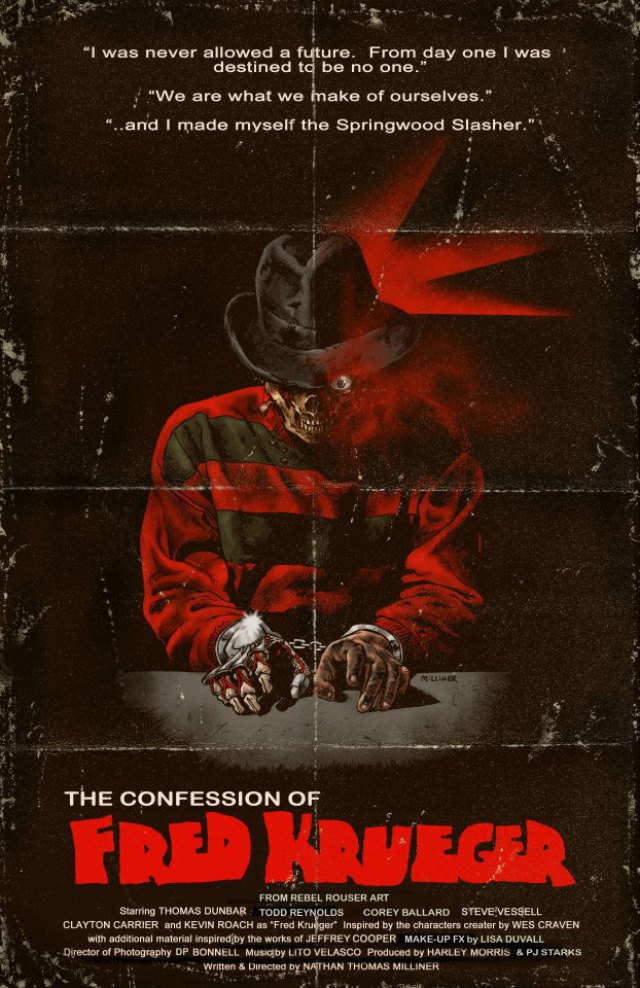 PopHorror
: Do you prefer being in front of or behind the camera?
Eric Huskisson
: I lean towards acting but I still have a deep love for Special F/X and working with visual effects. Now that I'm co-producing
VOB: Horror Stories
as well, I feel I have learned a lot more about behind the camera work. If I had to choose right now, it would be in front of the camera.
PopHorror
: How did you meet PJ Starks and his crew?
Eric Huskisson
: A friend of mine suggested we attend one of the unscripted film series started by PJ at the Daviess County Public Library. I went with my friend and found out that night they were having a Zombie night with a zombie costume contest at a later date. I love Special F/X and was up to the challenge. I came in 2nd place in the contest and PJ introduced himself afterwards. A few weeks later, PJ contacted me and asked if I would dress up like a zombie for his
Deadumentary: Project Deathpack
, a media commercial he made for WBKR, a local radio station. I accepted and we became friends during the process. I think I have worked on every one of his projects since then except for maybe one.
PopHorror:
Do you have anything you're working on now that you can talk about?
Eric Huskisson
: Yes. I'm producer and prop master for the Blood Moon Pictures film,
Volumes of Blood: Horror Stories
. I'm also reprising my role as the Face in this sequel. The film is in production right now and due to premiere at the Owensboro Convention Center Oct 29th.
PopHorror
: Are you inspired by anyone in the business?
Eric Huskisson
: John Carpenter would be one of the first I would mention. He's my favorite horror celebrity for sure. I can't think of anything he's done I didn't like. His writing, directing and composing have all at one time or another made me wish I could be like him.
PopHorror
: I wonder what makes him tick? Anyway, if you could work with any celebrity and/or crew member, who would they be and why?
Eric Huskisson
: Well, if what I've read in the past few years is true, I would have to say Keanu Reeves. This guy has done comedy, drama, sci-fi and horror. Not many actors can say they've been in that many different genres.  But the reason I pick him is because of the person he is in real life and how he treats his cast and crew. He makes sure everyone is taken care of, even if it comes out of his salary. To be a celebrity and be that humble and giving is not heard of in their business. They say he's just a super nice guy.
PopHorror:
I've heard that, too. I would love to meet him. But now I have to ask – what scares you?
Eric Huskisson
: This may sound weird but sleepwalkers scare the hell out of me. It freaks me out to no end. These people are walking around doing whatever and don't even know it. On top of that, you're not supposed to startle them or wake them up.  I've never witnessed it personally, but when I see it on film, I get cold chills.
PopHorror
: They're a bit like zombies, aren't they?
Eric Huskisson
: Yeah! Yeah, they are!
Keep updated with all things Volume of Blood: Horror Stories here at PopHorror. The movie review is soon to come!