We all deal with traumatic events in our lives in our own ways. Some keep it to themselves and never let anyone else know what happened. Some scream about it from the rooftops, and some just prefer to be left alone. Some write a song, or a movie or a poem about the event, while others enroll themselves in a violent, immersive, extreme haunt.
In the new Dread Central Presents flick, Extremity, trauma survivor Allison (Dana Christina: Wynonna Earp TV series) hopes to accomplish, should she live through her own horror movie, is bring peace to her life and come to terms with her unresolved issues. She wants to use a horror film experience to purge herself of her experienced trauma.
Extremity is the latest release from Dread Central Presents and the newest film from The Last Shift (2014) director Anthony DiBlasi. It was co-written by David Bond and Rebecca Swan (Masters of Horror: Cigarette Burns and Pro-Life) and has an extremely effective and haunting score by Adam Barber.
Allison is a troubled young woman plagued by memories of an abusive father. Swimming through a consciousness muddled by prescription drugs (in pill bottles labeled 'Eat Me') and visits to her therapist (Chantal Perron: Fargo TV series), Allison is aching to heal. Against her therapist's wishes, Allison auditions to be a part of Perdition, an immersive event that promises to drop her into the middle the horror movies that she loves. "It's death on sale. And on sale cheap," spits the doctor, trying to talk her out of it, but Allison has already made up her mind. She agrees to submit herself to hours of torment and abuse at the hands of the haunt creators.
Desperate to feel something – anything – and no longer fear her father, she is thrilled to be granted access to the haunt, and, after filming a video where she promises to give up her rights, Allison and fellow attendee, Zachary (Dylan Sloane: Wayward Pines TV series), are both subjected to extreme torture methods that they could not have ever imagined, like beatings, waterboarding, and forced claustrophobia. After meeting the owner of Perdition/torturer, Bob (Chad Rook: Supernatural TV Series), Allison begins to think she has made a mistake. Unfortunately for her, the horrors keep getting worse, until they all culminate into a climax that nobody saw coming.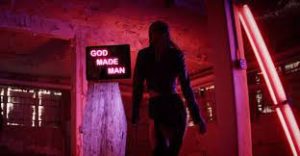 The haunt comes alive and scares you to death because of the vivid and beautiful cinematography by Scott Winig, in partnership with the scary-as-fuck masks by the late Simon Sayce, the designer of the iconic puzzle box from the original Hellraiser. While at times the film becomes muddy and boring – after some of the masks are removed, thus humanizing the predators – it is still effective in that it made me wonder if I could ever subject myself to something of this magnitude. It's reminiscent of McKamey Manor, an extreme haunt in San Diego, so if that doesn't tell you something, then be sure to watch this flick to find out what I mean. Make sure you keep an eye out for some awesome cameos from Felissa Rose  as Angry Mia)=, Michael St. Michaels as Lipstick Killer Unmasked, and Tiffany Shepis as Black Gloved Betty.
Extremity arrives on VOD and Blu-ray October 2, with a limited theatrical release.