Wrapping up my coverage of the extraordinary Horror-On-Sea Film Festival 2022, I had the chance to check out S.N. Sibley's 2010 indie horror comedy, The Last Zombie Hunter. Let me just say up front that this is definitely a one-of-a-kind experience and not for the average horror fan.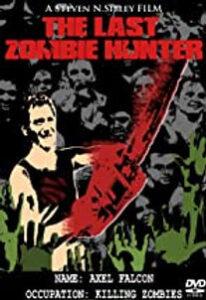 The Last Zombie Hunter (2010) is a micro budget offbeat action horror comedy directed by S.N. Sibley (A Home For The Bullets 2005). It stars A Home for the Bullets' (2005), Ken Mood, Tony Hickson, and Richard Thorn, along with Lloyd Kaufman (Troma Entertainment), William Scott Johnson (The Cucaracha Club 2016), Badria Abdul Raouf (Shopner Desh 2005), and newcomers Sebastian Fumoleaux, Nadia Simone, Richard Scott, Christopher Fumoleaux, Michael Newby, and Adam Scart.
Synopsis: 
Rogue cop Axel Falcon returns once again, only to find himself trapped in the middle of the zombie apocalypse. Does he have what it takes to survive the ravenous horde of flesh eating ghouls and defeat his arch nemesis Darvo, or will end up as just another happy meal on the go in this hilariously awful horror comedy that's so bad…it's good?
This is one passionate, unconventional, insanely bizarre piece of guerilla filmmaking. In a sense, it's the definition of independent film. In the vein of Camp Death III in 2D! (2018) and Sniper Corpse (2019), The Last Zombie Hunter is so horrible, it verges on the precipice of being arguably good… although this isn't even close to being in the same class as the other two.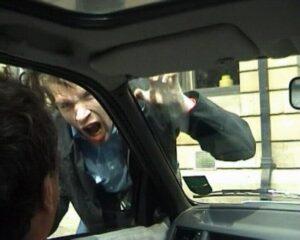 It's the third movie involving the character of Axel Falcon with his own feature length picture currently in pre-production. While I actually dig the character and can see the untapped potential he holds, I can also see why people might take umbrage with the overall finished product. It's not the greatest of pictures by any means, but it is a very interesting and oddly entertaining watch. 
The dialogue is horrendous, and the story is shoddy. Also, the editing is very fast, and the pacing needs to be slowed to about half the speed. In the case of The Last Zombie Hunter, slower Romero-style zombies would have been better for the action sequences and more than likely the story as well, even though there really isn't one. 
For a no budget venture, I applaud the crew and love how bloopers were purposefully left in to add to the cheesiness of it all. Certain fumbled lines and other miscues and missteps were kept instead of being cut, extending the runtime. It's extremely laughable and the gore and action are actually fantastic, given the setbacks. The makeup isn't bad, but the costumes are without a doubt, an afterthought, along with sets, set dressing and so forth.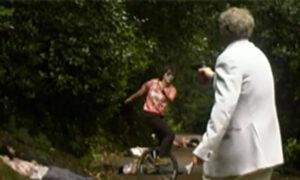 There's a ton of apparent potential in this, given the right help and backing. The signs are clearly visible; all that's needed is a little mentoring and nurture. It essentially acts as a blueprint for aspiring amateur filmmakers of what to do and what not to do when shooting your own bologna budget indie feature. 
Overall, The Last Zombie Hunter is absolutely craptastic! It's like a seven car pileup. You just can't seem to look away, no matter how bad you feel. Although I enjoyed it for what it is, it's definitely not for everyone, only the true die hard indie horror fans who are willing to give anything a go. So, watch at your own risk. You've been warned.