Closing our coverage of the Horror-On-Sea 2023 Film Festival, we had the chance to catch the exhilarating, fear-inducing 2021 short film, Escalation. Here's what we thought about it. 
Escalation Synopsis
During the pandemic, an isolated self-centered man has to confront his own inner demons and decide what kind of person he is, before things escalate.
Escalation is a 2021 short horror thriller, written by Charlie Cooper (The Way of the Spur 2012, Spark 2014) and Christian 'Kang' Bachini (Ip Man 2 2010, Mao Pai Sha Shou 2017). The film is directed by Christian 'Kang' Bachini. It stars Christian 'Kang' Bachini, Charlie Cooper, Derek Blakely (Escalation 2021), Giulia Serafini (Appuntamento a ora insolita 2008, To Rome with Love 2012), and Lucy Chun Yan (Escalation 2021).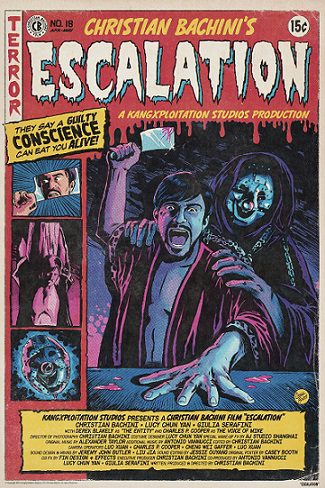 One Man Show
Normally we don't cover shorts for this festival, as it'd take an extra month just to get through all of them alone. But, having seen this menacing, anxiety-filled, panic-punching short film screen at another festival back in late 2022, I couldn't help but give it a go. Let me just say upfront, it did not disappoint. It's brutal, vicious, and seriously twisted.
The acting in this is fantastic. Bachini is pompous, arrogant, and totally convincing in his one-man show, taking the viewers on one hell of a gore-packed ride. He's genuine, believable, and absolutely terrifying.
The costumes are awesome and the pacing is near perfection. Most of the dialogue is pretty solid, although there are a few spots that could use a once-over. However, the makeup is excellent and the special effects are spot on.
What really stands out though, is the camera work. It's absolutely phenomenal. There are some really cool angles and shots that help add to the excitement and spike the tension up a few degrees. Along with the mock movie playing on the tv in the background. Also, the score is dark and menacing and the editing is really well done.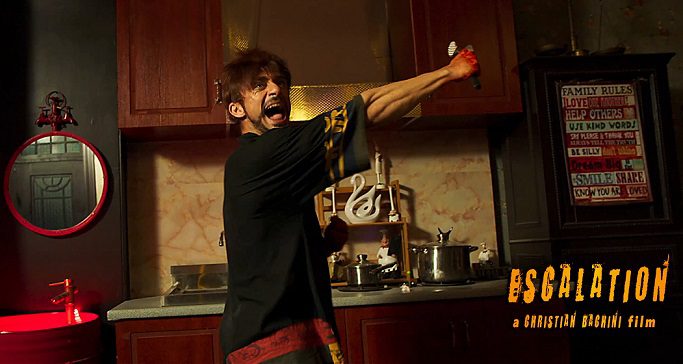 Final Thoughts
Overall, Escalation is savage, unnerving, and crazy as f*ck. It's shocking, deranged, and one smashing good time. Definitely check this one out if you get the chance, you can thank me later.
Be sure to check out our other Horror-On-Sea 2023 Film Festival reviews, including Minacious, Eating Miss Campbell, Monsters In The Closet, 4 halloween, Pig Killer, Freeze, and Mask of the Devil!