Our Horror-On-Sea 2023 Film Festival review coverage continues with a review of 4 Halloween! If you love Italian gore, you're going to want to check this one out.
Have a look at the official trailer!
4 halloween (2023) Synopsis
Four separate fates intersect with deadly consequences on All Hallow's Eve, as a serial killer decides which mask to wear; a young man helps a grandmother choose a costume; a mad scientist creates a pizza to euthanize the suicidal, and a couple comes to terms with their deepest, darkest fears.
4 halloween is a 2023 horror film written by Sebastiano Tuccitto and Domiziano Cristopharo (Phantasmagoria 2014, III: Final Contagium 2020). Domiziano Cristopharo also directs. It stars Todd Quality Jaeger (Rural Erections 2001, Toilet Zombie Baby Strikes Back 2021), Puccy Polverino (Eldorado 2022, 4 halloween 2023), Gloria Bellei, Ennio Prato, and Nichols Sartori (La perdición 2021, Eldorado 2022). 
Gore For Days
This is Italian gore at its finest. It's viscous, corrosive, and grotesque. It's vile, revolting, and one bloody good time. There isn't much in the way of a storyline, instead, it focuses more on good old practical effects and gore. 
The costumes are fantastic and the makeup is incredible. The editing is a little loose in spots, but the score and sound effects are top-notch. Also, the acting isn't the best, some performances are better than others. Nonetheless, it's still frightening, sinister, and repulsive.
One thing that could use a little sprucing up is the dialogue and voice-over dubbing. They were a bit muddled and hard to understand in certain scenes. However, it's still gross, deranged, and devilishly delicious.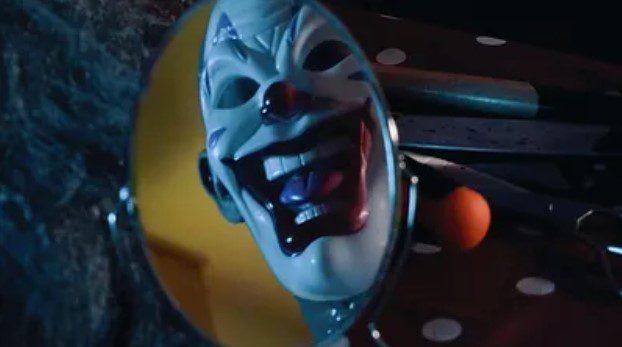 Final Thoughts
In the end, 4 halloween is bizarre, demented, and eerily disturbing. It's the perfect film for the Halloween season. If you love old-school eighties throwback horror, then definitely check this one out. If you can stomach it that is. Now you can die with your favorite taste. 
Be sure to check out our other Horror-On-Sea 2023 Film Festival reviews, including Pig Killer, Freeze, and Mask of the Devil!