Hello, all! Johnny Macabre here, sitting down to post my first review as a new writer on one of my favorite horror news sites. And I thought, what with the holidays right around the corner, I would start with a personal Macabre Christmas tradition: David Steiman's 2005 horror comedy, Santa's Slay.
Sure, there are a ton of Christmas horror films with a killer dressed as Santa. But in Santa's Slay, the killer is Santa. He's not the jolly, rosy-cheeked elf you know of. Nope. See, Santa is actually a demon, the son of Satan no less, and the only reason he's been good for the past 1,000 years is because he lost a bet with an angel (it was a curling competition). Now, the bet is up, and Santa is all too ready to return to his nefarious ways.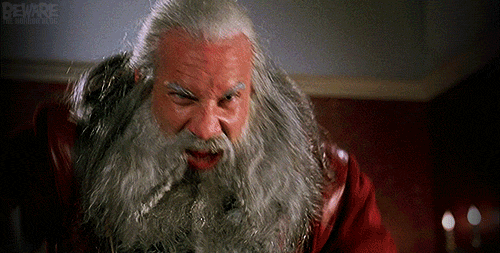 Already sounds like a bloody festive treat, right? Well, what if I told you that Santa is played by WWE superstar Goldberg? Yes, this pro wrestler, who, ironically, is Jewish, is the Santa with Muscles we all deserve. From strip-club murders and flying Hell Deer to gun-nuts with bazookas and an origin story done in the stop-motion style of classics like Rudolph and Jack Frost, this is a Christmas horror film filled with creative Yuletide kills and more holiday puns than you can shake a candy cane at.
So if you like your Santa jacked and your Christmas red, start a new tradition with Santa's Slay. And for added festive bloodshed, I recommend making it a triple feature alongside Krampus and A Christmas Horror Story.