When the trailer first dropped for Jordan Peele's 2017 horror thriller Get Out, it created a ton of buzz about being the first horror movie dealing with racism. It grabbed people's attention from the get go and had them wondering if this was truly what this story was about. In the first five minutes of this intense horror, Get Out shows the audience right away that this film is not messing around with the racial overtones that the trailer had implied. Going forward, I will not be spoiling anything for you so that you can see this film and judge it for yourself. What I am going to do in this review is explain why Get Out is unlike anything we've seen before in the horror genre and why it's a must see!
In his directorial debut, Jordan Peele wrote and directed Get Out, which dropped into theaters on February 24th. Luckily for me, I was able to catch an early screening of the film. Yesterday when I was looking up the numbers for Get Out it was already officially certified fresh with a coveted 100% positive rating on Rotten Tomatoes. That made me even more excited to see the film! After leaving the theater myself, I don't think I've ever walked away from a horror film with such a strange uncertainty about how I felt about it… which I believe is Peele's intention.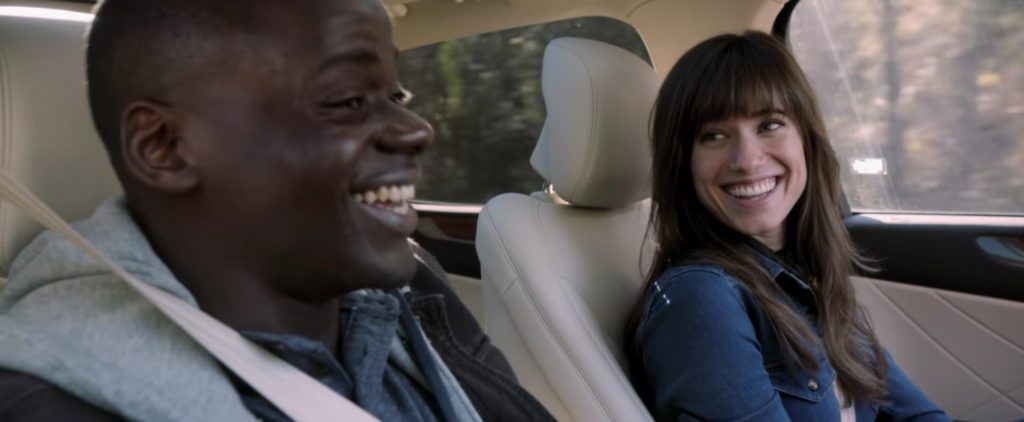 The story follows a young African-American man (Daniel Kaluuya) who goes to visit his Caucasian girlfriend's (Allison Williams) mysterious family for the first time. Meeting the in-laws can often be a nerve-racking and weird experience, but this story goes over and beyond bizarre as soon as he steps into their world. Will he be able to get out before it's too late?
What Works:
Get Out just may be the most thought provoking movie I have ever seen. It is so socially relevant, especially with everything that is going on right now in the world. To me, this is a different kind of horror. Yes, there are some bad ass, bloody fun scenes, but I think the actual message of the movie overshadows any of that. I believe everyone is going to take away something when they watch it.
Daniel Kaluuya hits raw and real emotions with his performance as Chris – you can't take your eyes off him. Not only was he the main protagonist in the script but his performance is the focal point of the entire film. He completely outshines the rest of his fellow cast members. I don't want to take anything away from the rest, because there were sheer moments of pure genius by a lot of the other actors such as Bradley Whitford, who plays the father, Dean.
One scene in particular has Whitford, hands down, giving the eeriest performance ever, reminiscent of Eli Roth's Hostel (2005). The girlfriend, Rose (Allison Williams), had some clever moments as well, although in other scenes, she fell flat. The mother (Catherine Keener) is incredibly strange and utterly frightening. Most of the comic relief comes from Rod (LilRel Howery), which is needed in a film like this. Also, along with these amazing performances, you know the movie served its purpose when the audience in the theater starts clapping at certain parts!
What Didn't Work:
I believe that Peele was so caught up in making a discussion piece that he forgot about the rest of the movie. The end is gratifying for some. However, as a hardcore horror fan, I needed more. I'm not talking about more blood and guts because it delivered that just fine. The actual story – like what happens to these characters and the development of that. Maybe I've just seen one too many horror movies, but the twists were highly predictable in Get Out and left me wanting more.
Also, one major horror movie cliche is deeply intact with the cops being complete dumbasses and not having a clue about what is going on. The one character I could just not get into is the brother, Jeremy (Caleb Landry Jones). I felt he over acted and fell short in his role.
Final Thoughts:
Get Out is an incredibly intense and powerful film. It makes you feel more self-aware than ever before and sad all at the same time. I'm never going to be able to play Bingo or listen to "I've Had the Time of My Life" the same way ever again! Despite some of the things I didn't care for, Jordan Peele's film is a work of art and something we haven't seen before. I believe what Peele wanted most for this film is for people to discuss it, like a work of art hanging in a museum. With that being said, this is one story you'll just have to see for yourself. I am curious to hear your thoughts, so Get Out of the house this weekend, go see it and let us know what you think in the comments!