Straight from the French underground comes this obscure but well executed series of repulsively satisfying necrophiliac serial killer films. I reviewed the original Edmund Kemper film on another site previously and recently my gore buddy and creator of this series, Laurent Tissier, sent me part 2 and 3 in the trilogy, along with a gory short film from his son that I shall also eventually get into.
Laurent Tissier and Fred Quantain created these movies starting in 2000, and have continued with this 2001 sequel. They look very professionally shot and produced and include some great camera work, music and production credits. They were originally released on VHS and have been lifted from here and put on DVD-Rs, which Laurent is selling. I urge all underground gore slinging fans to scoop up all three of these releases up immediately, because they are rare and extremely well done for the type of films they are. You can contact Laurent Tissier on Facebook, where you can pick up the Edmund Kemper titles directly from him.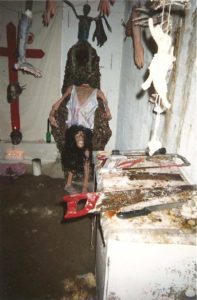 I had actually heard of these films from Harry Collins on The Hardgore Core and Jason Toth who runs Toxic Filth Video Toth released the original Edmund Kemper on his label on DVD. Laurent then became available and also joined the group, so he unearthed the sequels and started re-releasing them himself.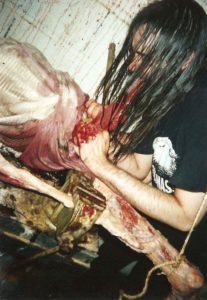 Although titled Edmund Kemper, these films are very loosely, almost non-existentially based on the actual serial killer Edmund Kemper. The movie is more of a memoir of a like-minded madman who fulfills his fantasies in the style of Kemper's murders, probably in a more extreme sense. The killer, played by Tissier himself, resembles a psycho metal head dressed in all black with long straight hair and a beard.  He relishes brutally killing any victims that enter his house, whether they're a repair man or people he actually invites in. He also abducts and kills victims or sometimes just slaughters them at an outside location and brings the bodies back to the torture chamber in his basement. We also get some insight into the abuses his mother dished out on him when he was a child, and this obviously reflects upon his upbringing and state of mind.
Although there's not much to this film plotwise, it plays out in a roughly linear story arc as Tissier's character dispatches victims, carves them up and fulfills his sexual desires with the corpses. Part 2 runs for well over an hour compared to the short running time of the original, and it also includes a behind-the-scenes segment. There is a lot more action in part 2 as well compared to the first, as we get more victims and murders, as opposed to the original that mainly focused on Tissier carving up one particular corpse and having his way with it sexually.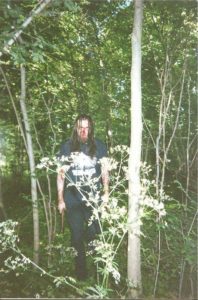 Edmund Kemper 2 is lifted from VHS so the quality is a bit washed out, but it only adds to the authenticity as the grimy deeds unfold upon the screen. Think of Edmund Kemper as a far more extreme and underground Nekromantik that was filmed in France. We get some great music from gore grind bands such as Last Days Of Humanity, Gorestench and Critical Mass, stuff that suits the material in the movie well.
This copy of Edmund Kemper 2 has no subtitles and is in French, but the less discriminating gore hounds can overlook this as the dialogue is not essential to the plot. The Edmund Kemper series is for the true underground gore/serial killer movie enthusiast and comes recommended for those whose tastes are a little questionable!
Have you seen any of the Edmund Kemper films? Let us know in the comments!