If you loved Barbie (2023) and all it stands for, chances are you also enjoy women empowerment in frightening films. So, to keep riding the recent high of girl power, here are some horror movies starring female characters reminding us that although women are known to be the fairer sex, they aren't always the gentler one. 
The Craft (1996)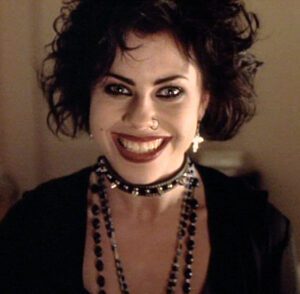 Three Catholic schoolgirls dabbling in dark magic recruit the newest student at their school to form the last corner of their coven with deadly results. The soundtrack, the actors, the '90s of it all… The Craft (our retro review) is female power at its most primitive. Plus, who doesn't love Fairuza Balk's (Return to Oz 1985) iconic performance as witch-gone-wrong Nancy? 
The Love Witch (2016)
This movie is a sensory delight, an absolute feast for the eyes, from the pastel and jewel-toned hues to the music and scenery. Elaine's (Samantha Robinson: The Witch 2015) journey as a young witch looking for love is a pleasure despite the collateral casualties along the way. She is a powerful woman who knows what she wants, even if her love spells often… well, pretty much always go awry.
Bride of Chucky (1998)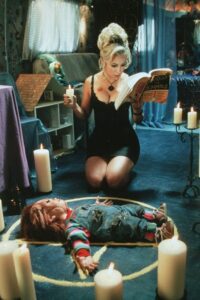 Jennifer Tilly (Cult of Chucky 2017) takes center stage in a hilarious performance as Tiffany—both human and doll—Chucky's blonde, busty paramour. The one-liners, epic kills, and chemistry between Chucky and Tiffany inject new life into the franchise, building steam for the movies that follow, but Tilly's turn as Tiffany makes this film one of my favorites.
Jennifer's Body (2009)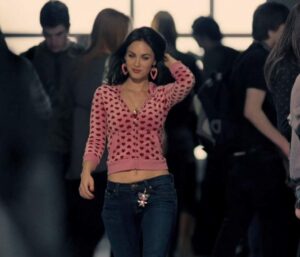 Beautiful high school cheerleader Jennifer Check (Megan Fox: Till Death 2021) and her bestie, Needy (Amanda Seyfried) take a trip to the dark side after Jennifer unwittingly becomes a virgin sacrifice during a Satanic ceremony held by a gothy alt band. Succubus Jennifer leaves no man spared in her quest to stay whole. This film, written by Diablo Cody, still holds up, with dazzling, pithy quotes like, "PMS isn't real, Needy. It was invented by the boy-run media to make us seem like we're crazy." 
Tragedy Girls (2017)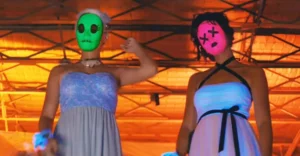 Tragedy Girls (our review) is a modern, slick, savvy twist on the slasher genre that focuses on two teenage journalists who want to rack up social media followers. So what do they do? After catching and kidnapping a local serial killer, the girls decide to start offing people themselves and film the deaths to boost their stats. Sharp, edgy, witty, and colorful, this fun film is a win for women.
Ginger Snaps (2000)
One of my absolute favorite werewolf flicks, Ginger Snaps (our retro review) uses lycanthropy as a metaphor for female puberty, and it's beautiful, frightening, and exhilarating. Emo, broody teens Ginger (Katharine Isabelle: American Mary 2012), and her sister, Bridget (Emily Perkins: It 1990), deal with the unexpected fallout of a wolf bite in this dark, disturbing, and irresistible drama.
Happy Death Day (2017)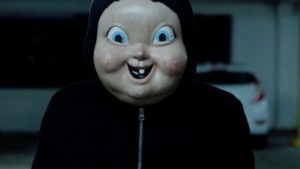 In Happy Death Day (our review), Tree (Jessica Rothe: La La Land 2016) is a college student who gets trapped in a terrifying time loop when she keeps reliving the same day every day… the day she's murdered. In this creative and captivating film, Tree takes matters into her own hands to stop the daily rewind when she discovers her masked killer's identity and saves her own life. 
Promising Young Woman (2020)
There isn't much to say about Promising Young Woman (our review). It's extremely powerful, it's riveting, and it made me bawl. In one of the most compelling performances ever, Carey Mulligan (The Great Gatsby 2013) plays a woman hell-bent on revenge and goes to great and wicked lengths to get it. The soundtrack slaps, it's fast-paced, and you won't forget about it anytime soon. 
Pearl (2022)
I absolutely fell in love with the character of Pearl (Mia Goth) in the first movie in Ti West's trilogy, X. (our review). Now discover how Pearl became a bitter murderess in this look at her origin story (our review). This film is stunning, and Goth should win every award for her work as the starstruck farmwife. Watch it and find yourself rooting for Pearl against all odds.
Death Proof (2007)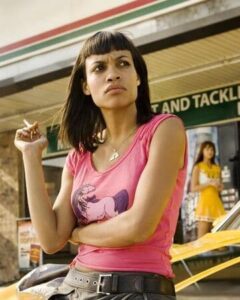 The first time I saw Death Proof in the theater, I stood and cheered alongside the other women there, clapping and hollering. It felt so good and raw and incredible to see a group of women take on a man threatening them and WIN. Top-notch performances and music and a kill scene that lives rent-free in my head make this a female-forward film a favorite. Bonus: this movie was filmed in my home state.
Jakob's Wife (2021)
How many ways can I profess my love for Barbara Crampton (Chopping Mall: 1986)? I don't know, but I will keep finding new ones. Jakob's Wife (our review) isn't your average vampire film. It's a thoughtful, warm examination of a woman named Anne who is missing something in her life, although she dearly loves her pastor husband, Jakob. I am thrilled this movie exists, and I love the ending. Also, hey, it's Bonnie Aarons (The Nun: 2018) giving badass vibes as the Master. Watch it!
Bit (2019)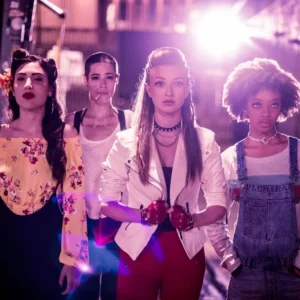 An underrated gem, Bit takes on an all-female nest of Los Angeles vamps who recruit Laurel (Nicole Maines: Yellowjackets 2023), a somewhat naive out-of-towner visiting for the summer. What's unique about this girl gang of neck-biters? Well, they only kill men! Sophisticated and fun, Bit gives plenty of food… um, blood, for thought. And total ghoul power! It's like if the coolest girls you knew also happened to be immortal killers!
Slumber Party Massacre (1982)
The original girl power horror movie! Check out an overnighter gone awry when The Driller Killer pays a visit – but he's not prepared for the heat these girls are packing. Written and directed by women, this film turns the tables on the typical slasher with added humor. Originally slated as a parody, the more straightforward approach made this movie timelessly popular.
The Descent (2005)
Truly terrifying, The Descent follows female friends who go spelunking and end up meeting up with monsters. Sarah (Shauna Macdonald: The Descent 2 2009) does what it takes to survive, and this Final Girl ain't messing around. Scary creatures and perfect pacing create the right amount of tension in this film.
Terrifier 2 (2022)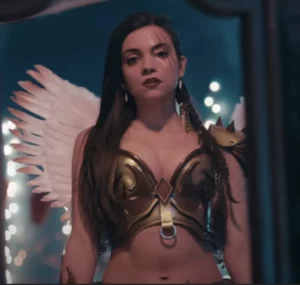 The Terrifier series has given us so much, and now in Terrifier 2 (our review), we have Sienna (Lauren LaVera: Iron Fist 2017). She's creative, resourceful, and kicks the shit out of Art the Clown to protect her little brother. All in a really cool Halloween costume she made herself! Sienna is relatable. She's dealt with hard shit, and she doesn't have the time for Art's tricks, and the fierce finale of this film is ass-kicking and brutal. 
Buffy the Vampire Slayer (1992)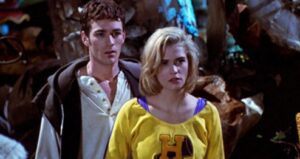 Buffy is the OG of kick-ass flick chicks as far as I am concerned. Jump ahead and get the deets on how Buffy got chosen and grows into her power before the series starts. This movie is a sweet time capsule of the era, and I am totally okay with that (and with Luke Perry). Points for the funny lines like, "All I want to do is graduate high school, go to Europe, marry Christian Slater, and die," which is pretty much what all teen girls in the '90s wanted to do!
 Becky (2020)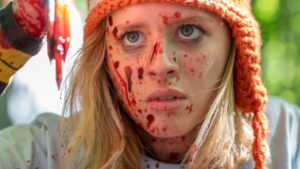 I hadn't seen Becky (our review) until the sequel (our review) came out, then I decided to catch up, and I am so glad I did. Teenage girl Becky (Lulu Wilson: Ouija Origin of Evil 2016) has a lot of anger in her after losing her mom to cancer, and that pent-up rage becomes her best friend as a group of escaped criminals threaten her and her family. This movie surprised me, and I loved it!  
Heathers (1988)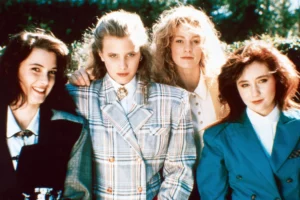 The ultimate dark comedy of the decade, Heathers delves into deep topics including social issues, depression, and popularity with the sharpness of a razor. It's funny, but it's almost uncomfortably funny because it's real. But to keep it humorous, it's also satirical. Christian Slater (Interview With the Vampire 1994 – our review) and Winona Ryder (Beetlejuice 1998) head up a stellar cast in this iconic behind-the-lunch-table look at the cool clique in school.