Earlier this year, Ti West brought us X, a glorious amalgamation of schlocky '70s sexploitation slasher films made with a modern style of storytelling and visual aesthetic. Almost simultaneous to the release of X was the announcement of a prequel, Pearl, that would shift the setting from the '70s back to the late 1910s and serve as the introduction to the murderous elderly farm owner from X. As much as I loved X and was eager to jump back into that world, this wasn't the first path I would have chosen. But I am very happy to admit I was wrong as Pearl ends up being more than could have been expected in the best of ways.
I recently complained about the 2022 iteration of Goodnight Mommy (my review) featuring a medically masked antagonist. There was no reference to the state of the world right now with a large number of the population walking around with face coverings, which was disappointing. Much to my surprise, Pearl, a movie set over 100 years ago, manages to make references as to how difficult it is to be trusting in a world of mask-wearing individuals and making some parallels to the environment with the Spanish Flu being similar to that of the current pandemic.
Pearl begins by showing the mundane farm life of Pearl (Mia Goth, who also wrote the screenplay), her overbearing mother (Tandi Wright), and her invalid father (Matthew Sunderland) in 1918 Texas. German immigrants were understandably not the most popular on the heels of World War 1. So, while her mother might be cold in nature, her cautious approach to life is understandable. Pearl, on the other hand, is a dreamer, her sights solely set on leaving small town farm life behind her and being up on the big screen in the movies. When an audition for a state dance troupe comes to town, we find out exactly how far our sweet Pearl is willing to go to get there. Much like X, the premise is a simple one, but the similarities pretty much end there. Pearl is a completely different thematic and stylistic experience.
The first glaring takeaway from Pearl is Mia Goth. Somewhere in the third act as she is delivering a stunning one-shot monologue, I had to take a deep breath. All I could think was, "Holy shit! That is a movie star-making moment!" Goth possesses a doe eyed quality that can go from disarmingly endearing to unsettlingly hollow as quick as a light switch, a perfection in this technicolor nightmare. Both the characters on screen and the audience want to smile and root for Pearl until they get in a little closer. Without much more than a blink of the eye or the tone of a word, there is a shocking, sudden awareness that there's danger. During a conversation in the barn between Pearl and the local theater projectionist (David Corenswet), the famous Quint quote from Jaws—"lifeless eyes, black eyes, like a doll's eye"—came to mind. Her performance is a magnetically mesmerizing gamut of emotion that hasn't left my mind in days.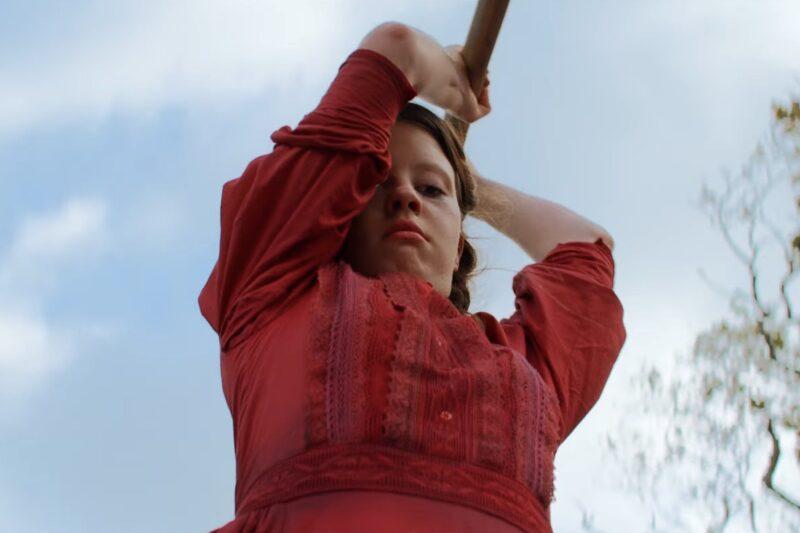 Across the film's 102 minutes, West dips into a deep bag of cinematic tricks that ride the fence between homage and originality at a level not generally seen outside of Tarantino. He has an obvious love of movies that translates into finished products that are challenging in context but easy on the palate. Hell, even if you aren't a horror fan, the camera work, color use, and cinematography of both X and Pearl are still worth the price of admission. Goth has now pulled double duty in both movies, tackling two acting parts in X, while serving as co-writer with West on Pearl. There is a love for this character that shines throughout the narrative in a way that is truly a testament to Goth's talent.
Much like the release of X came with the news of a prequel, Pearl has now been released with the revelation of MaXXXine, a 1980s set sequel to X with Goth reprising both of her roles. Both films have a punishing view of star worship and a bit of a scathing view of Hollywood in general, so it will be interesting to see how the third film tackles that while being set in Los Angeles. But I'd be remiss to focus on the future while this Pearl has been so perfectly lustered.
https://www.youtube.com/watch?v=TezDKtU2xj8