I reviewed the original Terrifier way back in 2018 (you can read that review here) and I came away thinking it was pretty good. After writing that review, I sought out the other films that featured Terrifier's crazy killer, Art the Clown. After watching The 9th Circle and All Hallow's Eve, I went back and watched Terrifier again, and I enjoyed it even more. I was super excited when I heard Terrifier 2 was greenlit, but it's been a long, grueling wait since that announcement was first made. That wait is finally over. Art the Clown is back, baby!
I was fortunate enough to secure an early screening of Terrifier 2, ahead of its theatrical premiere this weekend (October 6th – 9th, 2022). Was it worth the wait?
Watch the trailer below, then read on for the spoiler free details!
Terrifier 2 Synopsis
After being resurrected by a sinister entity, Art the Clown returns to Miles County where he must hunt down and destroy a teenage girl and her younger brother on Halloween night. Pray you don't get in his way.
Terrifier creator Damien Leone wrote and directed the film (read our interview with him here). It stars Felissa Rose, Lauren LaVera, Elliott Fullam, Sarah Voigt, Kailey Hyman, Chris Jericho, and Casey Hartnett. David Howard Thornton returns to reprise his deliciously evil Art The Clown role.
Here's a look at the official poster art!
You Can't Keep A Good Clown Down…
When last we saw Art the Clown, he wasn't in great shape. But, like most famous movie killers, you can't really let a little thing like death keep you down. Have no fear, Art is back, and front and center from the word "Go" in Terrifier 2. The opening scene sets the tone early: both Art and the film are going to be bigger, better, crazier, and somehow even more brutal than ever. It's a nice setup!
Now that we see what Art has been up to, we're off to meet the heroes: a nice, small town family. We have teenager Sienna (Lauren LaVera), her younger brother Jonathan (Elliott Fullam), and their mother, and we get a look into their everday, dysfunctional, yet very relatable lives. Halloween is coming. Costumes are being assembled. The fun is about to begin.
Of course you know it's just a matter of time before this nice, wholesome, unsuspecting family runs afoul of the Clown Prince of Fear, and all kinds of Hell breaks loose. It takes a bit to get there, but once it does, watch out! This is one seriously bloody ride.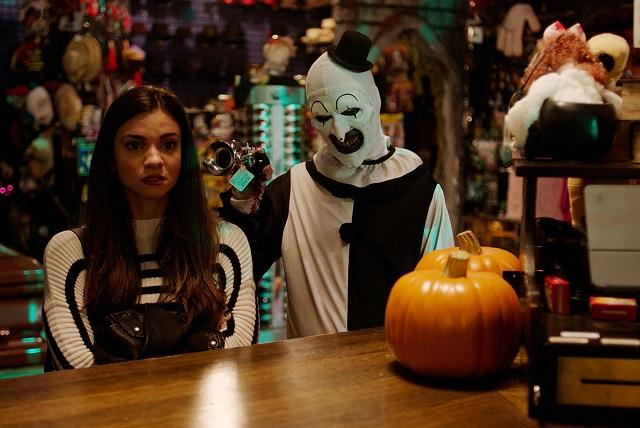 What Works
This movie is brutal. B-R-U-T-A-L. If you are a gore hound, you are going to want to see this on day one. There's just some unbelievably crazy shit that goes on in this movie, and the makeup and practical FX they use to pull it all off is just wonderful. It's just unapologetic and unrelenting and, like I said, brutal.
David Howard Thornton is wonderful as Art the Clown. His mannerisms. His facial expressions. The sinister way he does everything just exudes everything you could ever want out of a memorable slasher villain. I'm so glad he returned to reprise the role from the first Terrifier film. Just a wonderful performance all around. The whole cast is great, honestly, particularly the young leads (Lavera and Fullam).
I love the look of the film. Everything about it: the production design, the sets, the lighting, the cinematography, it all works together so nicely to give this movie its dark, sinister feel. It's hard to describe, but it all works together really well to give this film style. They shot this film with a very small budget, but you'd never know it. They got every penny's worth out of the production, and then some.
What Doesn't Work
I wasn't exactly checking my watch, but this movie clocks in at a hefty 2 hours and 28 mins. There are some pacing issues, to be sure, and it meanders a bit as it tries to fit everything it's attempting to do into one oversized box. I think it could have really benefitted from a little more slice and dice in the editing room.
The ending sequcne is a little goofy. It almost has a Dream Warriors feel to it. In fact, on more than one occasion I felt like, "Wow, this really has an A Nightmare On Elm Street vibe going on. Not that there's anything inherently wrong with that, but it does make things feel somewhat disjointed. Mismatched? I don't know. You'll see what I mean. Not a deal breker, but enough that it stood out to me after the credits rolled that things felt a little uneven.
Speaking of credits, if you haven't been conditioned to stay after the credits by now by all the Marvel Universe films, you need to stick around for the post credits sequence in Terriifer 2. That's when you'll see things get REALLY batshit! In a good way, though!
Final Thoughts
Terriifier 2 is a worthy sequel that outshines the original Terrifier in every meaningful way. If you enjoyed the original Terrifier and All Hallow's Eve, you'll feel right at home here. If you like fountains of blood, gallons of guts, and mountains of gory mayhem, this movie is your Graceland. You won't be disappointed. Damien Leone and David Howard Thornton make a wonderful team, and I sincrely hope to see them collaborate again on Terrifer 3.
Terrifier 2 hits theaters October 6, 2022 from Bloody Disgusting and Screambox. We'll bring you more information about physical and digital releases as that info becomes available. Stay tuned!
Are you heading out to the theater to see Terrifier 2 this weekend? Tell us in the comments!